Words fail to describe the fear, fury, and frustration that has gripped Democrats since the election, though slogans festooned the signs carried at demonstrations held in Santa Barbara this past week.
UCSB students were the first to bolt off the couch when the election was called, gathering outside the dorms ​— ​while a few men shouted at women from the windows that they would rape them, wrote the Daily Nexus ​— ​and swarming out to Isla Vista through Pardall Tunnel. The crowd gathered 1,000 peaceful participants by the time they reassembled at Storke Plaza around 1:30 a.m.
Photo Gallery
Trump Protest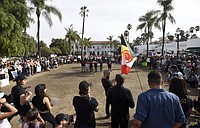 Over a thousand Santa Barbarans turn out to march against Trump's agenda.
Social media buzzed all night about high school walkouts: 500 Dos Pueblos students rallied on campus ​— ​with about 50 walking all the way to UCSB to join ongoing protests ​— ​and 300 at San Marcos High. At Santa Barbara High, students grabbed "Love" signs from last spring's production of Hair as about 700 students streamed off campus at noon and funneled onto the green lawns at the Courthouse Sunken Gardens, where a group of visiting elementary students spontaneously began chanting, "Hil-la-ry! Hil-la-ry!"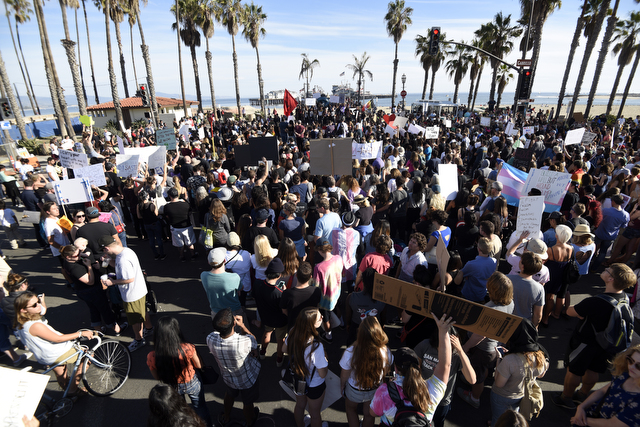 By Paul Wellman