Another rental-apartment building venture comes to Goleta in the form of the 176-unit Cortona Corner, nestled between the railroad tracks and several weapons R&D firms. Plans for eight buildings on 8.8 acres at 6830 Cortona Drive visited the Design Review Board for the fifth and final time on April 11, after modifications to the site — once part of the Bishop Ranch — regarding the General Plan, environmentally sensitive habitat, and setbacks had been finalized at the Planning Commission and City Council in 2014 and 2015, respectively.
Cortona Corner lies across the road from M Special Brewing and is neighbors with Toyon Research Company — a radio frequency R&D and weapons tech company — and defense contractor Raytheon. The project is "completely new territory, adding residential to industrial areas," noted Design Review Board member and architect Dennis Whelan. It sits 35 feet from the railroad tracks and 175 feet from Highway 101.
Noise mitigations and building ID lighting were the only items on the table. To help block highway and train sounds, Elsa Reader of CSA Architects explained, 15-inch-tall glass panels had been added atop patio and balcony walls. A noise study had identified the apartments that would need them. And, she added, the screening walls were now masonry on the ground floor and etched or tinted glass on floors two and three instead of the prior wire mesh.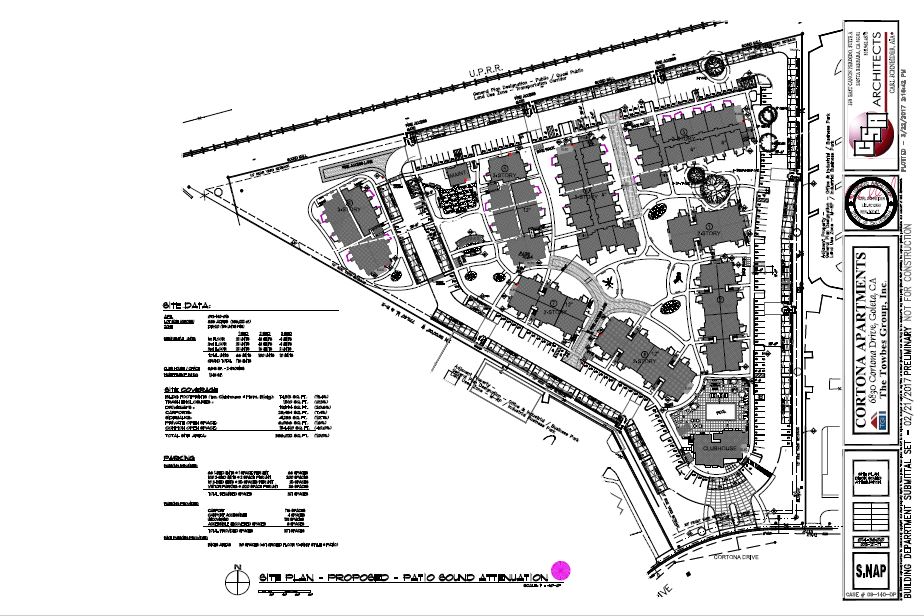 CSA Architects