Nothing bestirs Santa Barbarans like trees, except perhaps historic landmarks, both of which collide at the corner of Micheltorena and State streets, where the coral trees have grown tall and heavy with a potential for "spontaneous catastrophic failure," or limbs falling without warning.
When in bloom, the trees provide a vibrant orange-red glow to the graceful courtyard outside Village Properties, an aspect the public loves and past gardeners may have tended a little too well. Overwatering caused the coral trees, native to arid South Africa, to grow dangerously pulpy and unstable. In the adjacent parking lot, a lack of water is causing the lemon-scented gum eucalypti to suffer. Both conditions have prompted the owner, Grafskoy Hindeloopen Limited, to petition the Historic Landmarks Commission, which weighs in on all properties in downtown's El Paseo Viejo, to allow the corals to be replaced with magnolia trees. The commission so far has not agreed.
At the latest of three meetings, the first of which was held in September 2015, the commissioners asked Bob Cunningham, a landscape architect and agent for Grafskoy, to consider replacing the six existing trees (Erythrina caffra) with a different species of bright-red-blooming coral trees that isn't prone to losing its limbs. In Grafskoy managing director Marc Winnikoff's project letter, he explained that in the three years the company had owned the property, "random" catastrophic limb and trunk failures have occurred. Neither the building tenants nor the public could be admitted to the garden because of the unpredictable branch falls as well as the uneven brickwork lifted by the corals' roots. Cunningham's suggestion was to replace three with magnolias now, let them grow, and replace the other three in a few years.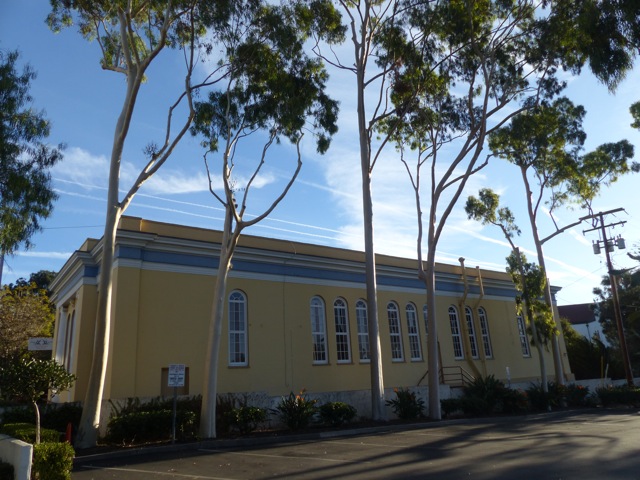 Daniel Seibert