Wednesday night's town hall conversation on Santa Barbara's survival in the time of climate change ran along parallel tracks of thought that jumped occasionally but never quite met. The issues were both broad — what will the future bring? what should we do now? — and specific — how will Montecito rebuild? don't vote for Prop. 70 — and the answers plentiful. But by the end, the question they were answering was definitely somewhere out there; I just couldn't find it. The talk had been about fire, flood, drought, and social justice — all dire, all imminent, altogether confusing.
But maybe it was my notes, which were scribbled in the dark during the two-hour meeting. The Granada Theatre lights were dim and the house crowded with people coming and going along the narrow aisles. A VIP section was set up in the orchestra for those wanting front seats to the apocalypse, which may recur in 100 or 200 years. Or maybe next year. It all depended on who spoke.
A video is being edited of the meeting, said Karl Hutterer, one of many who quietly worked behind the scenes to help organize the summit, so readers will have a chance to catch the town hall later. A recap of the interesting bits follows.
The Bren School Talks
The first segment — three-minute talks from four UCSB Bren School professors on fire, debris flows, rainfall, and disaster politics — were worthwhile, interesting, and only occasionally contradictory. Fire specialist Max Moritz noted the urbanization of wildland boundaries, which has led to more people and homes in the line of fire of increasingly hot and large wildfires. Geologist Ed Keller explained his team was using seismic information to track the January 9 debris flow, so far determining it was 20 minutes of three or four separate, mighty rock-and-mud floods that shook the earth. His takeaway was that with a 200-year or 100-year storm behind us, next year held little threat. But, he said, holding up a monitory finger, if an intense storm is forecast, listen to emergency managers.
Then ecohydrologist Naomi Tague explained that the 200-year storm could become the 100-year storm, meaning bad storms will be twice as frequent. She confirmed that the mean annual maximum temperatures had gotten warmer, and her tables showed that Santa Barbara rainfall was likely to increase — but seasons would be either very dry or very wet. With fire an annual event in Santa Barbara County, rains will again follow fire, at some point, with no time for vegetation to regrow and stabilize the soil. Result? Flood, maybe debris flow.
The first answer to "what can we do?" came from environmental political scientist Sarah Anderson. She gave us three years to forget how worried we are right now. Legislators will too, she assured. The time to get funding for disaster management is now, not later, and to get "homes retrofitted to resist fire, land use changes, and disaster management that works."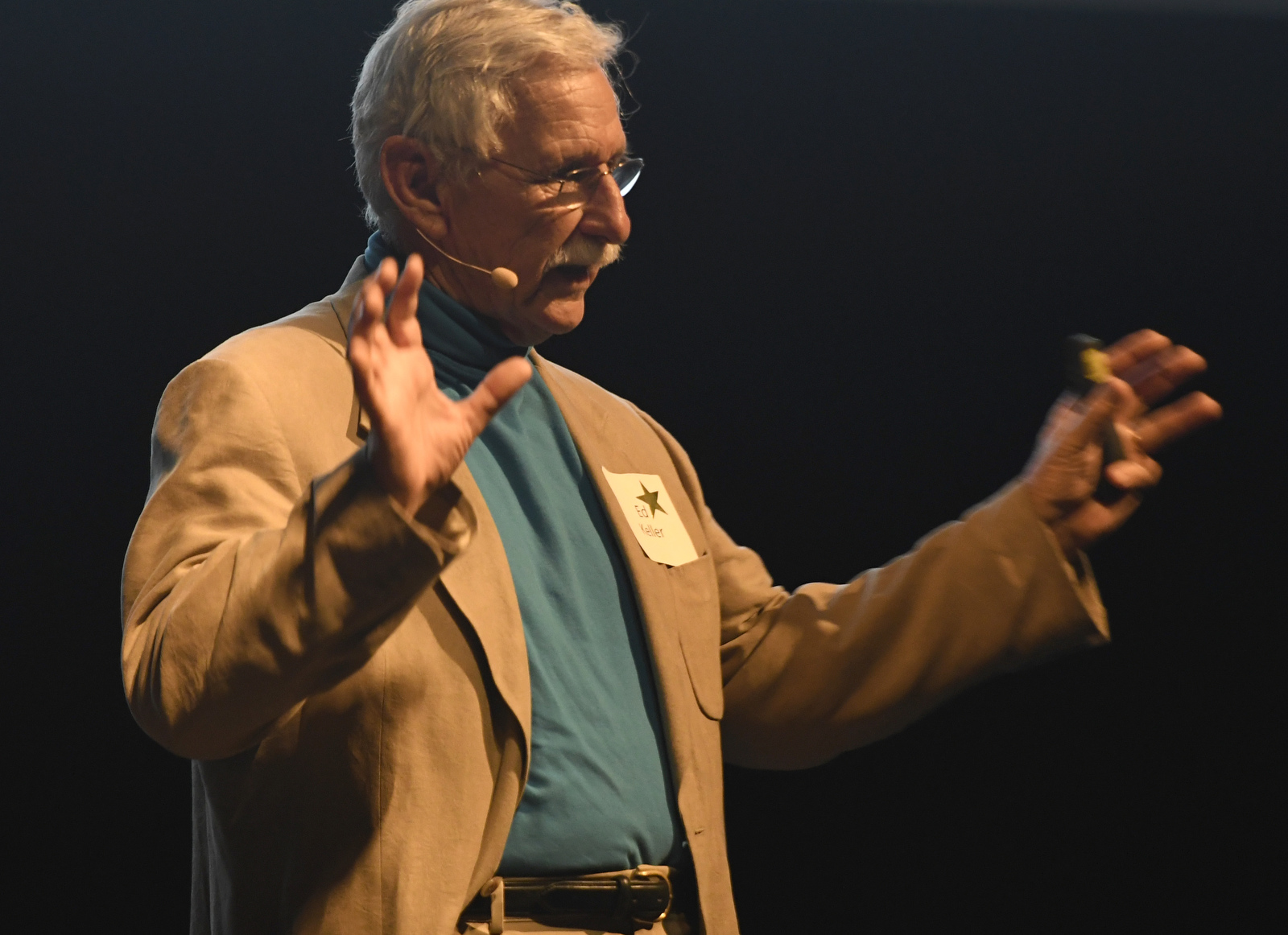 By Paul Wellman