The first time I saw Miloš Forman in person was in 1965 when he introduced The Loves of a Blonde at the London Film Festival by saying, "Wouldn't it have been great if we had had cameras when Jesus Christ walked the earth?" Then, in 1968, Miloš brought The Firemen's Ball to the New York Film Festival and began research on a story about runaways. Luckily, I was in New York knocking on doors, looking to borrow a fire escape for the last shot I needed to complete my NYU film, Song for My Sister, the story of a runaway. A fellow filmmaker invited me in, along with my crew and my ingénue. Miloš was sitting in that blessed apartment.
While I set up on the fire escape, Miloš asked the actress what the scene was about. She told him it was our last scene, depicting the character's final day on the run before returning home to the suburbs. Miloš asked me why I was filming raindrops dripping off the railing. I told him they looked like tears.
Miloš asked to see the film-in-progress. Afterward he said, "We are sym-pa-te-tic." I told him I had seen his Czech films in London and was doing my best to impersonate him.
That was the start of our collaboration. He would call at all hours of the night to talk about "SPFC" (Society of Parents of Fugitive Children), our working title for Taking Off. He began every call by asking, "Are you reading Kafka?" We worked in a little pink house in the village. Ivan Passer, Forman's Czech collaborator, childhood buddy, and now fellow fugitive, would be in the basement interviewing junkies for his own film, Born to Win. Passer would later film Cutter's Way in Santa Barbara.
Vincent Schiavelli would be in the yard auditioning actresses. Vinnie had made his debut in Song for My Sister. Jean-Claude Carriere would be crashing around the loft at night, with Miloš shouting, "What are you looking for?" and Jean-Claude moaning, "My youth."
For the final scene, we needed to choose a song for the father to sing. I sang my father's favorite song: "Stranger in Paradise." Miloš lit up. "Borodin is my favorite Russian composer." Jerome Kern had transformed Borodin's "Dance of the Gypsies" for Kismet, and Miloš was about to transform Prague Spring into '60s New York.
Now Miloš wanted to find a line producer. I came up with two names. One guy was in Africa. Michael Hausman was on 54th. Michael said to us, "Great. When you guys find the money, give me call."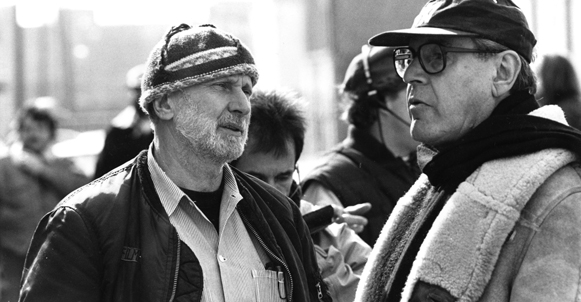 courtesy