Opinion
Remembering Miloš Forman
A Stranger in Paradise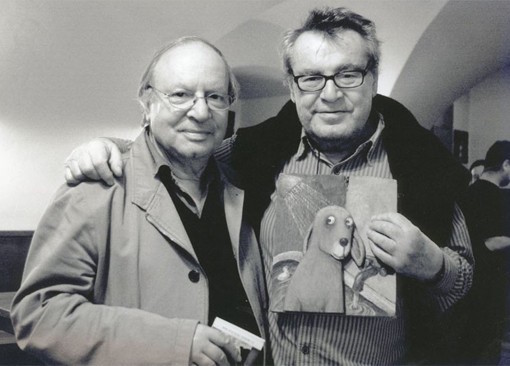 The first time I saw Miloš Forman in person was in 1965 when he introduced The Loves of a Blonde at the London Film Festival by saying, "Wouldn't it have been great if we had had cameras when Jesus Christ walked the earth?" Then, in 1968, Miloš brought The Firemen's Ball to the New York Film Festival and began research on a story about runaways. Luckily, I was in New York knocking on doors, looking to borrow a fire escape for the last shot I needed to complete my NYU film, Song for My Sister, the story of a runaway. A fellow filmmaker invited me in, along with my crew and my ingénue. Miloš was sitting in that blessed apartment.
While I set up on the fire escape, Miloš asked the actress what the scene was about. She told him it was our last scene, depicting the character's final day on the run before returning home to the suburbs. Miloš asked me why I was filming raindrops dripping off the railing. I told him they looked like tears.
Miloš asked to see the film-in-progress. Afterward he said, "We are sym-pa-te-tic." I told him I had seen his Czech films in London and was doing my best to impersonate him.
That was the start of our collaboration. He would call at all hours of the night to talk about "SPFC" (Society of Parents of Fugitive Children), our working title for Taking Off. He began every call by asking, "Are you reading Kafka?" We worked in a little pink house in the village. Ivan Passer, Forman's Czech collaborator, childhood buddy, and now fellow fugitive, would be in the basement interviewing junkies for his own film, Born to Win. Passer would later film Cutter's Way in Santa Barbara.
Vincent Schiavelli would be in the yard auditioning actresses. Vinnie had made his debut in Song for My Sister. Jean-Claude Carriere would be crashing around the loft at night, with Miloš shouting, "What are you looking for?" and Jean-Claude moaning, "My youth."
For the final scene, we needed to choose a song for the father to sing. I sang my father's favorite song: "Stranger in Paradise." Miloš lit up. "Borodin is my favorite Russian composer." Jerome Kern had transformed Borodin's "Dance of the Gypsies" for Kismet, and Miloš was about to transform Prague Spring into '60s New York.
Now Miloš wanted to find a line producer. I came up with two names. One guy was in Africa. Michael Hausman was on 54th. Michael said to us, "Great. When you guys find the money, give me call."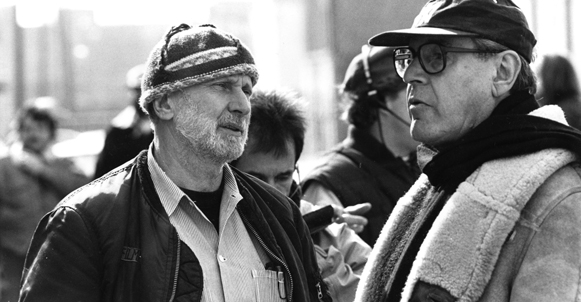 First we had to meet with Paramount Pictures president, Robert Evans, in his suite at the Saint Regis. We read the draft to him, whereupon he promptly passed on the project, informing us that we owed him $140,000 just to get out of the development deal.
Of the three guys in that hotel room, two of them would go on to win two Best Pictures apiece: Chinatown and The Godfather, and One Flew Over the Cuckoo's Nest and Amadeus. Undeterred, Miloš invited François Truffaut to the Museum of Modern Art for a screening of Jan Nemec's The Party and the Guests. We ran Song for My Sister as the opening act, putting François on notice of Miloš's intentions to become fully Americanized.
Along the way, we found a genuine runaway outside the Janis Joplin concert at the Fillmore East and took her in with us to see the show. My wife, Hilary, and I harbored Corinna at our place while Miloš decided if she should play the lead, or just a bit part. Michael Hausman had to arrange a meeting with her Filipino relatives, mediated by a garbage collection supervisor in Queens. Miloš asked Ivan Passer to come along to help convince Corinna's uncle to allow her to be in the film. Her bit part as the fugitive in the police station was well worth the hassle.
Then Miloš had the brilliant idea that I should purchase a Volvo so we could drive to Los Angeles to meet Hollywood directors, and to San Francisco for the San Francisco International Film Festival. We stopped in my hometown north of Chicago. Miloš grabbed my Arriflex and proceeded to film my dad kissing my mom in extreme close-up for what seemed like forever.
Back on the open road, we disregarded the recommended break-in speed and scored the pistons outside of Rapid City. We had to abandon ship and hop the Greyhound. The bus ride was a perfect chance to read Richard Brautigan's Trout Fishing in America, line by line; thus expanding Miloš's vocabulary beyond his go-to favorites: #1. Hey Buddy; #2. Would you be so kind as to (fill in the blank)"; #3. "Do you know what I'm saying?" (courtesy of Schiavelli). More lingo for Miloš came from seeing Neil Young sing "Last Trip to Tulsa" at the Bitter End and going backstage to offer him the unwritten boyfriend part. Seven years later Miloš took my suggestion to hire Neil Young's arranger at the time, Jack Nitszche, to write the score for One Flew Over the Cuckoo's Nest.
The Chelsea Hotel matched our development hell status until Michael Hausman and Miloš's trusted cinematographer, Mirek Ondricek, were able to magically turn a severely reduced budget from Universal into the future Prix Spécial du Jury at the Cannes Film Festival.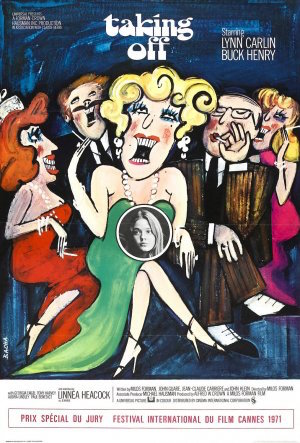 Cut to the last day of production on Taking Off in Queens. The actor playing the boyfriend refused to say his lines. Mike told me to go downtown and find someone else. Meanwhile, Miloš pleaded with our actor, David Gitler, who was an actual gigging musician on the panel in the audition scene. Miloš told him, "It's not morally wrong for your character, 'Jamie,' to earn $200,000 a year. You know he has to pay taxes on it. He'll be lucky to get through the month." We weren't sure what David was going to do with the lines on set. When Buck Henry as "Larry Tyne" asks him, "How much do you make?" David takes the character and runs with it, improvising a sophisticated statement of his civic duty that causes Buck Henry to break his vow not to light up,
Even though Taking Off out-box-office'd Love Story for a few weeks in Paris, Miloš didn't land another feature gig for four years, and we both ended up in therapy. Fortunately, Miloš booked One Flew Over the Cuckoo's Nest, and because Michael Hausman was not going to be in Oregon, he urged me to get myself on the call sheet. I stood in for Nicholson for the tech rehearsals.
Then I looked after the location casting. Every face was important to Miloš. For the shock therapy scene, I filled a row of jail cells with criminally insane extras. Since inmates couldn't grant permission to use their likenesses, I went to the missions and freight yards and rounded up a chorus line of loonies who were all too happy to be invited up to the hospital for "old time's sake." Most of them had been thrown out of the institution back in the day due to budget cuts. Miloš gave me some crucial advice about how to identify insanity: "It's in their eyes." He was delighted with my disturbed ward, calling it, "a distorted mirror image of the cast." Later we found out that the one guy I counted on to keep everybody calm in the holding pen had murdered a girl in Eugene shortly before I hired him.
The day before we wrapped, everything was in place for the last shot of the fishing boat returning to Depoe Bay. So I quit, a day early. The A.D. wanted to know who was going to be standing on the bridge to greet the escapees.
I suggested the executive producer, his wife, and the car dealer who found Will Sampson for us. They fit the bill.
Rozloučení , Miloš. Farewell. For me, you'll forever be "all lost in a wonderland, a stranger in paradise."
John Klein cowrote Miloš Forman's first American film, Taking Off, which won the Jury Prize at Cannes in 1971 and a Writer's Guild of America nomination for Best Original Comedy (in collaboration with Miloš Forman, Jean-Claude Carriere, and John Guare).