For many skiers in America, a good day is all about quantity-we rush the lift lines to get in as many runs as possible, repeatedly hit the peaks to tally the most vertical feet, and skip the lunch break to maximize the number of hours spent on the slopes. But for European skiers, a good day is more about quality-quality of the snow conditions, of course, but also the quality of the food and drink, the quality of the conversation among friends and strangers, and the collective quality of a winter's day enjoyed in the mountains.
That distinction is exactly what Santa Barbara gallery owner and UCSB scientist David Court wants to share with his fellow countrymen. Court, who co-owns The Frameworks/Caruso Woods Gallery on Anacapa Street with his wife, Christi Westerhouse, and does technical research for UCSB's Institute for Computational Earth System Science, is moving this month with Christi and their young daughter, Francesca, to a little hamlet called Les Houches in the French Alps. From there-and until they return to town in April-Court will be expanding Alpine Exposure, the side business he's quietly run for the past four years that takes skiers and snowboarders into the Alps for adventures that focus on culture and camaraderie rather than death-defying drops and number of kilometers covered.
"I'm a cultural concierge," explained Court, a Redwood City native who fell in love with the Alps while living in Zermatt, Switzerland, for about two years before going to UCSB. "I am taking people into places so that an American can have the quintessential European experience : It goes beyond skiing. Skiing in Europe is more of a community event, and it's more social. It's about enjoying being in the mountains with people, eating good food, drinking good wine, and listening to good music."
To do so, Court personally escorts groups of up to six people from the airport (be it Geneva, Zurich, or Milan, all about three-and-a-half hours from the ski towns), onto the correct trains, and into their fully appointed apartments in either Zermatt or Verbier, Switzerland; Chamonix, France; or Courmayeur, Italy. After a night out on the town, skiing begins the next morning and features uninterrupted runs-some as long as seven miles!-that slope across international borders while connecting chalets and alpine huts where you can snag a sip of brandy or chow down on an entire meal. This routine continues for a week or so, with Court providing everything needed for a carefree and complete Euro-ski experience.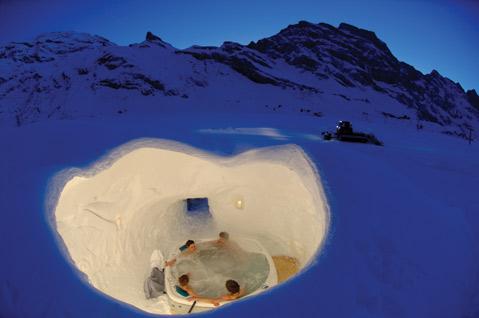 Christian Perret