Before the sun rises each day over Baghdad, the predawn silence is broken by the muezzins' calls to prayer, bellowing from electric loudspeakers throughout the city. For soldiers of the 425th Civil Affairs Battalion, the new day begins much like the last. Some of the reservists-most of whom have trained one weekend per month and two weeks every summer at the now closed Army Reserve Center on Las Positas Road and State Street-assemble outside of their wooden frame office building to go over the day's mission. Others bustle about inside, performing the often tedious but always essential administrative tasks that keep the unit's many programs in motion.
With light green, digitally patterned camouflage uniforms, the unit-whose home base was moved to Encino earlier this year-is a bright contrast to the drab grays and tans of Camp Liberty, which is located within the 65-square-mile Victory Base Complex in west Baghdad. In between mission briefings, phone calls to supply sergeants, and team meetings, jokes are told, stories about spouses are bandied about, and memories about fun times back home are shared, but the men and women serving in the unit exude an air of professionalism and dogged dedication to their lengthy overseas assignment.
This has been their life for most of the past year. When American combat troops pulled out of Iraqi cities at the end of June, Iraqis crowded onto the streets to celebrate what they called the end of American occupation. But the 425th Civil Affairs Battalion found that their mission would change very little until mid August, when they are scheduled to return to California and be replaced by another unit. The 240 or so soldiers from the 425th will continue going out into neighborhoods to help rebuild schools, train firefighters, and organize the city's municipal infrastructures, among other tasks, mostly in Baghdad's impoverished Mansour district.
The only thing that has changed much since the withdrawal is that the unit's civil affairs teams no longer venture into the country's teeming neighborhoods on their own-they now are escorted by Iraqi Army units. The 425th's commander, Lieutenant Colonel Quincy Handy, is proud of the role his soldiers played in making this transition of power possible. "Overall," he said, "they have done an exceptional job."
To see for myself, I headed to Iraq this past February and spent five weeks embedded with the 425th. With few exceptions, I found that the unit's soldiers range in age from early twenties to early fifties, and, aside from their close-cropped military haircuts and camo uniforms, they don't look much different from the downtown office crowd. For many of them, that was exactly the life they left behind-some work in IT, some are office managers, other are cops and firefighters-and when deployed, many of them perform work that's similar to what they do stateside.
Take, for instance, Staff Sergeant Jose Chavez, an Army brat who grew up on Santa Barbara's Eastside. He was doing sales and marketing at Pro Band Sports Industries in Santa Barbara when he was shipped to Iraq, where he now does office work for an economic team in Baghdad's International Zone. Then there's Lieutenant Colonel Karl Berscheid, a civil rights attorney from Santa Maria who helped facilitate Baghdad's provincial election in January as a part of the Baghdad Provincial Reconstruction Team. While most of the 425th is based at Camp Liberty, others-such as Sergeant Daleena Scott, once a student at Santa Barbara City College-find themselves in the relatively violent environs of Diyala, about 30 miles from the Iranian border. There, Scott and her comrades work closely with a Provincial Reconstruction Team.
Regardless of each individual job, the overall mission of the 425th Civil Affairs Battalion is to help Iraqis restore civil life to their war-torn country. And that's a very different task than the military missions that have dominated the headlines since troops entered Iraq in March 2003. As Lieutenant Colonel Handy explained, "Kicking down doors and soliciting bribes isn't the way to win hearts and minds."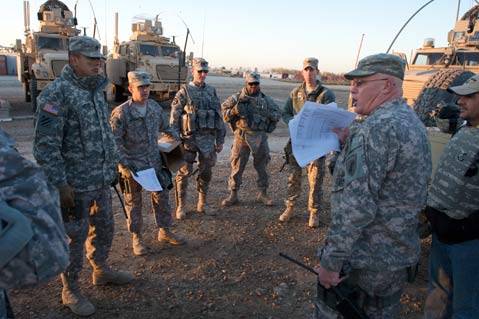 By John Goodman