Last Tuesday night proved traumatic and bloody for the Swain family of Serenidad Place in Goleta, as one of their miniature pinschers was snatched from their backyard by a wild animal while another was left with 25 puncture wounds, a broken rib, bruised lungs, and a four-inch gash on her side. Carol Swain believes the presumably fatal attack on Radar and nearly fatal attack on Ruby was caused by a bobcat that had been seen in the area two months ago. While wildlife experts aren't yet convinced it was a bobcat - the only current evidence is circumstantial, and it just as easily could have been a mountain lion - they do admit that wild animals are increasingly coming into Santa Barbara County's populated area due to a confluence of factors.
The Swains' saga began at about 9:45 p.m. on Tuesday, July 28, when Ruby ran into their home dripping blood on the couch and floor and tried to hide. Wrapping the dog in a towel, Carol and her husband Richard grabbed the flashlights and began searching for the other dogs outside. Zoe and Abby were safely found indoors, but five-year-old Radar - the littlest pinscher at about eight pounds and "just a little sweetheart," according to Carol - was nowhere to be found. There was, however, a large amount of blood along the six-foot-high chain-link fence that surrounds the perimeter of their property, and there was considerable damage to the vines that cover the fence, evidence that something had entered and escaped their yard.
The Swains believe that a bobcat was the offending animal because, about two months ago, their next door neighbor emailed everyone in the area about seeing a bobcat atop her six-foot-tall fence. While they watched for the bobcat, especially at dusk, the Swains never saw anything. Nonetheless, Carol said, "We believe this is the same bobcat that came into our backyard, took little Radar, and tried to kill Ruby."
Serenidad Place is cul de sac of a dozen or so homes located in the foothills north of Cathedral Oaks Road off Fairview Avenue. The Swains' backyard is adjacent to the Doug Knapp Nursery, which grows and sells more than 1,000 types of plants to the public and is contiguous with the wilderness of the Santa Ynez Mountains. The Swains have lived in the home since 1983, and said Carol, "We do know that it's all open wilderness, but we never had a problem." They've always assumed that their dogs would bark at anything foreign in the yard, especially since the small dogs nearly bark at their own shadows. But on Tuesday, Carol was upstairs with her window open, and she never heard a peep. The Swains' backyard is a normal size and not overgrown, except for a juniper bush where Carol believes the wild animal laid in wait. "I assure that the gardeners are going to be taking that thing out," said Carol, who works for Coastal Copy.
But other than that, the Swains aren't sure how to better protect their animals - and even visiting grandchildren - from future wild animal attacks. "I don't know how you can deter a bobcat from coming up over the fence," said Carol, who is more worried now because "if it knows there's a meal there, it's gonna come back." She explained, "We want to find out if there's a way we can get this thing captured and relocated because almost every house on this block on our side of the street:has dogs and cats."
Unfortunately for the Swains, there is no hard evidence that a bobcat was the attacker. That's what worries environmental scientists like Natasha Lomas, who works for the state Department of Fish & Game's regional office in Santa Barbara. "I think it would be irresponsible to start blaming a specific species when there's no evidence of it," said Lomas, who recalls an incident where a mountain lion was blamed for killing pets, only to later be exonerated when a domestic pack of dogs was found to be the culprits. Lomas also finds it hard to believe that a bobcat, which tops out at about 30 pounds and prefers rodents and bunnies, could carry an eight-pound dog over a six-foot fence.
But Lomas does admit that wild animals have been coming more into urban areas recently. She thinks that's due to the fires - the Gap Fire came within a quarter-mile of the Swains' home - but also because of the dry conditions, which force the animals to come down the mountains in search of water. "They're really hungry. They're really thirsty," said Lomas. "We're gonna see a lot of them."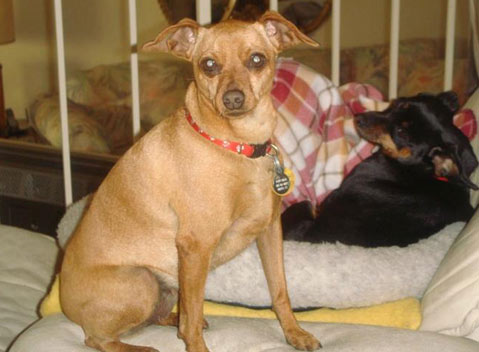 By Courtesy Photo