News
Wild Animal Takes Dog, Injures Another
Goleta Owner Believes Bobcat Killed Radar, a Miniature Pinscher, in Fenced Backyard
Last Tuesday night proved traumatic and bloody for the Swain family of Serenidad Place in Goleta, as one of their miniature pinschers was snatched from their backyard by a wild animal while another was left with 25 puncture wounds, a broken rib, bruised lungs, and a four-inch gash on her side. Carol Swain believes the presumably fatal attack on Radar and nearly fatal attack on Ruby was caused by a bobcat that had been seen in the area two months ago. While wildlife experts aren't yet convinced it was a bobcat – the only current evidence is circumstantial, and it just as easily could have been a mountain lion – they do admit that wild animals are increasingly coming into Santa Barbara County's populated area due to a confluence of factors.
The Swains' saga began at about 9:45 p.m. on Tuesday, July 28, when Ruby ran into their home dripping blood on the couch and floor and tried to hide. Wrapping the dog in a towel, Carol and her husband Richard grabbed the flashlights and began searching for the other dogs outside. Zoe and Abby were safely found indoors, but five-year-old Radar – the littlest pinscher at about eight pounds and "just a little sweetheart," according to Carol – was nowhere to be found. There was, however, a large amount of blood along the six-foot-high chain-link fence that surrounds the perimeter of their property, and there was considerable damage to the vines that cover the fence, evidence that something had entered and escaped their yard.
The Swains believe that a bobcat was the offending animal because, about two months ago, their next door neighbor emailed everyone in the area about seeing a bobcat atop her six-foot-tall fence. While they watched for the bobcat, especially at dusk, the Swains never saw anything. Nonetheless, Carol said, "We believe this is the same bobcat that came into our backyard, took little Radar, and tried to kill Ruby."
Serenidad Place is cul de sac of a dozen or so homes located in the foothills north of Cathedral Oaks Road off Fairview Avenue. The Swains' backyard is adjacent to the Doug Knapp Nursery, which grows and sells more than 1,000 types of plants to the public and is contiguous with the wilderness of the Santa Ynez Mountains. The Swains have lived in the home since 1983, and said Carol, "We do know that it's all open wilderness, but we never had a problem." They've always assumed that their dogs would bark at anything foreign in the yard, especially since the small dogs nearly bark at their own shadows. But on Tuesday, Carol was upstairs with her window open, and she never heard a peep. The Swains' backyard is a normal size and not overgrown, except for a juniper bush where Carol believes the wild animal laid in wait. "I assure that the gardeners are going to be taking that thing out," said Carol, who works for Coastal Copy.
But other than that, the Swains aren't sure how to better protect their animals – and even visiting grandchildren – from future wild animal attacks. "I don't know how you can deter a bobcat from coming up over the fence," said Carol, who is more worried now because "if it knows there's a meal there, it's gonna come back." She explained, "We want to find out if there's a way we can get this thing captured and relocated because almost every house on this block on our side of the street:has dogs and cats."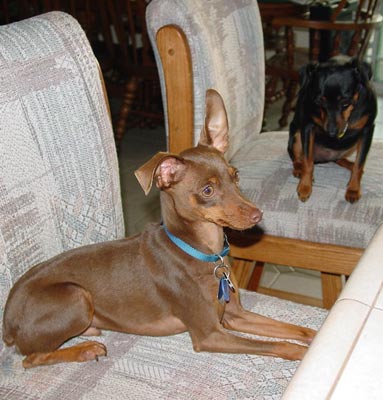 Unfortunately for the Swains, there is no hard evidence that a bobcat was the attacker. That's what worries environmental scientists like Natasha Lomas, who works for the state Department of Fish & Game's regional office in Santa Barbara. "I think it would be irresponsible to start blaming a specific species when there's no evidence of it," said Lomas, who recalls an incident where a mountain lion was blamed for killing pets, only to later be exonerated when a domestic pack of dogs was found to be the culprits. Lomas also finds it hard to believe that a bobcat, which tops out at about 30 pounds and prefers rodents and bunnies, could carry an eight-pound dog over a six-foot fence.
But Lomas does admit that wild animals have been coming more into urban areas recently. She thinks that's due to the fires – the Gap Fire came within a quarter-mile of the Swains' home – but also because of the dry conditions, which force the animals to come down the mountains in search of water. "They're really hungry. They're really thirsty," said Lomas. "We're gonna see a lot of them."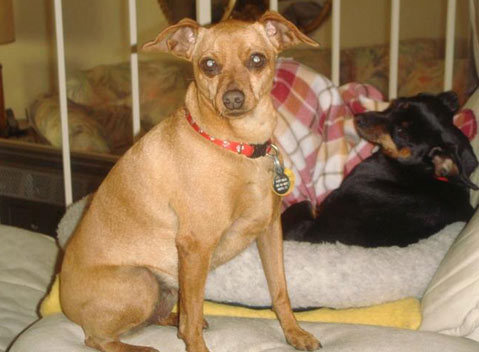 Jan Glick agrees. As the director of the County of Santa Barbara's animal services division, she gets calls everyday about wild animals coming into populated areas. Those calls have been increasing as of late, and include ranchers with baby horses and calves getting attacked by mountain lions. Glick, like Lomas, believes that the drought conditions and changing habitats from the wildfires are to blame, but also that these wild animal populations are soaring and perhaps expanding their territory. "It's very sad when it happens, but unfortunately it's nature," said Glick, who explained that her office usually provides citizens with "ways to coexist peacefully with wild animals." She explained, "If you live in the foothills and have an open yard, you don't want your animal out there loose. They can easily fall prey to these predatory wild animals."
There's perhaps no one around who deals with the interactions of wild animals and humans more than Roland Takayama, who is Fish & Game's chief warden for the region that includes Santa Barbara, Ventura, and northern Los Angeles counties. He, too, has seen an increase in incidents – and very strange ones, such as the bear who would scare picnickers at Pyramid Lake away from their food and then feast – but doesn't necessarily chalk it up to the fire, because the incidents are also occurring in areas not affected by the burns. In fact, the Zaca Fire specifically, which burned more than 200,000 acres of backcountry in 2007, probably helped wild animal populations. "There's lots of prey out there from the Zaca Fire rather than less," said Takayama. "That opened up country. That didn't close it down."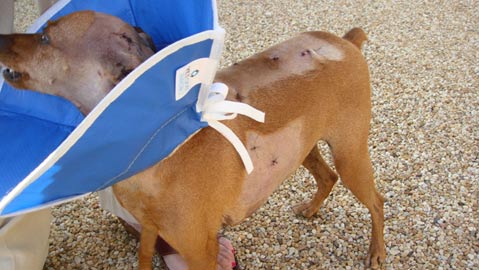 Instead, Takayama believes that the mountain lion and other wild populations are probably approaching carrying capacity, or the level that a particular habitat can sustain. As such, most of the animals born in the wild don't make it to maturity. "But they don't just go quietly into the night," said Takayama. "They thrash and scratch and claw for survival. If they can't stake out a good territory in the middle of the forest, the live on the fringes, and oftentimes those fringes are near human habitation."
What can humans do? According to Takayama, if it's a matter of public safety – such as a mountain lion stalking a child, but not a pet – then his department can call in the federal Department of Agriculture's wildlife services division, and then can take down the offending animal. If it's a threat to property, which would include pets, then owners can get a depredation permit, which can also be obtained after the fact.
"The law is clear on what we have to do," said Takayama, complaining that certain newspaper editorialists in Santa Barbara repeatedly and wrongly harangue the department for issuing such permits. "It's a non-discretionary permit. If they suffer damage, and confirm that a mountain lion caused the damage, the law states that it's mandatory to issue a permit. It's a misdemeanor for us not to issues a permit at that time."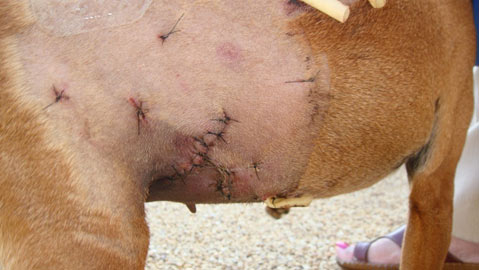 But oddly enough, only certain species – specifically turkeys, deer, elk, grey squirrels, beavers, wild pig, bear, and mountain lion – require such a permit. "If it's a bobcat, Mr. Swain can do it without a permit and call us within 48 hours," said Takayama, who admitted that the list of depredation permit-requiring animals "doesn't make much sense."
So does Takayama the wildlife expert believe that Radar was snatched by a bobcat? "For their size, they're incredible hunters," said Takayama, explaining that they can take down even deer-sized animals. "So maybe, yea, if it was a 25-pounds bobcat, I think it's a possibility."
Back at the Swain household, the attention remains on helping Ruby get better. "She's tore up pretty bad," said Carol, who said Ruby has fluid-draining tubes coming out of her. "Her whole body has puncture wounds all over it." While the physical wounds will heal, Carol is more worried about the psychological damage. "I just got this terrible feeling that she never going to recover," said Carol.
Beyond Ruby, the Swains are now hunting for a return to the peaceful life of before. "I just want some answers," said Carol. "What can we do to feel safe? My dogs won't even go in the backyard now. I have to coax them."