South-facing, usually flat pointbreaks be damned; Santa Barbara is a surf town. World Champions and wannabe world-beaters grow up here, move here, and retire here. Underground legends of all ages haunt our craggy coastline while annual crops of college kids swap notebooks for boards and paddle out seemingly more than they show up for class.
Then, of course, there is everyone else — the sandy-toed, salty-eyed, sunblocked, and stoked masses who ditch responsibility and clog the lineup on each and every sign of a so-called swell.
There is nothing new about this mix; the swirling mosaic of our internationally known surf scene has been around well before Gidget and, Mother Earth willing, should still be here whenever the Jetsons finally show up. Its tiles are the men and women and boys and girls we call neighbors, coworkers, brother, sister, mom, and dad. In short, they are us as much as they are Santa Barbara.
For this year's annual Independent surf season kick-off, we turned the reigns over to one such particularly glowing young member of this community — a regular-foot named Travers Adler. Twenty-four years young, Adler is a born-and-raised Santa Babylon by the Sea waveslider with a particularly thoughtful and artistic lean. Doodles, paintings, guitar riffs, poems, songs, infectious goodwill, and riding surfboards of all shapes and sizes are the primary currency in his weird and wonderful world. What follow are his shorthand memories from this season's first swell earlier this month, accompanied by some fresh-off-the-presses photographs of Santa Barbara surfers by Santa Barbara surfers. Hope you dig it, and as the author so often says, "groove on." — Ethan Stewart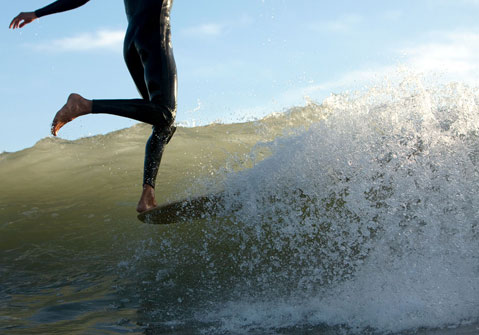 Seth de Roulet