While there's plenty that's peachy about modern medicine, pills aren't always the perfect pathway to health. Even stubborn and suspicious Western doctors seem to be admitting as much these days, and there's no better place to experiment with alternative means of wellness than Santa Barbara, where every treatment imaginable—from the truly helpful to the downright zany—is lurking around the corner. Never one to shy away from my inner guinea pig, I recently subjected myself to various pricks, pokes, and plunges to deliver the following report.
IV

Treatments at the Integrative Medicine Center of Santa Barbara

The only thing distinguishing this facility from the everyday doctor's office is the distinct smell and sight of vitamins—well, that and the fact that you could've recently found me in the back room hooked up to an intravenous drip of vitamins, minerals, and amino acids. The offspring of the late, popular Dr. Bob Young, the center is a primary care facility but one that employs technologies new and old to get to the bottom of your problems.

"We're focusing on primary care medicine, but we're doing it in a holistic way," said Dr. Kristi Wrightson, a naturopathic physician and dietician who now operates the center with Dr. Scott Saunders, who focuses on chronic diseases, and herbalist and Reiki master Jennifer Vasilakos, who blends traditional Chinese and Ayurvedic medicine with Western herbal treatments. "We're not just thinking about what medication will get rid of the problem. We're thinking about what's causing the problems and what's going to be the best way you can optimally return to health." That includes everything from assessing one's nutrition and determining emotional underliers to more obscure approaches, such as photoluminescence (in which UV rays treat the blood) and hyperbaric oxygen (for restoring oxygen to the brain of stroke victims).

When I was there, I was on the verge of getting a head cold, so my treatment meant mainlining a dose of "Myers' cocktail"—which blends magnesium, calcium, four Vitamin Bs, and Vitamin C into a treatment for everything from allergies and asthma to fibromyalgia and chronic fatigue—and a boost of glutathione, which supposedly can stop the spread of cancer, fight the effects of Parkinson's, and otherwise make your body a happier place. Aside from the discomfort of having a needle in my arm for an hour, I felt like a champ leaving the center, and my cold was put at bay. No wonder some folks come for immune-boosting treatments regularly.

The clinic, which takes insurance and does not require a referral, is located at 601 East Arrellaga Street, Suite 101. Call 963-1824 or see drsaundersmd.com.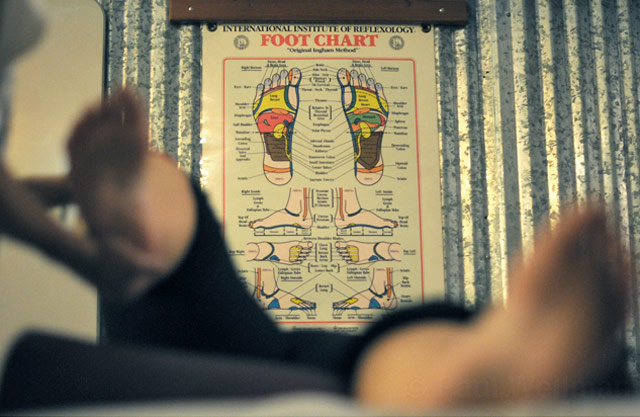 By Paul Wellman