Living
Getting Well in Newer Ways
A Report from the Frontlines of Santa Barbara's Alternative Health Movement
While there's plenty that's peachy about modern medicine, pills aren't always the perfect pathway to health. Even stubborn and suspicious Western doctors seem to be admitting as much these days, and there's no better place to experiment with alternative means of wellness than Santa Barbara, where every treatment imaginable—from the truly helpful to the downright zany—is lurking around the corner. Never one to shy away from my inner guinea pig, I recently subjected myself to various pricks, pokes, and plunges to deliver the following report.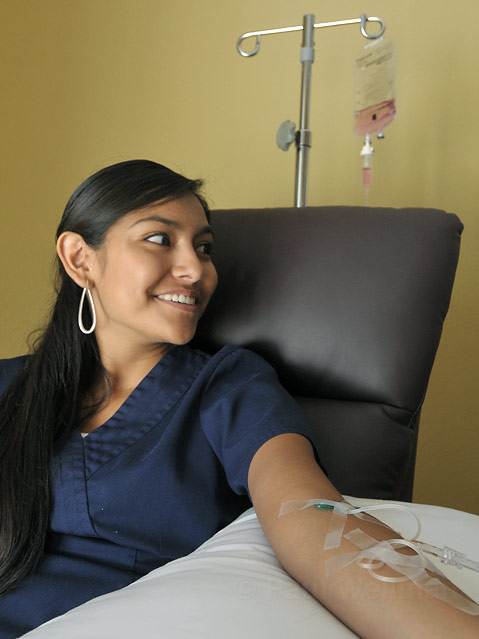 IV Treatments at the Integrative Medicine Center of Santa Barbara
The only thing distinguishing this facility from the everyday doctor's office is the distinct smell and sight of vitamins—well, that and the fact that you could've recently found me in the back room hooked up to an intravenous drip of vitamins, minerals, and amino acids. The offspring of the late, popular Dr. Bob Young, the center is a primary care facility but one that employs technologies new and old to get to the bottom of your problems.
"We're focusing on primary care medicine, but we're doing it in a holistic way," said Dr. Kristi Wrightson, a naturopathic physician and dietician who now operates the center with Dr. Scott Saunders, who focuses on chronic diseases, and herbalist and Reiki master Jennifer Vasilakos, who blends traditional Chinese and Ayurvedic medicine with Western herbal treatments. "We're not just thinking about what medication will get rid of the problem. We're thinking about what's causing the problems and what's going to be the best way you can optimally return to health." That includes everything from assessing one's nutrition and determining emotional underliers to more obscure approaches, such as photoluminescence (in which UV rays treat the blood) and hyperbaric oxygen (for restoring oxygen to the brain of stroke victims).
When I was there, I was on the verge of getting a head cold, so my treatment meant mainlining a dose of "Myers' cocktail"—which blends magnesium, calcium, four Vitamin Bs, and Vitamin C into a treatment for everything from allergies and asthma to fibromyalgia and chronic fatigue—and a boost of glutathione, which supposedly can stop the spread of cancer, fight the effects of Parkinson's, and otherwise make your body a happier place. Aside from the discomfort of having a needle in my arm for an hour, I felt like a champ leaving the center, and my cold was put at bay. No wonder some folks come for immune-boosting treatments regularly.
The clinic, which takes insurance and does not require a referral, is located at 601 East Arrellaga Street, Suite 101. Call 963-1824 or see drsaundersmd.com.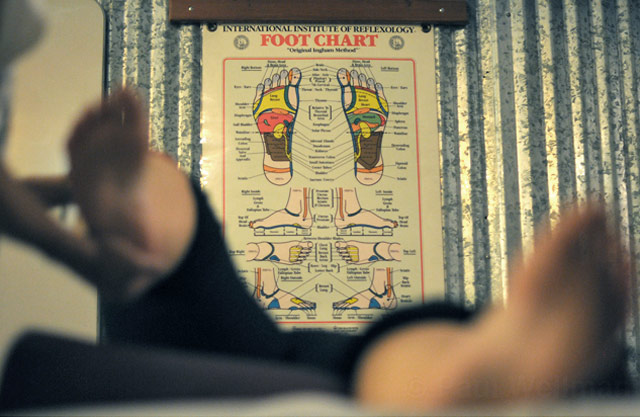 Reflexology at the S.B. Body Therapy Institute
It's just past happy hour on a Friday evening, and about 10 people are pressing their bare feet into golf balls inside this longtime institute on Quarantina Street. We're all there for a free class about reflexology, the practice of using foot and hand massage to soothe other parts of the body. It's a technique that's never been fully embraced by Western medicine, but one that institute director Katie Mickey has been using for 25 years with great results. Just that morning, Mickey had used reflexology to treat a man with degenerative spinal disc problems, taking his pain from excruciating down to almost nothing, simply by pressing on his feet because massaging his afflicted back wasn't possible.
"Being able to address pain relief is a big issue," said Mickey. But she believes it can do more than that because so many modern health issues are related to a "deficiency of electrons" in which an "abundance of free radicals" cause inflammation, cancer, heart disease, and 80 other pathologies. "The reason we're so deficient in electrons is that, as a culture, we are lacking grounding—we've insulated ourselves from the earth," she explained, referring to footwear, raised floors, and the like. "We can dramatically change our inflammatory profile when we get grounded." Reflexology breaks up the metabolic waste in our feet to allow that grounding, said Mickey, and works both to relieve stress and detoxify.
A few days later, Mickey went to work on my tired feet for nearly an hour. All signs were healthy until she stumbled upon the zone that corresponds to my gallbladder, which was sensitive, she said, because my job involves making lots of decisions. Once those kinks were smoothed out, I was set free. Are my organs and glands any healthier? Not sure. Best foot massage of my life? Without a doubt.
The institute, which offers free introductory classes, professional training, and both affordable student-run and market-rate professional sessions in all types of massage, is located at 516 North Quarantina Street. Call 966-5802 or see sbbti.com.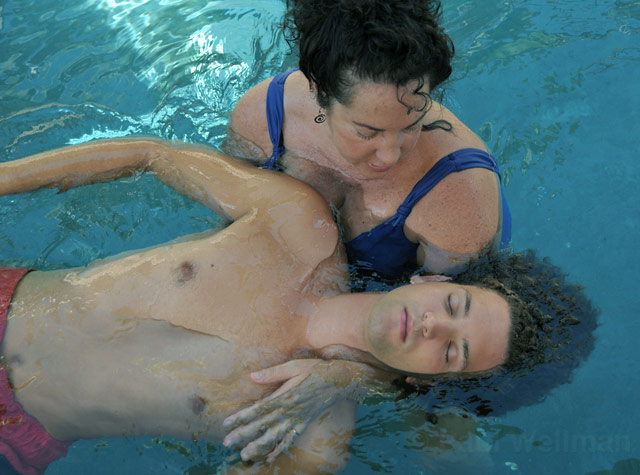 Water Release Therapy by Diane Feingold
Submerged in a warm pool, my body is carefully flopped about, like a beach towel being shaken of sand in slow motion. My underwater mind, at first worried about when my next breath would come, forgets momentarily about the needs of my lungs. It is instead lost in a full state of utter relaxation as it floats about weightlessly, my limbs occasionally stretched, my muscles frequently massaged. Welcome to the pleasures of water release therapy (WRT), a modality invented by my former yoga teacher Diane Feingold, who took the tenets of Watsu (or "water shiatsu") and developed a much deeper practice.
"I'm focusing on being fully present in mind, body, and emotion, connecting deeply with all levels of being," explained Feingold, whose clients include both those seeking simple relaxation and others with more critical needs, such as rape victims, fibromyalgia sufferers, and folks with serious neck and back problems. "It allows me to support someone in a space where they can move in ways they cannot move on land. It helps people really integrate a lot of healing, a lot of letting go. People can free themselves up of things that might be in the way of living fully in their life."
Working mostly in a specially designed backyard pool in the Hidden Valley neighborhood, Feingold offers sessions lasting from one hour to three days, and also trains others who want to incorporate WRT into their practices. Citing patients who cry the entire session because of being held close and others who make psychological breakthroughs due to the submersions, Feingold—whose body frequently "jolts" during sessions in order to help clients' unwanted energy release into the water—believes her work is "extremely transformational."
When my session ended, the world certainly seemed brighter, and I remarked that the experience was like slipping into another world. Laughed Feingold, "That's the world I live in." I was jealous.
Call 569-7047 or see tolifewithwatsu.com.