Sometimes there's a walk you've got to do now; otherwise it might not be there when you've finally found the time for it. One of those is a walk along the edge of Lake Cachuma following the old state road for a mile or two along a section that in normal times would be well underwater.
On a holiday weekend like this past extended President's Day, you'd expect to find Cachuma full of campers and buzzing with activity. However, this year's drought has not only emptied a good part of the reservoir but keep the crowds away as well. A quick check of the marina area is profoundly sobering: the twin plants that lead off the concrete apron hang against the side of the steep, rocky bank, at least 30-40 feet above normal water level. In the distance you can spot huge swaths of open space, usually underwater but now sprouting with greenery.
While the impact to tourism at Cachuma has to be a nightmare for the County Park officials who manage it, for those of us who love hike or bike it has presented us a perfect opportunity to explore a part of the lake most of us have never seen before and to walk along the edge of the lake in places that usually drop steeply straight down into the water.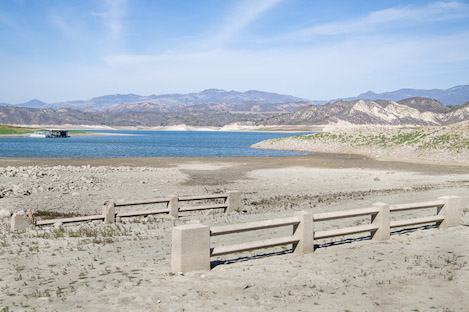 By Ray Ford