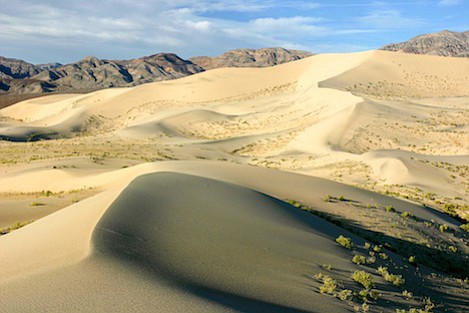 Eureka Dunes - Majestic Mysteries
Sublime Beauty Amidst a Stark Landscape.
---
Tuesday, April 7, 2015
Sometimes the best places are those you discover accidentally. Eureka Dunes, is most definitely one of those.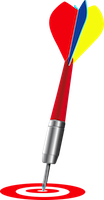 On my first trip well off the beaten path at Death Valley, I did most everything they tell you not to: on the way in from the Lone Pine area, I decided to head off on the Saline Valley Road on the spur of the moment. The Saline Valley Road a rough dirt road that leads into an almost desolate northern section of the park. I also headed in without a good map, any idea of the road conditions and no way to call out if a problem arose. Not exactly a prescription for success.
But the adventurous side of me prevailed over the more prudent one. The idea of coming in to Death Valley, and specifically a spot called the Race Track I'd always wanted to visit, via a route akin to what the pioneer miners might have used. I couldn't resist the urge to head off into the unknown to see what I could find.
At a crucial turn, instead of continuing ahead on the road that would have taken me to the Race Track, I took what I thought was a shorter route down into what looked like a beautiful, open valley area from high above. A few hours of bumpy road that turned into bone-jarring washboard at times, I realized I'd missed the Race Track but found another area that was just as incredible.
Saline Valley by Mistake
The Saline Valley is a beautiful valley that stretches for about 30 miles along the edge of one of the area's many ancient lake beds. Usually bone dry, on this trip the lake was filled with water, though more-than-likely not much over a foot or two deep. The color was an intense red, scary actually, because the mineral content and possibly some type of algae growth made the lake almost unreal. The trip through the valley took almost two hours and the closest I came to seeing another soul turned out to be two China Lake jets screaming by me not more than 100 feet off the lake bed. Pretty exciting but at the same time I came to the realization that I didn't have a clue where I really was.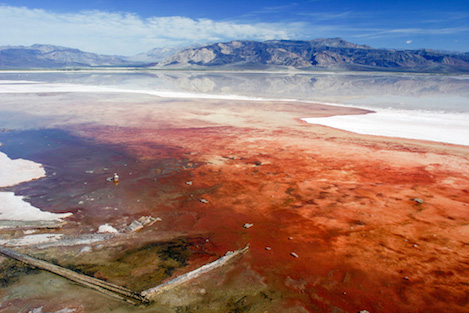 By Ray Ford