Doris was hard to miss if you walked around Santa Barbara Harbor during the second week of May. She looked like a small submarine that had been converted into a rowboat. She was pink in color. Speaking for her were four women with British accents.
"Taking her out to sea?" you ask.
"Yes, to the islands."
"Across the channel to Santa Cruz?"
"No, across the ocean to Hawai'i."
"Really?"
"Well, really, we intend to row all the way to Australia."
Kenny Kieding, owner of The Chandlery yacht brokerage, also had his doubts when he first saw Doris upon her unexpected arrival at the harbor. "Such a little boat," he said. Then he met the plucky foursome who call themselves the Coxless Crew. "They're great girls," he said. "I wanted them to make it."
They had rowed Doris from San Francisco to Santa Barbara, no small feat, but that was not what they had planned. They were supposed to make a straight line to Hawai'i, but a few days out to sea, the solar power connection to the boat's batteries went blotto. Rather than proceed in the hopes the batteries would be able to power their electronic devices (desalinator, navigation and communication systems) most of the way — handheld backups were in reserve — they turned around and headed for the nearest California port, arriving here on May 8.
"It was frustrating and disappointing," said Natalia Cohen. "At the end of the day, we were lucky. Our safety was paramount." Cohen, 40, is the senior member of the crew, a self-described nomad who has walked across Spain, trekked in the Andes, and sailed across the Pacific, but in anticipation of six months of rowing, rowing, and more rowing, she said, "I'm not sure that anything can really prepare you for a challenge of this enormity."
They undertook the challenge to muster support for two U.K. charities, Breast Cancer Care and Walking with the Wounded (injured servicewomen). They also aim to be the first female crew and first four-person boat to row across the Pacific.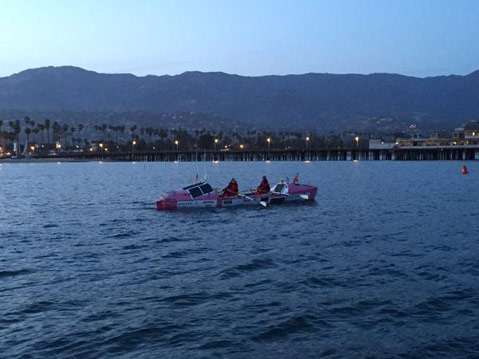 By Courtesy Photo