Sports
Britain's Coxless Crew Berth in Santa Barbara
Four Women Row Across Pacific For Charity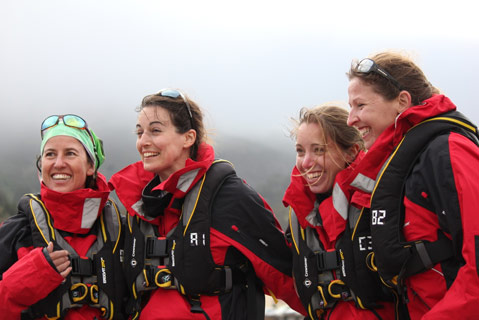 Doris was hard to miss if you walked around Santa Barbara Harbor during the second week of May. She looked like a small submarine that had been converted into a rowboat. She was pink in color. Speaking for her were four women with British accents.
"Taking her out to sea?" you ask.
"Yes, to the islands."
"Across the channel to Santa Cruz?"
"No, across the ocean to Hawai'i."
"Really?"
"Well, really, we intend to row all the way to Australia."
Kenny Kieding, owner of The Chandlery yacht brokerage, also had his doubts when he first saw Doris upon her unexpected arrival at the harbor. "Such a little boat," he said. Then he met the plucky foursome who call themselves the Coxless Crew. "They're great girls," he said. "I wanted them to make it."
They had rowed Doris from San Francisco to Santa Barbara, no small feat, but that was not what they had planned. They were supposed to make a straight line to Hawai'i, but a few days out to sea, the solar power connection to the boat's batteries went blotto. Rather than proceed in the hopes the batteries would be able to power their electronic devices (desalinator, navigation and communication systems) most of the way — handheld backups were in reserve — they turned around and headed for the nearest California port, arriving here on May 8.
"It was frustrating and disappointing," said Natalia Cohen. "At the end of the day, we were lucky. Our safety was paramount." Cohen, 40, is the senior member of the crew, a self-described nomad who has walked across Spain, trekked in the Andes, and sailed across the Pacific, but in anticipation of six months of rowing, rowing, and more rowing, she said, "I'm not sure that anything can really prepare you for a challenge of this enormity."
They undertook the challenge to muster support for two U.K. charities, Breast Cancer Care and Walking with the Wounded (injured servicewomen). They also aim to be the first female crew and first four-person boat to row across the Pacific.
Doris (named after a sea nymph in Greek mythology) was built for maximum seaworthiness. She is 29 feet in length, with two rowing seats flanked by watertight cabins fore and aft, and is designed to pull herself upright if she were to be swamped.
While Doris was berthed in the harbor, Kieding helped her onshore support crew find a marine electrician to fix the battery-charging problem. Everything was shipshape when Cohen and her fellow oarswomen — Laura Penhaul, 32, a physiotherapist; Emma Mitchell, 30, an expedition manager; and Isabel Burnham, 30, a solicitor — headed back out to sea on May 14. Until reaching Hawai'i, they would row without stopping, two at a time, in two-hour shifts.
"We began anew as experienced ocean rowers [because of the detour from San Francisco]," Cohen said. "It was a silver lining to our journey. Everybody in Santa Barbara was so supportive and helpful."
Kieding was glad to see that they were initially sticking to the coastline. "It was smart they went up to Point Conception," he said. If they had turned toward Hawai'i farther south, he said, the boat might have been overtaken by unfriendly winds.
On the evening of Monday, July 20, Doris glided to the docks at the Honolulu Yacht Club. The women had rowed 2,158 nautical miles — actually more, accounting for deviations from the course — during 68 days at sea.
"It was quite difficult walking and keeping our balance," Cohen said by telephone the next day. Her first priority, she said, was a warm shower. Then she reflected on the first leg of their journey.
"It seems like a dream, surreal, what we accomplished," she said. "It's so overwhelming; you have to stay in the present moment and get through what you have to get through. We believe in each other and have complete faith in Doris. We had to deal with monotony. It was continuously cold and wet. [As Mitchell wrote in their blog; 'A dry bum is a happy bum.'] We were moving slowly, fighting to keep the boat on track. It helped to crack jokes and make each other laugh. There's nothing between the West Coast and Hawai'i — nothing — but this never-ending, giant infinity pool."
They did see some "amazing wildlife," like a pod of whales a few feet away. And there were flying fish that became pests. "Every night, flying fish would hit you," Cohen said. "There were stinking dead fish all over the boat."
Doris was clean and fresh last Wednesday, July 29, as Penhaul and Mitchell took the first shift at the oars, and the crew began Leg Two of their journey, heading south for Apia, Western Samoa. It's expected to take another two months, and then after a brief respite, the women will set off for their final destination at Cairns, Australia. Their progress can be followed at coxlesscrew.com.
ON THE ROAD: Moninda Marube, two-time winner of the Santa Barbara Marathon (2010 and 2011), has set off on another epic undertaking, running more than 3,000 miles from Auburn, Maine, to Santa Barbara. His mission is to draw attention to human trafficking. The native of Kenya said he was victimized by an agent who confiscated his earnings as a professional runner. He started on July 1 with a minimal support crew and a vehicle that tended to break down. He was ready to abandon his quest three weeks later when a sponsor came through with a cargo van. On Monday, July 27, Sen. Susan Collins of Maine met with Marube at the Capitol in Washington, D.C. He was heading for Richmond, Virginia, his last stop on the East Coast before turning west. He will have to average almost 30 miles a day to reach Santa Barbara on November 7, when he plans to finish his journey by running the Veterans Day Marathon. The website for his run is monindamovement.com.