American chefs are fascinated by the magical art of ramen, the Japanese soup that drops alkaline, hand-cut noodles into a savory broth usually made by boiling beef or pork bones, dried kelp (kombu), and fermented fish flakes (katsuobushi) together for 18 hours or so.
"It's a twist on comfort food," explained Derek Simcik, chef of Outpost at Goleta's Goodland Hotel and an aficionado who was introduced to ramen while attending high school in Japan. "People just relate to it, from the ramen you ate as a kid to having legit ramen. It's Asian-style chicken soup in a way."
Last November, upon returning from a ramen-rich New York City trip — "It's always my go-to when I've been drinking," he divulged, "just a little something late at night to put in the stomach" — Simcik looked at a bunch of extra ingredients in the Outpost kitchen and decided to make ramen for that Sunday night. "It was such a huge hit that we just ran with it," said Simcik. "It just became our Sunday thing." Since, he's done all range of traditional ramen, but also explored Texas-barbecue ramen (with smoked ham hock, brisket, corn relish, and braised greens), seafood and vegetarian bases, and even "mostly dry ramen," with more of a sauce than soup as the liquid. This past Sunday, for instance, Simcik went completely vegan, using a paragraph-long list of vegetables, from mushrooms and seaweed to eggplant and bok choy, to concoct a stunningly rich broth that easily pleased this meat lover. 
Restaurants across Santa Barbara are also playing with the format, so Simcik decided to gather the ramen-istas under one roof for a friendly competition called Ramenfest on Saturday, November 14, noon-4 p.m. Participants include Outpost, Sama Sama Kitchen, The Black Sheep, Hungry Cat, Julienne, Barbareño, Finch & Fork, and Wildwood Kitchen, and the winning chef, as voted by the public, will be deemed "Ramen King of Santa Barbara."
"I've been with Kimpton eight years, and I am always participating in everyone else's charity events, so I wanted to do my own," said Simcik, explaining that the winning chef will donate proceeds to the charity of his or her choice. "This was the perfect combo of bringing everyone together and having a really fun day."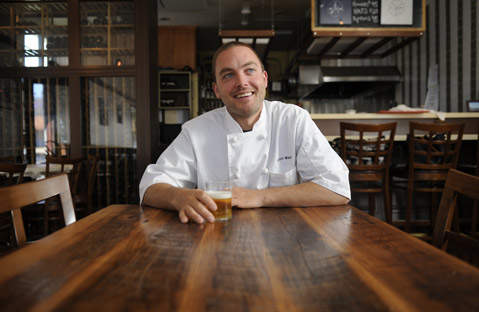 By Paul Wellman (file)