Home Furnishings Store
MichaelKate Interiors
132 Santa Barbara St., 963-1411, michaelkate.com
Sitting along the eastern edge of the Funk Zone, MichaelKate Interiors has morphed over the years since its humble beginnings as Danica House, a Danish/Scandinavian-design-focused store. Nowadays, it is a truly unique space where great, stylish, and typically contemporary furniture from near and far is sold and fantastic art (often the handiwork of area residents) is shown on the walls. It is one of those special retail spaces that needs to be experienced to be fully understood, though I still cannot get my head around how they occasionally allow art show guests to wander their furniture showroom with full wine glasses in hand.
Finalist: Pottery Barn
Nursery
La Sumida Nursery
165 S. Patterson Ave., 964-9944, lasumida.com
Mega-drought be damned; we are a garden city that ​— ​rain permitting ​— ​most plants and trees are more than thrilled to grow in. The Sumida family has been providing plant lovers with what they need since 1958, a role that has seen them flower into the largest retail nursery and garden center in the region. A visit to their place off Patterson can be intimidating to the uninitiated, as row after row of rose bushes give way to row after row of fruit trees ​— ​and all that is before you even get out of your car and begin to take in their vast stock of houseplants, bulbs, natives, succulents, cacti, and pretty much everything that is green and good and growing.
Finalist: Terra Sol Garden Center
Real Estate Firm
Village Properties
Many locations, villagesite.com
With a stable of some 200 agents and a far-reaching network of affiliations within the industry, Village Properties certainly plays the part of Best Of powerhouse on paper. However, it is in the daily details where they truly earn the street cred with our readers. Discreet, lauded for their trustworthiness, and flying their flag outside the majority of listed and desirable homes throughout the county, Village Properties aims to please, whether representing buyer or seller, residential or undeveloped land. "We are honored to be given the Best of Santa Barbara designation again this year from Independent readers," says Village co-owner Renee Grubb. "We all work hard to be committed to our clients and our community."
Finalist: Berkshire Hathaway
Real Estate Agent
Louise McKaig
285-2008, louisemckaig.com
Unless you are sitting on large stacks of cash, becoming a homeowner in Santa Barbara is anything but easy. You need every advantage you can get. A fourth-generation Santa Barbarian and former international exchange student coordinator, Louise McKaig, along with her network of connections, is just such an advantage. Focusing on only a few clients at a time, McKaig has earned her status with our readers with a warm personal touch and dogged commitment to the people with whom she works. "A lot of my clients are my friends," explains McKaig. "And, if they aren't, they usually become my friend. And it doesn't stop after the sale. I like to continue our friendship and check in and make sure they are happy. I really do care."
Finalist: Emily Kellenberger
Moving Company
Mammoth Moving & Storage
5390 Overpass Rd., Ste. E, 968-8643, mammothmoving.com
At this point, it is safe to assume that we have all seen the logo of Mammoth Moving; the big and bold red lettering and bemused ​— ​if not mildly disheveled ​—  mammoth are commonplace both around town and on highways all over the state. Whether the job calls for a couple of guys and a van or a small army of movers and a squadron of 18-wheelers, Mammoth Moving will get it done. Pianos, machinery, cross-country hauls with everything you own, safe storage, office relocations, packing jobs ​— ​no matter the task at hand, chances are Mammoth Moving has done it before in their 40 years of business. "We love the feeling of taking the weight off our customers in such a stressful time," says owner Sean Eberz. "Moving is tough, and no one knows that better than our staff. We are here to take that stress away; we live and breathe moving so they don't have to."
Finalist: MoveGreen
Electronics Store
Best Buy
7090 Market Place Dr., Goleta, 571-3999, bestbuy.com
Need a TV or computer or projector or stereo or headphones or DVD player or even a cord to make it all work? According to our readers, Best Buy is, once again, the place to go. With the ramped-up buying power that only a mega-chain like Best Buy can afford, they are able to offer an impressively wide variety of electronics inventory at price points that are hard, if not impossible, to beat. As an added bonus, their in-house Geek Squad is tremendous at getting you set up at home and keeping all your whiz-bang machines in working order.
Finalist: Apple Store
Antique Store
Antique Alley
706 State St., 962-3944
Clear your schedule for an hour, and head to Antique Alley for a solid spell of exploration. With its formative roots in the old Santa Barbara Flea Market, the Alley originally opened in 1993 and has since grown to be an antique collective of sorts featuring the collections of 20 different pickers. With surprisingly fair pricing (especially considering its central location on State Street) and tidy organization, Antique Alley is a wonderland of vintage clothes, old furniture, funky jewelry, glassware, art, and innumerable other bits and pieces of well-aged awesomeness. "We like to think we provide a form of entertainment," says owner Alan Howard. "People really seem to enjoy coming in and getting lost in the aisles and lost in time."
Finalist: Summerland Antique Collective
Place to Buy Carpet/Rugs
Carpeteria
5610 Hollister Ave., Goleta, 284-0556, carpetonesantabarbara.com
With a charmingly kitsch exterior, Carpeteria is a visual touchstone at the east end of Old Town Goleta. But once you get inside, it is all about carpets and customer service. "Our main goal is to make sure the customer is happy. We do that by focusing on quality work at a fair price," explains co-owner Greg Semerjian. Since 1977, the family-owned flooring emporium has been doing exactly that and, in the process, winning over the devotion and praise of our readers. A member of the Carpet One Floor & Home co-op, Carpeteria may be independently operated, but it has the buying power and prices of an international chain with some 900-plus stores in the U.S. alone.
Finalist: Santa Barbara Design Center
Gardening/Landscaping Service
Kitson Landscape Management
5787 Thornwood Dr., Goleta, 681-7010, kitsonlandscape.com
With a singular focus on commercial accounts (think the airport rather than your backyard), the family-run Kitson Landscape Management company has been #1 with our readers 10 out of the past 13 years. And, when they weren't winning, owners David Fudurich and Sarah Kitson (she is the eldest daughter of founders Brent and Sally Kitson) and company were holding down the #2 spot with ease. Regular award winners at both the annual Santa Barbara Beautiful and Goleta Beautiful awards for their landscape and habitat restoration work, the client list of Kitson works a rather impressive living résumé that you probably have already admired without even knowing it. Montecito Bank & Trust, Citrix, Serenity House, and The Bluffs Homeowners Association are but a few of their happy customers.
Finalist: Terra Sol Garden center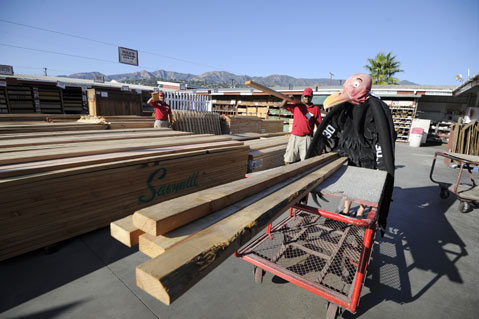 By Paul Wellman