Like any diligent UCSB student, I spent a ton of time at Davidson Library ​— ​when I wasn't in class or goofing off in Isla Vista.
Those hours, though busy, were always a breather in a demilitarized zone away from loud roommates and other college distractions. Helpful librarians and an inconceivably vast storehouse of books and resources stood at the ready. My favorite reading spot was a northeast nook on the top floor with a view of the Pacific.
But the library was dark and cramped and frustratingly low-tech. Not in the soft-bulb, oak-banister kind of way, but of the bad 1950s-linoleum and lingering-mildew sort. It was almost impossible to find an open outlet or unused computer terminal. Banks of high partitioned desks didn't exactly encourage communication with your neighbors, while the 24-hour study room often got rowdy.
On January 4, the university opened the doors to its new library, a high-ceilinged sandstone cathedral of natural light, comfy chairs, and lots of Wi-Fi that connects to the old Davidson tower and houses the same ​— ​and now even greater ​— ​collections of printed and digital materials that make it one of the most impressive research libraries in the UC System. School administrators are proud to call the new three-story, $80 million building the geographic and scholastic heart of the campus. Prospective students and donors will be impressed by yet another feather in the cap of the UC Library, as a whole the second-largest research library in the world, second only to the Library of Congress.
Walking through the soaring, glass-fronted entryway, I stepped onto a wide boulevard of modern architecture and minimalist interior design with book stacks holding three million volumes and workrooms big and small equipped with white boards and computers. Just after 8 a.m. students were already trickling in, booting up their laptops at long tables or quietly settling onto leather couches facing walls of windows lashed by heavy El Niño rains. Downstairs, the café hummed with espresso shots and chatter about classes.
The Davidson tower, which will soon get its own makeover, still stands proud, though is now referred to as the Ocean Side of the library; my reading corner is still there. But if the idea for this shiny new space is to de-compartmentalize the user's experience, to open up their surroundings and encourage broadband-speed collaboration ​— ​without losing necessary pockets of quiet, hard-copy study ​— ​it seemed to be working.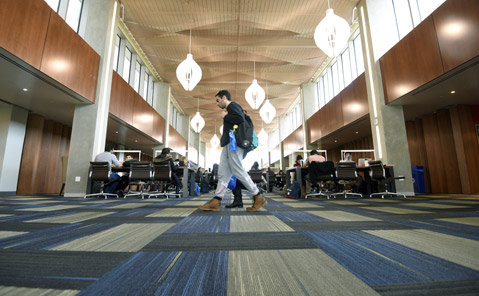 By Paul Wellman