Cover Story
UCSB Unveils Its Library of the Future
Open Space and Collaboration Replace Cramped Stacks and Solo Study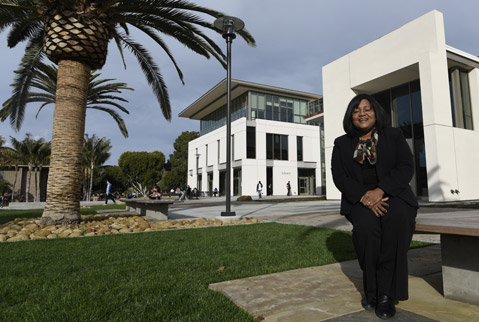 Like any diligent UCSB student, I spent a ton of time at Davidson Library ​— ​when I wasn't in class or goofing off in Isla Vista.
Those hours, though busy, were always a breather in a demilitarized zone away from loud roommates and other college distractions. Helpful librarians and an inconceivably vast storehouse of books and resources stood at the ready. My favorite reading spot was a northeast nook on the top floor with a view of the Pacific.
But the library was dark and cramped and frustratingly low-tech. Not in the soft-bulb, oak-banister kind of way, but of the bad 1950s-linoleum and lingering-mildew sort. It was almost impossible to find an open outlet or unused computer terminal. Banks of high partitioned desks didn't exactly encourage communication with your neighbors, while the 24-hour study room often got rowdy.
On January 4, the university opened the doors to its new library, a high-ceilinged sandstone cathedral of natural light, comfy chairs, and lots of Wi-Fi that connects to the old Davidson tower and houses the same ​— ​and now even greater ​— ​collections of printed and digital materials that make it one of the most impressive research libraries in the UC System. School administrators are proud to call the new three-story, $80 million building the geographic and scholastic heart of the campus. Prospective students and donors will be impressed by yet another feather in the cap of the UC Library, as a whole the second-largest research library in the world, second only to the Library of Congress.
Walking through the soaring, glass-fronted entryway, I stepped onto a wide boulevard of modern architecture and minimalist interior design with book stacks holding three million volumes and workrooms big and small equipped with white boards and computers. Just after 8 a.m. students were already trickling in, booting up their laptops at long tables or quietly settling onto leather couches facing walls of windows lashed by heavy El Niño rains. Downstairs, the café hummed with espresso shots and chatter about classes.
The Davidson tower, which will soon get its own makeover, still stands proud, though is now referred to as the Ocean Side of the library; my reading corner is still there. But if the idea for this shiny new space is to de-compartmentalize the user's experience, to open up their surroundings and encourage broadband-speed collaboration ​— ​without losing necessary pockets of quiet, hard-copy study ​— ​it seemed to be working.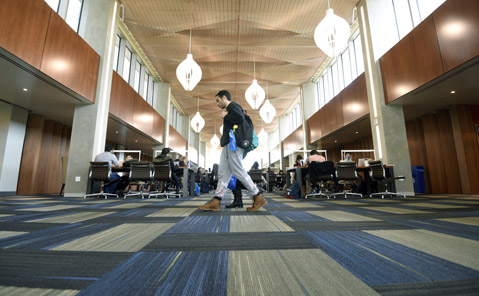 'Digital' Not a Dirty Word
On the subject of the now-deceased card catalogue, head librarian Denise Stephens is not nostalgic. "The truth is I don't miss typing the cards," she said in her office overlooking yet another campus construction project. For her, its only remaining value is as a "historical structure."
Stephens is a former chief information officer and came to UCSB from the University of Kansas. As a techy, she embraces this generation of college students, who demand fast access to any information through all manner of personal devices. "The overused phrased that they're 'digital natives' really does mean something," she explained. "The expectation is that there are no obstacles in their way."
That doesn't mean the stacks will disappear anytime soon, Stephens continued. "We will always have a lot of books," she said. "That's not going anywhere, and I don't want it to. I'm a librarian, after all." But Stephens recognizes that in a scholarly environment like UCSB, technology ​— ​love it or hate it ​— ​is a ubiquitous part of everyone's knowledge-seeking endeavors. "The design of the new space reaffirms that recognition," she said. "It's not a warehouse. It's a place for people to do work with information."
She pointed to the library's Interdisciplinary Research Collaboratory (IRC), a spacious room on the second floor lined with 85-inch monitors and staffed with specialized "data librarians" who help students and faculty find any bit of data or literature, no matter how obscure. IRC interim director Stephanie Tulley remembered a particularly satisfying moment of deep detective work when she assisted an economics graduate student to track down a specific federal data set from 20 years ago. It took months, so when Tulley finally plucked the needle from the haystack, she did a little dance in her office. "It was probably the highlight of my career at that point," she said.
Tulley has a library science degree but also a background in corporate intelligence, where she hunted for acquisition targets. Those skills come in handy as she and her staff sift through mountains of buried records. Her team also guides researchers in how to properly package their work so it will be easily accessible decades from now. That may seem like a no-brainer, but a surprising amount of digital information has been lost in recent years, locked in outmoded software and hardware that time quickly forgot. The UCSB library has boxes of old CDs that are unreadable, but no one has the heart to throw them away.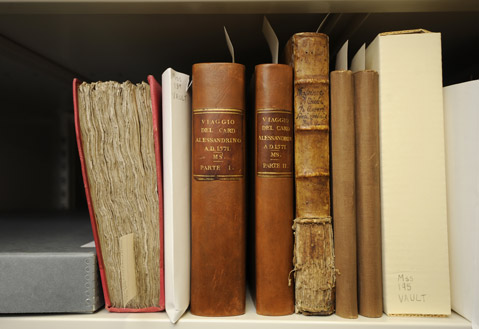 Never Say Never
When Stephens arrived at UCSB four years ago, the library project ​— ​largely funded by a state grant ​— ​had been on the drawing board for more than a decade. UCSB's turn came up in a UC System–wide rotation of library-improvement projects, but the recession stalled those plans. Construction on the 150,000 square feet of brand-new and remodeled space finally began two years ago and ​— ​miraculously for a development of its size ​— ​finished on time. It was designed by Pfeiffer Partners, a Los Angeles–based firm that's churned out 35 library projects around the country. The UCSB Library was originally built in 1954, with additions made in 1962, 1967, and 1978. The most recent iteration will be LEED Gold certified.
The library is open to everyone, Stephens made it a point to remind me. It's a public institution. "We very much welcome and encourage citizen scholars," she said. "If you're interested in a topic, we have depth here, and I want people to come in and experience that. The life of the mind is a very important thing." Stephens sees the new library as an achievement and benefit not only for UCSB but also for Santa Barbara. "This is one of the more significant cultural buildings and assets, and I think one of the most beautiful," she said. "I hope people drive out here and take a look at it every once in a while."
Two years ago, the library had more than two million total visits. For those off-site, there's also the new Alexandria Digital Research Library (alexandria.ucsb.edu), a public archive of research materials launched in April 2014. There are several thousand items in the database now ​— ​mostly theses and dissertations ​— ​and library staffers are constantly toiling to digitize historic images, writings, and recordings before they fade into nonexistence. Much of that work takes place in lab-like environments, including cold storage and wet conservation vaults. Stephens explained the Alexandria will soon hold several hundred thousand items as we clicked through a collection of early-20th-century Santa Barbara postcards, Flying A Studio photographs, and a collection of rare musical scores.
It wasn't long ago that librarians were told their profession would soon go the way of the dodo, that book spines would crack under the weight of the digital age, and that no new libraries would ever be built again. "Well," said Stephens with a smile, "I got news."
• Gems of UCSB's Special Research Collections – We peek inside the vaults to find tomes by Dante to Steinbeck.
• The Art of UCSB's Library – Nancy Gifford's "Lament" is at the crossroads.
• UCSB's Cylinder Audio Archive Offers a Listen into the Past – Digital downloads of wax recordings reveal early-20th-century audio entertainment.