Partners behind Protecting Blue Whales and Blue Skies, a project intended to reduce air pollution and increase whales' safety, last week received a national Clean Air Excellence Award. The U.S. Environmental Protection Agency (EPA) presented the award in recognition of the project's efforts to reduce ship speeds in the Santa Barbara Channel.
The 70-nautical-mile-long stretch of the Pacific Ocean south of Santa Barbara serves as a route for thousands of large-container cargo ships to pass via designated shipping lanes. Unfortunately, those ships bring more than just cargo: Large-container vessels emit greenhouse gases and toxic pollutants into the air. Prevailing winds carry pollutants ashore and onto the mainland. According to the project's report, over half of the nitrogen oxide gas emitted in Santa Barbara County was a result of these vessels.
The dangers posed by large-container ships are not limited to the air. Shipping lanes in the Channel play host to endangered whale species — like blues, fins, and humpbacks — which travel and feed in and around the lanes during the summer months. A 2014 study published in PLOS ONE scientific journal found that ships were often inadvertently striking and killing whales that came into their path.
A solution is to reduce ship speed. A typical cargo ship sails at between 14 and 18 knots. Reducing that speed to 12 knots cuts emissions and decreases the likelihood that ships kill whales. While overall improvements in whale protection are difficult to quantify, lowered speeds directly contribute to reduced emissions by decreasing the load placed on a ship's engine and reducing the amount of fuel the ship uses.
As part of the overall project, Santa Barbara and Ventura counties' Air Pollution Control Districts, the Channel Islands National Marine Sanctuary, the Environmental Defense Center (EDC), and the National Marine Sanctuary Foundation collaborated on a program that incentivized shipping companies to reduce vessel speeds. The Vessel Speed Reduction (VSR) Incentive Trial Program, first run in 2014, offered shipping companies $2,500 per transit, along with a public relations campaign, if their ships traveled at 12 knots or less.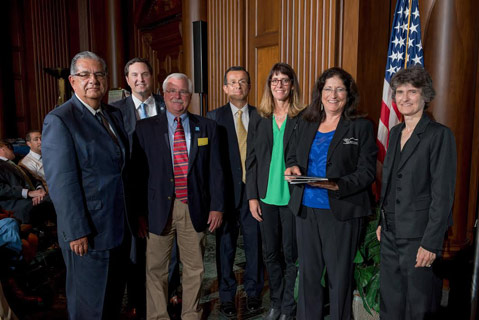 By Courtesy Photo