Briefs
Program Awarded for Reducing Toxic Emissions in S.B. Channel
Slower Ship Speeds Save Whales, Shows Multi-Agency Project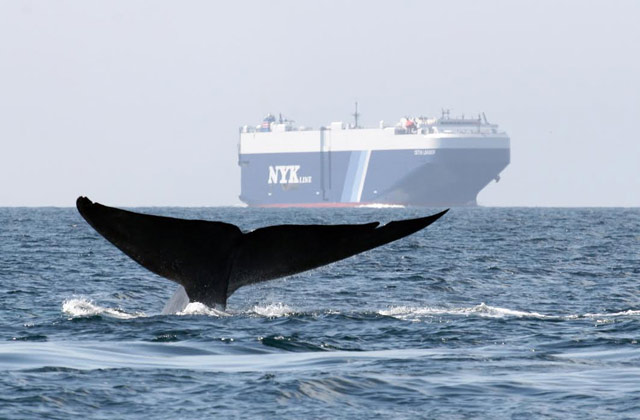 Partners behind Protecting Blue Whales and Blue Skies, a project intended to reduce air pollution and increase whales' safety, last week received a national Clean Air Excellence Award. The U.S. Environmental Protection Agency (EPA) presented the award in recognition of the project's efforts to reduce ship speeds in the Santa Barbara Channel.
The 70-nautical-mile-long stretch of the Pacific Ocean south of Santa Barbara serves as a route for thousands of large-container cargo ships to pass via designated shipping lanes. Unfortunately, those ships bring more than just cargo: Large-container vessels emit greenhouse gases and toxic pollutants into the air. Prevailing winds carry pollutants ashore and onto the mainland. According to the project's report, over half of the nitrogen oxide gas emitted in Santa Barbara County was a result of these vessels.
The dangers posed by large-container ships are not limited to the air. Shipping lanes in the Channel play host to endangered whale species — like blues, fins, and humpbacks — which travel and feed in and around the lanes during the summer months. A 2014 study published in PLOS ONE scientific journal found that ships were often inadvertently striking and killing whales that came into their path.
A solution is to reduce ship speed. A typical cargo ship sails at between 14 and 18 knots. Reducing that speed to 12 knots cuts emissions and decreases the likelihood that ships kill whales. While overall improvements in whale protection are difficult to quantify, lowered speeds directly contribute to reduced emissions by decreasing the load placed on a ship's engine and reducing the amount of fuel the ship uses.
As part of the overall project, Santa Barbara and Ventura counties' Air Pollution Control Districts, the Channel Islands National Marine Sanctuary, the Environmental Defense Center (EDC), and the National Marine Sanctuary Foundation collaborated on a program that incentivized shipping companies to reduce vessel speeds. The Vessel Speed Reduction (VSR) Incentive Trial Program, first run in 2014, offered shipping companies $2,500 per transit, along with a public relations campaign, if their ships traveled at 12 knots or less.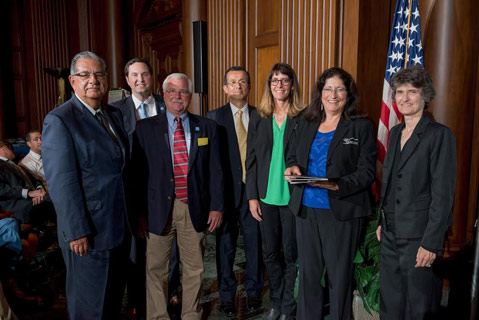 Getting these companies to participate was not solely a game of dollars and cents, said Mary Byrd, Community Programs Supervisor at Santa Barbara County's Air Pollution Control District. Rather, she said, selling the shipping industry on the program was also achieved through an appeal to altruism.
"No ship captain or crew member wants to hit a whale," Byrd said. "The incentive didn't cover the companies' cost of reducing speed, but they got a positive response from getting involved and interested in this program."
Seven shipping companies participated in the trial, which took place from July-October. Those months mark the season whales travel to the Channel in high volumes to feed on sea krill before southward migration in the winter. The project's report noted that July-October was also a "prime period for high levels of ozone air pollution."
As far as air pollution goes, the trial program was a success. In a press release, the Air Pollution Control District reported a reduction of "more than 12 tons of smog-forming nitrogen oxide pollution and more than 500 metric tons of greenhouse gases." The trial was modeled after previous successful programs run by the Ports of Los Angeles and Long Beach. Cargo ships travel to and from those same ports while making their way through the Santa Barbara Channel.
Total success in whale protection, on the other hand, cannot be easily measured. In its report, the project stated "with confidence" that reducing ship speeds would lower the risk of fatal collisions with whales. During the trial program, researchers know of no whales struck by incentivized ships. Reducing the risk of any collision, however, is "difficult to quantitatively determine," according to the project's report. "It's very difficult to prove a negative," Byrd said. "You can only say that the chance a collision will be fatal is reduced."
After concluding the trial, a special working group was appointed to review the program's findings. The result was "unanimous" support, according to the release from the Air Pollution Control District.
A second program is underway, and shipping companies have already expressed interest, said Byrd. This time around, ship captains will be able to fill out detailed reports of whale sightings in order to better influence the project's findings on whale protection.
The response from companies has exceeded the project's expectations. "More companies were applying to be a part of the program than we could find," Byrd said.
The EPA awarded Byrd, as well as the project's other collaborators, at a June 28 ceremony in Washington, D.C. "The goal was to lay groundwork for a more large-scale program," she said. "But from the start, we've gotten immediate benefits."