Here is the first installment of The Independent's 2016 Election Endorsements. Over the next week we will be publishing endorsements for other races both online and in print. As always, we urge you to vote, whether you agree with us or not. To give access to the polls for individuals with disabilities and frail seniors, Easy Lift will provide accessible transportation; call (805) 681-1181 before November 7 to make a reservation.
President: Hillary Clinton
Never before has the choice confronting American voters been so perilous. On paper, the outcome should seem obvious. In Hillary Clinton, we have one of the most supremely qualified and thoroughly prepared candidates ever to run for the nation's highest public office. She served as secretary of state, New York's senator, and First Lady. By contrast, we have in Donald Trump a candidate whose life history betrays no pretense at public service and whose private accomplishments were achieved chiefly by fraud, deceit, and white-collared thuggery. For reasons both real and exaggerated, however, we recognize some of our readers are less than enamored of Clinton. Whatever your misgivings, think of all the human suffering that will unfold if Trump ​ ​— ​ ​an explosive genius for self-idolatry and hate ​— ​becomes the most powerful man in the world. And this could truly happen. Believe it.
We understand that Hillary Clinton, with her long history in the public eye, leaves a record that is not perfect. She has made mistakes. But such considerations should not obscure essential realities. In Hillary Clinton we have a time-tested, seasoned political leader of phenomenal strength and determination who has relentlessly pushed to expand the protective touch of health care. She has been an unwavering champion for women's equality and reproductive rights. And from her earliest years she has worked to expand civil rights for all. Contrary to popular political folklore, these struggles for human equality are not "settled" but remain vulnerable and incomplete.
In the Democratic primary, Senator Bernie Sanders succeeded in improving some of Secretary Clinton's ideas for reform. Let's not disregard this. As an inveterate policy wonk, a quick study, and moderate pragmatist, Clinton's already put forward detailed plans to increase child care for working families and the desperately needed student-loan reforms to shield those who would otherwise be shackled by burdensome debt.
Whoever wins this election will pick at least two new Supreme Court justices, thus defining fundamental legal and human values for decades to come. Given the depressingly retrograde rulings dispensed by the court majority prior to the death of Antonin Scalia, this is a historic opportunity ​ ​— ​ ​it cannot be squandered. The consequences of a Supreme Court defined by the likes of Donald Trump simply beggar the imagination.
Over the past years, the nation as a whole has been forced to confront anew the profound chasm of racial mistrust. After 30 years of destructive, unjust, and economically unsustainable law-and-order policies, the pendulum is finally swinging the other direction. To an uncommon degree, Clinton gets it. She will use the authority of office to pursue new paradigms for community policing. By contrast, Trump has systematically availed himself of the code speak of racial hate.
Trump's outrages are too numerous to list. By now the whole world knows most of them: his attacks on Mexican immigrants, his promises to marginalize all Muslims, his idiotic idea to build a wall, his nakedly racist "birther" charge against President Barack Obama, his misogynistic attacks on women, and his refusal to repudiate the support of well-known white supremacists. These are not the comments of someone pushing back against the constraints of "political correctness." These are the remarks of an amoral man who will do or say anything to gain attention and to hear the lusty cheers of his supporters. Consider his stunning remark that he would have had sex with his daughter were she not his daughter. How creepy and disturbing is that? And based on his performance at the first presidential debate, and his subsequent frantic tweeting against a beauty queen, we must seriously consider whether he is mentally competent to hold any public office.

Can we, the American voters, take a chance of unloosing such a person on the world? How much risk should we take just to shake up the political establishment? The community of nations, already volatile enough, can ill afford the violence and instability Trump would inflict. And neither can our country.
Above and beyond policy details and political rhetoric, this year's presidential contest is fundamentally a referendum for the soul of a troubled nation. With Donald Trump, the choice is hate. With Hillary Clinton, the choice is hope.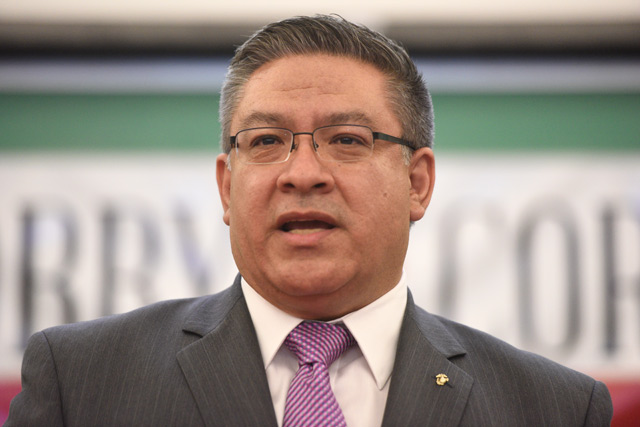 By Paul Wellman