Upon opening nearly five years ago in April 2014, Empty Bowl Gourmet Noodle Bar became an instant hit. The casual, open-kitchen, bar-wrapped restaurant by Jerry Lee, Emre Balli, and Chef Nui Pannak filled a void of Thai-inspired noodle dishes that Santa Barbara didn't know it had and served as the steadily beating heart of the Santa Barbara Public Market as the large, collaborative space found its way.
About three years in, though, the trio started considering something new. "We wanted something more full-service, sit-down," said Lee, who was ready to flex the wine muscles he grew while he and Balli developed the wine lists for San Ysidro Ranch and El Encanto in past years. "And we wanted to do it in Montecito. We knew there was a niche there that needed some Thai food."
Pannak, who moved from her native Thailand almost 20 years ago and worked for a long time at Zen Yai, also felt the need to expand. "She always wanted to spread her wings more than what we can do at Empty Bowl because the kitchen is so small," said Lee. "This way, she can mess around with more stuff — all of the curry pastes are handmade; every single thing is from scratch. She wanted to showcase her skills."
So, in November 2018, after two years of searching and plotting, they opened Khao Kaeng in the downstairs corner of a complex on Coast Village Road. "We wanted to keep it separate from Empty Bowl," said Lee, although they do serve that spot's most popular dishes, including the northern Thai curry and hangover noodles, in Montecito. "We're focusing all around Thailand, from the northeast to down south. We wanted to hit every spot but also focus on curries. That's where the name comes in: 'Khao' means 'rice' and 'kaeng' means 'curry.'"
Balli and Lee are excited to again join forces on a robust beverage front. "I moved from Turkey to be an intern," said Balli of his move to San Ysidro Ranch a decade ago. "Whatever I've learned in Santa Barbara was from Jerry. I was his intern and then became his really good friend."
They offer 16 wines by the glass and 120 bottle selections, ranging from Central Coast favorites and Napa blue chips like Opus One to Old World classics from Burgundy, Sancerre, and the Loire. There are, of course, plenty of crisp whites and sparkling wines that can cut through the Asian spices and acid. Among other food-focused highlights, like Austrian and German Riesling, is a sauvignon blanc made by Paul Lato. "He made 100 cases for the whole world," said Balli, "and we are the only place serving that by the glass in North America."
There's also a range of regional beers and four low-alcohol cocktails that have been very well received. The cocktails are fueled by Sabe, a brand that blends tequila, bourbon, and other spirits with sake to mirror the flavors of those stronger boozes while falling under the permit for selling beer and wine.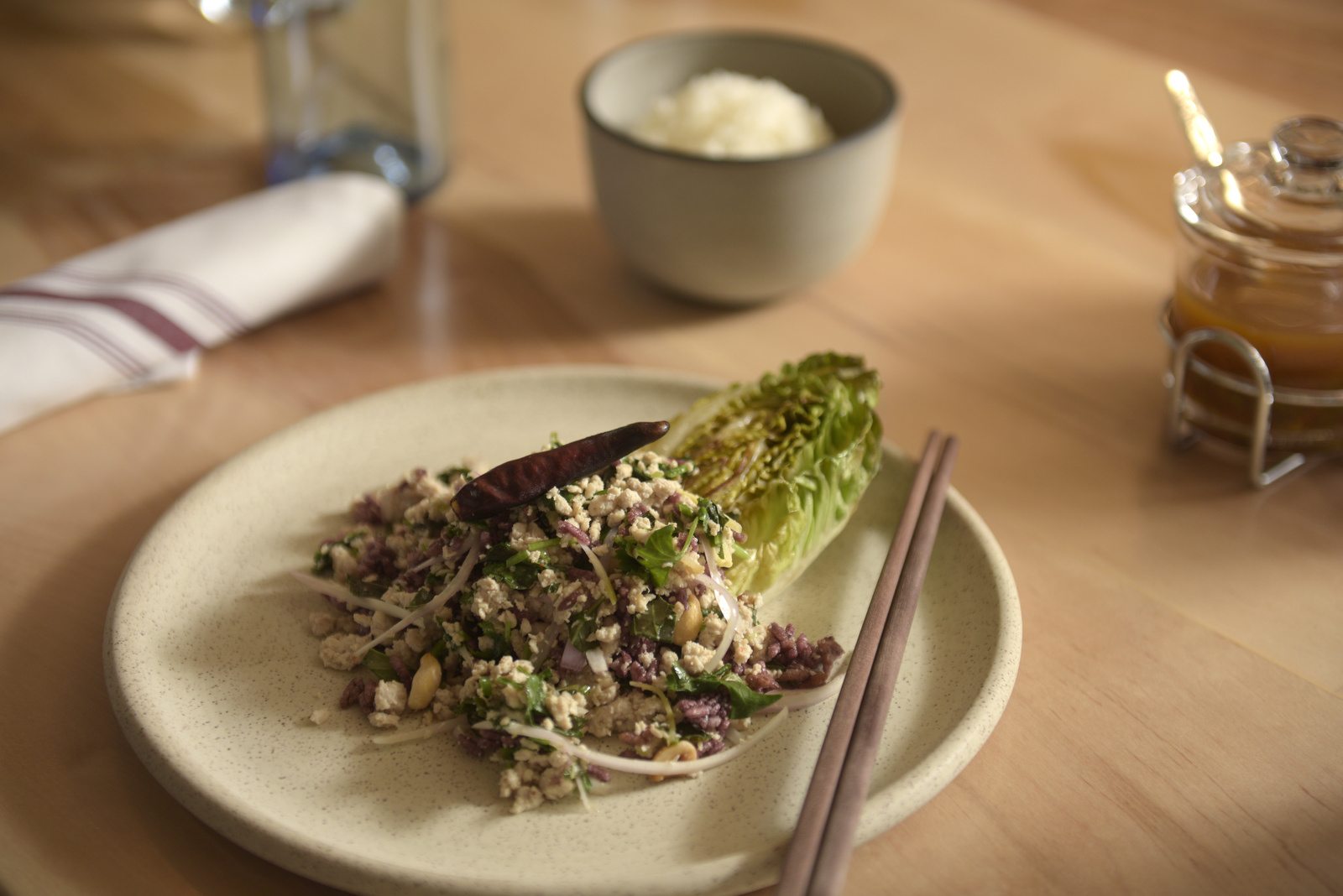 By Paul Wellman