Film & TV
From Shtetl Walls to Barbie Dolls
The Third Annual Santa Barbara Jewish Film Festival
"We're trying to keep it fresh, to deepen the experience," said Barbara Greenleaf, prime mover and president of the Santa Barbara Jewish Film Festival. "In a way, you could say a film is not a film is not a film here." In other words, for the makers of the third annual film fest, it's not art for art's sake. "This is an opportunity to get a hit of ethnicity, but also to experience something communally," said Greenleaf.
This festival is not a meet-the-filmmakers lovefest or a celebration of depths of cinematic yearnings, although there are serious critical temperaments involved, and more than a bit of arguing before and after screenings. "We're just civilians," said Greenleaf, describing the panel that sifts through films from bigger Jewish film gatherings to find the eight films they'll bring here for the three brief days.
They must be particularly good civilians, though, because the festival has sold out each time. Part of it is the reasonable offering: Ten films and two meals for $80 and plenty of free parking behind the Plaza de Oro Theatre. But it's something more than a bargain, at least for Greenleaf, who recently spoke by phone with someone who had lived through the diaspora after the holocaust of World War II, which is a recurring theme in some of these films. "That's why we do this festival," said Greenleaf. "There are a lot of people here who have stories to tell. And it made me think what it is like to lose everything: your tongue, your country, your culture, your family. I heard that in her voice and it was a real boost to think this was what we were about."
But entertainment is vital, too, said Greenleaf, a former New York Times journalist, McCall's Magazine editor, and public relations person who came out of retirement to volunteer about eight months a year for this task. And the lineup is meant to be both riveting and relevant.
One new thing this year is a pre-festival night for younger people, which happened on Wednesday night (Mar. 7), with the maybe-controversial screening of Hineini: Coming Out in a Jewish High School. The 62-minute documentary (Hineini means "here I am" in Hebrew)-which tells the story of a woman admitting her sexual identity as a lesbian while trying to connect to her faith in the confines of a private school-serves, as Greenleaf put it, "the whole spectrum of Judaism." Rabbi Steve Cohen brought the film to festival organizers' attention, and supervised a discussion afterward. "Though parents were encouraged to see the film, they [were] asked to leave during the talk afterward," said Greenleaf.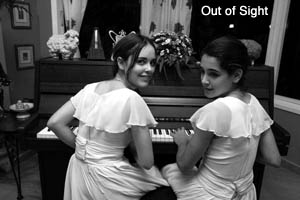 But the real reason to attend the fest is its true opening on Thursday, March 8 at 7:45 p.m.: Out of Sight (Lemarit Ain) is an Israeli film by Daniel Syrkin that explores the nature of blindness in all-too-human affairs. Ya'ara, a blind woman, returns home from college after her cousin commits suicide. In the aftermath she makes a terrible discovery, and her own physical blindness stands in high contrast to the metaphorical blindness that surrounds her. Deeply moving and technically complex, Out of Sight is the kind of film that can justify stetting through a few clunkers. Preceding the psychological drama is a five-minute animated short-another value-added plus to this year's fest is a series of shorter works-titled Back Seat Bingo, which combines whimsical drawings with real glimpses of sex in the waning years of a Florida retirement home.
After hiccupping over Friday and Saturday (Shabbat, dude), the fest resumes after Saturday's sunset with Isabella Rossellini, Maximilian Schell, and Chaim Topol in Left Luggage (Sat., 5:30 p.m.), a "funny, bittersweet" story from the Netherlands. The evening concludes with the German-Hungarian coproduction of Gloomy Sunday (Sat., 8:15pm), a love triangle featuring a Jew, an SS officer, and a beautiful dancer, which was in limited release last year to critical acclaim. "It's a staple of similar festivals," said Greenleaf, who is more interested in quality than premieres. "But it's so good we had to bring it."
Sunday's mainly devoted to documentaries, including The Power of Good: Nicholas Winton, the story of the "British Schindler" (Sun., 9:30am). But before we get too serious, one of the most interesting of all the cinematic slices, I think, is a 20-minute short film called The Tribe, which purports to (and sort of does) tell the story of Judaism on the planet with special attention to Barbie, who, it turns out, was invented by a Jew. Who knew? The other find of the fest is The World Was Ours (Sun., 11am), a deliberate and sensitively narrated history of Vilna, Lithuania, a cultural epoch of European Jewry that lasted more than five centuries only to be obliterated by Hitler and his willing accomplices.
In a more controversial vein, The Children's House (Sun., 1:30pm) presents a critical look at the kibbutz movement in Israel, one of the progressive bragging points of the beleaguered land. The fest ends on a slightly slow, yet beautiful, note with the French doc From Shtetl to Swing: A Musical Odyssey (Sun., 3:45pm), a rehearsing of Jewish contributions to American popular culture. It's a great topic, but gets served up in a surprisingly tedious format considering the zestful Harvey Fierstein narration.
But dissent is completely allowed in a fest like this. To that end, Greenleaf and coproducers have even included a critic-in-residence, George Robinson, who writes about film for the New York-based Jewish Week. Besides a talk on the nature of Jewish films-if they indeed exist-Robinson will conduct ad hoc discussion groups between screenings in addition to his breakfast talk at 9 a.m. on Saturday at Congregation B'nai B'rith. And what working definition of Jewish film did the organizers of this community fest use?
"I looked for big themes," said Greenleaf, "and one that reflects what the Israeli film industry is doing, or something that indicates or illuminates what this grand experiment in humanity called Judaism is all about."
4•1•1
The Santa Barbara Jewish Film Festival runs Thursday, March 8 through Sunday, March 11 at the Plaza de Oro Theatre. For tickets and info, call 964-3377 or see sbjff.com.