EMO CORE:If current alternative radio's reliance on epically emotional groups with a clever, self-deprecating aesthetic leaves you cold and yearning for the jangly, genuinely "emo" groups of yore (think early Jimmy Eat World, The Promise Ring), look no further than local rockers the Little Heroes. The band plays a throwback (if the mid '90s can be considered retro) form of earnest guitar rock that seemed like it was about to break into the mainstream about five years ago. Instead, heavier bands with a more ridiculous fashion sense (think My Chemical Romance, AFI) co-opted the nascent genre's momentum and now we all have to suffer through Fall Out Boy's Pete Wentz's frequent MTV appearances.
If all this turns your stomach a bit, you are cordially invited to celebrate an alternative timeline of popular rock trends at SOhO on Sunday, April 22, at the Little Heroes' CD release party for their new album. The hard-rocking and hard-working group has been garnering excellent press for its debut release, Cinematic Americana, and is sure to be in top form for this hometown celebration. -Max Burke
SMITH'S RIFFS: With Austin, Texas, quickly becoming the new Omaha of the indie music scene, it's no surprise that Austin native Roger Len Smith is making waves with his fourth album, New Dark Ages. And as with many of the now-famous Omaha exports-including Bright Eyes's Conor Oberst-Smith isn't afraid of tackling issues larger than the traditional love and loss beat so common to jam band singer/songwriters. Instead, Smith, whose sound is evocative of a less polished Tom Petty, delves headlong into the political and philosophical issues of the day without sounding heavy-handed. This Wednesday, April 25, Smith celebrates the release of his newest album with a party at SOhO featuring openers The Adobe and Claude Hopper at 8 p.m. If you can't make it to the release party, Smith plays an encore show next Friday, April 27 at the Brewhouse at 9 p.m.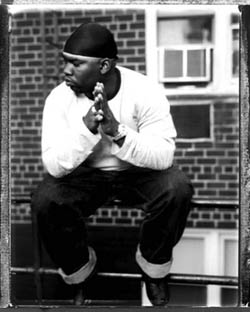 CLAN MAN: Velvet Jones continues its mission of bringing the best Wu-Tang Clan members to town for what now seems like monthly gigs. This month features Raekwon, whose 1995 release Only Built 4 Cuban Linx provided the blueprint for sprawling drug rap and to this day remains one of the freshest and most exhilarating releases from the crowded field of superlative 1990s hip-hop records. Sometime this year, if we're lucky, Raekwon will release the long-awaited sequel to Cuban Linx. His show on Friday, April 20 (a more appropriate date for a Raekwon show could not be imagined) at Velvet Jones may give the devoted a chance to hear some of his newer material, but Raekwon is a consummate showman regardless, and no true hip-hop fan should miss this appearance. -MB
VASTLY IMPROVED: Since rock began, it's been common for bands, at a certain point in their careers, to enter a self-reflective, reclusive period that-with time-eventually gives rise to higher quality music. Vast, in this sense, is no different than others, except for the fact that its style has never fit comfortably into any particular musical genre. Frontman Jon Crosby, bassist Michael Austinmoore, and guitarist Ben Fenton have come out of hiding with sounds from an electronic, world, pop, and classical musical melange. The fact that they started their own label, 2Blossoms Records & Media, is just a single example of the band's mission to maintain its artistic integrity and connection with its fans. But don't take my word for it. See Vast for yourself this Tuesday, April 24 at Velvet Jones. -Sheyla Molho
O HAPPY DAZE: If vegan cookies are your thing, head down to the Biko House on Wednesday, April 25 for what promises to be, according to the event's Facebook page, facebook.com/event.php?eid=2450785978, a night of dancing, hugs, and self-esteem. The concert features melodic folk band French Quarter, funky dance band Griznar Collective, and Hell-Kite, "a 17-year-old girl from Thousand Oaks who runs around and screams." If nothing else, the 6 p.m. show will certainly be a change from the usual downtown scene. And hey, who doesn't need more hugs? -SH
SUMMER PREVIEW: After a delayed start due to construction, the Santa Barbara Bowl has finally released portions of its 2007 series. Confirmed artists include Norah Jones with the fascinating M. Ward (who may just show up Ms. Jones) on June 22, an unusual classical performance by the Music Academy of the West on June 23, the Goo Goo Dolls on June 25, two nights of Gwen Stefani with opener Lady Sovereign on June 26 and 27, Marco Antonio Sol-s on June 29, and Lyle Lovett and k.d. lang on July 28. I know it's not much of a lineup for the rockers at heart, but rumor has it that the season will also include performances by 311, Incubus, and Snow Patrol. So keep your head up and stay tuned.