Arts & Entertainment
Introducing Hawaii's Paula Fuga
A Chat with the Vocal Goddess Who Blends Reggae with Hawaiian Tradition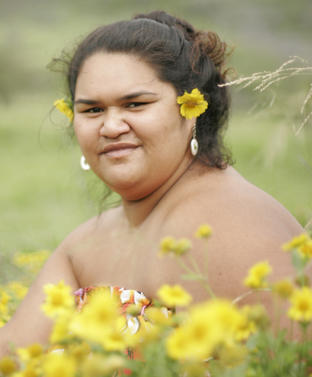 Hawaiian songstress Paula Fuga – who first found fame as a rejected contestant on American Idol and recently collaborated with North Shore neighbor Jack Johnson – is embarking on her first stateside tour this month. She'll grace Santa Barbara with her presence on Monday, May 14 at SOhO, with the Culver City Dub Collective.
Fuga's debut album Lilikoi, which came out last May, is a soothing blend of reggae-tinged tunes beautifully adorned with her hauntingly smooth voice. But Hawaii is the root of her music: She plays the nose flute and ukulele, sings in Hawaiian, and dominates the stage with her distinctly Polynesian frame. Jack Johnson, also an Oahu native, found out about Fuga during an annual kickball tournament for pro surfers. That led to their recent collaboration on the stirringly soulful song "Country Road, " which she recently san with Jack on stage at his Kokua Festival.
We recently spent some time talking on the phone, the night before she left for her first Californian tour.
So I hear you first got some fame thanks to your appearance on American Idol. Tell me about that.
Well, American Idol came to Hawaii for their auditions in 2003, and I had to try out, know what I mean? I always wanted to be a singer, so I couldn't just miss the opportunity. So I did and the producers loved me. The judges, they weren't that thrilled, but, you know, I got to fly out to Hollywood. They flew me out for a special after the auditions aired, and I got to write a song about the judges. It was pretty cool. They said the harder that I could be on them the better.
But you'd done plenty of singing before, right?
Oh yea. I've been a singer my whole life. I knew it was just a matter of time when things would happen. I always knew that I would do this and would be able to travel all the world with my music and share it with people.
Much of your music is reggae, and I've always thought there seemed to be a deep, natural connection between reggae and Hawaii. Do you agree?
Oh yea, I definitely think so. It's all around here in Hawaii. Reggae music is very popular. It's the pop music of Hawaii.
Why is that?
I think because the things that reggae music talks about, the struggles that are mentioned in the songs are the same struggles that we have here in Hawaii: living on an island, just having limited resources, having an easy laid-back lifestyle.
But for me, the reason reggae is such a big part of my life is because it's so soulful. And reggae music has slow songs, and I like slow songs. In a slow song, you have room to stretch your vocals out. I think that, to me, reggae music is a slow music that is still danceable, you know what I mean? And I love the heavy bass in reggae music.
You also play the nose flute? How's that go with reggae?
Well, music is music, man, whatever it is. You can take any instrument and play any kind of music with it. That's something I had to learn and it's not something that everyone knows. You can have a fiddle in reggae or anything – that's the beauty of being able to have no orizons for yourself, not limiting yourself to any possibilities. Yea, you can have a nose flute in reggae. People ask me, "What's your next album going to be like?" I say, "Oh, a little more of the acoustic vibes. I love the rawness of acoustic music." And they say, "Are you still gonna do reggae?" I say, "Yea, I'm gonna do both." And they're like, "Wow." It matches, man, music is music, you know? There are no colors in music.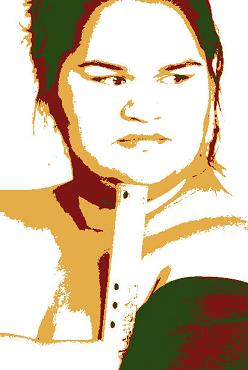 Did you learn the nose flute growing up?
Yea, kind of. Growing up in Hawaii, you come across all different types of instruments. It's similar to the way kids in Mexico grow up playing the maracas. It's something you try out once when you're a little kid. Just yesterday, I was at the park with my nieces, who are five and six years old, playing my nose flute. So they both tried it out.
Even though they're not gonna play it everyday, they tried it out and they were able to play a few notes.
You've also done some collaboration with Jack Johnson, who's quite popular around these parts. How'd that come about?
I live on the North Shore and Jack is from the North Shore. My boyfriend's family grew up with Jack. My boyfriend's brother has this clothing company called All Bus, and every year they throw this kickball tournament and all the pro surfers and the whole North Shore, which is the surfing mecca of the world, come out. They throw it during the time when the big contests are going on, so all these big name surfers will come out and play kickball. It's a pretty cool way to even up the playing field, so to speak. It's good fun.
So I was singing at it one year, and it just so happens that Jack was there that year. His wife Kim really liked me, she told Jack, "Why don't you have her play at the Kokua Festival?" So he came up to me, and I started singing. He introduced himself, and I was fumbling over my words, saying "I know you Jack. The Kokua Festival? Oh my God! I went to that last year."
He's such a humble guy. He's truly an inspiration to me as a musician and just as a person. He doesn't have a big head. He doesn't let all of this scene and attention carry him away. He's still grounded. He rocks slippers!
And you just recorded a song with Jack. How'd that go?
Yea, "Country Road" is the song I recorded with him. I wrote that song and it means something to me. What happened was I was driving home early one morning from the North Shore. I was living on the east side at that time. There was a traffic accident, and I was kinda impatient. Cars were backed up for miles, and was thinking, "I gotta get to work." Then I thought to myself, "There was a traffic accident, and someone could have died."
And here I am in perfect condition worried about being late for work, and I felt so ashamed. I was ashamed of myself, ashamed at the thoughts I was thinking, so I decided to write a song right now about this. I picked up my ukulele and started strumming.
The funny thing is, when I was writing it, I thought about Jack because a friend of his told me how he wrote his song "Constellations," he was on the beach in Santa Barbara and all the words in the first verse of that song, he was experiencing as he wrote them. I never realized that you could write a song at the moment when what I am writing about is happening.
So I wrote "Country Road" in the car, and a few months, I meet Jack and we eventually record the song together. It's just a chicken skin moment-that's goosebumps. And a couple months later, I was driving back on the same road in the opposite direction, and I looked to the right on the part of the road where I had been writing the song, and there was a street called Johnson Road.
Are you working on a follow-up to Lilikoi?
I am currently getting my material together, collecting my thoughts. I am hoping to work on another album very soon.
Have you ever been to Santa Barbara before?
No, I never been there.
Are you looking forward to it as part of your first stateside tour?
Oh yea, definitely. I'm so excited. I leave tomorrow morning, so I am packing right now. I hope people come out and enjoy my music. I have all this music to share
411
Paula Fuga comes to SOhO with the Culver City Dub Collective on Monday, May 14, at 10 p.m. See sohosb.com or call 962-7776 for tickets. For more on Paula, see PaulaFugaMusic.com. For more on the Culver City Dub Collective, see culvercitydubcollective.com.