Outdoors
Walking on Water
Stand-Up Paddle Surfing Invades Santa Babylon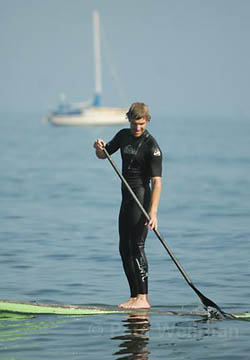 For the record, though it pains me to admit it, I used to be a boogie boarder. While I have long since evolved beyond the lay-down sponge riding, the fact remains that not only did my love affair with surfing begin years ago in the prone position but also, when the conditions are right, I still occasionally kick my way into a beach break barrel or two, sliding merrily along, belly down and ass up, on what the Australians so affectionately refer to as an elephant's tampon. Call me a kook, but the bottom line in all wave-sliding adventures is fun, and some days riding a boogie board is just about the most fun you can have on the water-though I may wear a mask to conceal my identity.
It is with similar trepidation that I approached stand-up paddle surfing recently-that Hawaiian-born water riding trend that has been afflicting our beaches at an alarming rate of late. To be honest, I have long been skeptical of what the Hawaiians call Ku Hoe He'e Nalu, which translates literally "to stand, to paddle, to surf, a wave." Seeing it as some sort of hideous mutation of longboarding, walking the line between yuppie fad and a lazy man's surf tool, I would bemoan the arrival of SUPS (stand-up paddle surfers) in the lineup. Their massive, beefed-out 12-foot boards, dry heads of hair, and ability to catch a Rincon roller three miles outside the pack pissed me off to no end.
Oh, but being wrong is a wonderful thing, so when Channel Islands Surfboards marketing guru Travis Lee offered me the chance to put down my biases and pick up a paddle, I took a cue from my dirty little boogie-board secret and decided to give it a go. Needless to say, after little more than an hour of SUPSing my way along the Montecito coast, I was sufficiently stoked on what would have been an otherwise surfless Saturday afternoon.
Also known as "Beach Boy Surfing," SUPS traces its roots to the Hawaiian Islands' tourist-crazed shores of Waikiki Beach. Though some have linked it to decidedly more ancient Polynesian wave-riding antics, SUPS was more or less invented by the Beach Boys who would use an outrigger canoe oar to paddle their longboards offshore in order to take photos of their tourist clients in the 1950s. From this, it enjoyed a mild though basically anonymous following for several decades until a few years back when mad surf geniuses like Laird Hamilton and Dave Kalama started infusing SUPS into their saltwater diet as a means of cross-training, transportation, and ultimately big-wave surfing. With Laird and crew serving as the pied pipers, SUPS soon started showing up at summertime point breaks across Southern California with literally hundreds of people turning on to the sport. Now, on most sunny weekend days, SUPS can be seen locally, sweeping their way across the lineups from Ventura to Gaviota on boards made by some of the biggest names in the industry like Hobie, Channel Islands Surfboards, and Yater. While a sticker price of well over $1,500 for a brand new SUPS board and paddle pretty much prices out everybody but the well-connected and the well-to-do, there is no denying the emergence of this surfing mutant.
After growing up on the ocean and spending much of my life seeking saltwater kicks of all kinds, it is rare that I feel awkward on the sea. That being said, though I pulled it off relatively smoothly, the initial feeling of popping up on what is basically a much bigger, thicker surfboard with a large paddle in my hand was alien to say the least. The feeling of general kookery remained as I took my first few knock-kneed paddles, the board weeble-wobbling back and forth beneath me. Then, as I crested over a small one-foot peeler bending into Miramar Beach, I got my sea legs and literally, in fewer than five minutes, I felt like I had the thing wired.
Once offshore, turning north toward Butterfly Beach, the appeal of SUPS washed over me in a series of realizations. First was the fun factor as I literally walked across the water, warm wind in my face, the hurried pace of life on shore melting away with each stroke of the paddle. Then the sites and sounds of my unique vantage point took hold and I was left alone with my thoughts, lazily surveying the shore, breathing in the mountains and gazing dreamily down into the water.
Cruising through the low tide kelp beds, my one-hour paddle offered glimpses of dolphins, a decent-sized leopard shark, a seal, and the abalone-esque sparkle of sunlight dancing on the water. At times, my focus would wane, and a little wind swell would send me ass over end off the side of the board. Humbled but also thankful for the quick dunk, I would climb back up and easily resume my paddle, hoping none of the half-naked coeds cooking on the beach had noticed.
In the end, after catching an ankle-high wave at Miramar, I made it to shore, salty, smiling, and sore. Despite surfing as much as nature permits and running my dog to near death on a daily basis, my short jaunt on the SUPS board left me sore from my feet to my neck for the next two days.
Lugging the massive green board up onto the sand, I couldn't help but think what a perfect addition to a Santa Barbara quiver a SUPS board would make. For many in the surfing tribe, the simple act of putting yourself in the sea can turn a bad day on its end and give your troubles some much-needed big-picture perspective. Unfortunately, the swell-starved coastline of Santa Barbara seldom spurs us to spend enough time in the water-something a healthy SUPS habit would go a long way to remedy. And even better, unlike my super-secret boogie-board missions, no disguises are needed.