Living
Williams Begins Re-Election Campaign
Joins Schneider, Barnwell in Bid for SB City Council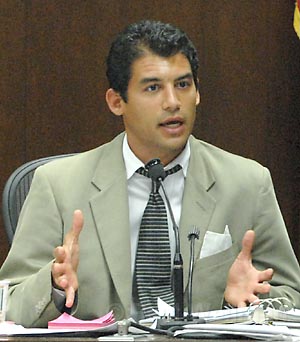 Flanked by former Assemblymember Hannah-Beth Jackson and Susan Jordan, executive director of the California Coastal Protection Network, and with about 30 friends, family and supporters looking on, Santa Barbara City Councilmember Das Williams announced the start of his reelection campaign at the Arroyo Burro Estuary Tuesday. Williams joins fellow incumbents Brian Barnwell and Helene Schneider in running for reelection. Thus far, no one else has announced their intention of running.
Jackson told a story of how, when Williams campaigned for her during her first run at the assembly seat, he eventually just brought in a mattress to the campaign headquarters so he could live, sleep and work there. Jackson called Williams a hard worker and a man of his word. "If he has to move mountains to make it happen, he'll make it happen."
In some instances it wasn't moving mountains, Williams said, but culverts – one of the reasons he chose the estuary. A renovation removed a 300-foot culvert in the creek, and also planted 6,000 native plants and trees. "It's emblematic of the progress and work we're doing in the city," said Williams, who was unsuccessful in running for 2nd District County Supervisor last year. He said the city was headed in the right direction, with him serving as a catalyst on the council.
The News-Press was there to cover the event, the only reelection kickoff attended by the paper, as was Williams's fiancee, Jennifer Stroh, president of the Citizens Planning Association board and former councilmember David Landecker, and fellow councilmembers Helene Schneider and Grant House. A kickoff party followed later in the day at Arnoldi's Cafe.