Sports
Four Women Attempt to Break Team Record in the Race Across America
Atlantic City by Bike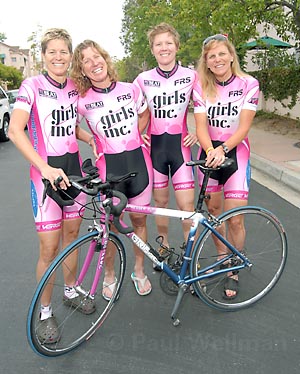 From sea to shining sea, they are cranking their sleds in the name of sisterhood. Denise Clark, Jill Gass, Sonia Ross, and Lisa Tonello started riding their bicycles-one at a time, in relay fashion-on Tuesday afternoon, June 12, at the Oceanside Pier, and they will not stop until they reach the Atlantic City Boardwalk. They will cover 3,043 miles of road through 13 states. They went below sea level near California's Salton Sea, and Colorado's Wolf Creek Pass (elevation 10,850 feet) looms ahead of them on the Continental Divide. They will cross over five major U.S. rivers. But sightseeing is not on their agenda. They will be pedaling as fast as they can in a race against the clock.
They hope to reach Atlantic City soon enough to break a record in the Race Across America (RAAM). They will have to average better than 18 miles per hour to crack the women's team record of six days, 12 hours, and 28 minutes set in 1996 by a foursome from Florida.
It is a daunting challenge, but Clark, Gass, Ross, and Tonello are strong and able women with years of cycling experience. They compete in local, state, and national road and track events as members of the Kalyra Women's Racing Team. They will each have to churn out about 125 miles per day to reach their goal-not nearly as demanding as the 300 miles per day covered by solo competitors in the RAAM.
"The team relays allow mortal people to compete," Gass said.
Gass, 51, is a critical care nurse at Cottage Hospital and cycling coach. Also around 50 years old are Clark, an accountant in the county auditor's office, and Tonello, a grandmother who owns the Bike Barn in Santa Maria. Ross, 42, is a massage therapist. Before moving to Santa Barbara, she was on a women's team that did the RAAM in 1999.
"I always wanted to do it again," Ross said. "It's truly an amazing experience, the hardest thing I've ever done in sports. I'm so happy to be doing it with this team."
The team is raising money for Girls Incorporated of Greater Santa Barbara. "We're overwhelmed by the support we've gotten without any corporate sponsors," Gass said. "Small donations have come from all over."
The riders have a support crew of 13 volunteers, trailing them across the country in four vans. "The cycling is going to be the easy part," Gass said before the team departed. "The real challenge is the logistics of pulling it off, getting everyone together."
Ernie Ferrel, a chiropractor, is the crew chief. He helped Les Drake of Santa Barbara complete a solo RAAM effort in 1993. "The RAAM is a spiritual experience," Ferrel said. "Everybody is going to be affected in a different way." His concern is keeping the crew sharp. The health and safety of the riders is at stake. "The four women just have to ride, eat, and rest," he said.
The RAAM had a fatality a few years ago, and organizers insist that the riders observe all traffic signals and stop signs, and at night they must ride in front of a support vehicle's headlights.
The elements will put everybody to the test. "It's not Southern California, not La-La Land," Ferrel said. "There's going to be incredible rain, maybe snow."
Another Santa Barbara team in the RAAM is in the eight-man division. Team Santa Barbara Bank & Trust has an average age of 61-plus years. The riders are Jim Adams, Edwin Allbritton, George Bifano, Fred Clough, Donald Flanigan, Brian Knowles, Lance Mason, and Richard Ward. They are competing in support of CALM (Child Abuse, Listening, and Mediation).
Progress reports can be found at raceacrossamerica.org.