Business
New Bank in Town
Jim Lokey Explains Rabobank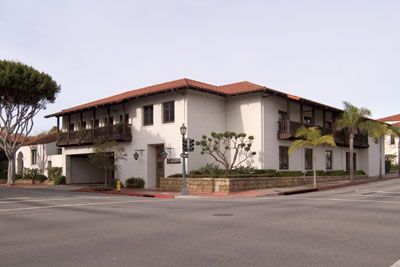 The world changed for Jim Lokey when Rabobank, a private cooperative banking group headquartered in Utrecht, The Netherlands, absorbed Mid-State Bancshares at the end of April. Formerly CEO of Mid-State Bank & Trust-with 41 branches in Santa Barbara, San Luis Obispo, and Ventura–Lokey now co-presides over all of Rabobank's California retail banking operations. He spends his days traveling from Sacramento to the Mexican border, visiting the 81 branches and 14 commercial loan centers that comprise Rabobank, N.A., the name of the bank in California, with assets valued at $8.1 billion, a fairly decent chunk of Rabobank's $730 billion total assets.
Perhaps the most unusual thing about Rabobank (short for Cooperatieve Centrale Raiffeisen-Boerenleenbank) is its organization as a cooperative, which is a model completely foreign to US banking. It began more than a century ago in the Netherlands as a group of farmers loaning each other money. Rabobank Group was born when a number of these small cooperative banks came together as a larger collection. Nowadays Rabobank Group is governed by two legislative bodies: a parliament of delegates that makes the rules, and a general meeting of all 188 member banks in the Netherlands who, voting in proportion to their balance sheets, elect the collective's supervisory board and also have the power to amend the articles of association. Five Rabobank Group representatives sit on the 14-member board of directors of Rabobank, N.A. alongside the California banking network's CEO Ronald Blok, President Rick Arrendondo, Lokey, Carrol Pruett (who was Mid-State's president and CEO before Lokey), and directors from the banks that previously merged into Rabobank, NA: Community Bank of Central California and Valley Independent Bank.
Whereas most publicly traded institutions are unable to take the longer view, said Lokey, working for a private bank means that he can help formulate five-year and even more far-sighted game plans. Rabobank, which paid $37 in cash for each share of Mid-State's common stock, is "not in a rush to make the numbers look good for the June earning's estimate," said Lokey. Having worked for public companies his entire career, Lokey said, "This is very refreshing."
Rabobank Group's legacy includes attention to environmental and social justice issues. Its financial products include the Robeco Clean Tech Fund, and its 2006 Annual Sustainability Report claims that Rabobank Group is "increasingly involved with climate change and with making product chains in the Food and Agri sector sustainable." A year earlier, Rabobank Group's 2005 Sustainability Report ranked fourth in the Global Reporters' 2006 Survey-a project of Standard & Poor's, the United Nations' Environment Program, and the independent corporate social responsibility think tank SustainAbility-winning high marks for addressing the problem of integrating sustainability into the strategy of the company. The banking cooperative's 2004 report won the European Sustainability Reporters Award for accessibility, clarity, and completeness, with a special nod to its description of Rabobank's activities in developing countries, and for addressing "specific corporate social justice dilemmas." Rabobank Group enjoys a AAA credit rating.
Mid-State's tri-county territory is brand new to the banking division of Rabobank, which first ventured into California in 2002, specializing in agricultural lending, literally capitalizing on its understanding of harvest and pre-harvest expenses, soil, water, weather, equipment and techniques. Rabobank, N.A., will continue Mid-State's established products and services-mortgage lending, trust and investment services-benefiting from Mid-State's familiarity with the area's civic and cultural life as well as its business community. Rabobank can also provide such international services as letters-of-credit for manufacturers in other countries, and deal with currency fluctuations. It can also offer much larger lines of credit.
The plan for the tri-counties, said Lokey, is to organize into a number of regionally managed banks, each with its own credit administration-able to make decisions independently about loans up to a certain dollar amount, taking care of about 80 percent of regional needs–and each making its own decisions about reinvestment into the community.
Lokey and Mid-State's vice president in charge of advertising and communications, Andy Frokjer, are adamant that the acquisition has not resulted in layoffs among the front line staff, nor will it. Keeping the employees with whom customers are accustomed to dealing will make the transition as comfortable as possible from the customers' point of view. Job losses overall will be negligible, according to Lokey and Frokjer, even as Rabobank and Mid-State executives blend in a half-and-half mixture. All of Mid-State's commitments will be honored by Rabobank, Lokey said.
The bank name and logo will not be change until September."Quite honestly, it will take a year or more to [complete the integration]," said Lokey, "but we can take our time to do it right."