Outdoors
San Rafael Wilderness in Danger
Historic Structures Threatened along Manzana Creek
Sunday, July 8, 2007. 6 pm.
Vital statistics: 7300 acres burned; cost $5,100,000
Zaca Fire continued its steady move toward the San Rafael Wilderness overnight, with flames reaching within a half-mile of Manzana Creek.
"We've had an inversion layer covering most of the lower Manzana with smoke," Rich Phelps, a Forest Service spokesman at the Incident Command Center, told me, "so we aren't sure how close it is to the creek right now."
"It's a whole other ballgame should it cross the Manzana," he added. "There's nothing to stop it once it reaches the Hurricane Deck area."
Earlier this morning, conditions had been favorable: lower temperatures, less wind, and higher humidity. Thus far the fire has been fuel driven, with huge amounts of brush being consumed as the burns its way through chaparral that's been untouched since the 1966 Wellman Fire.
"Today and tomorrow will be pivotal," another fire official said.
Looking at the map, I can see why. The dozer line marked by the brown X's follow the path of the Sisquoc River. If the fire crosses the river anywhere along the Sisquoc, there is a danger it may spread all the way to the crest of the Sierra Madre Mountains. Holding this line is critical.
To the east, the advancing fire line represented in blue is close to the Manzana. Holding this may be even more critical. Should the fire cross the creek, it will most likely take out Dabney Cabin and possibly the John Cody homestead on its way up to the even steeper and more rugged Hurricane Deck area.
However, establishing a foothold along the Manzana is almost impossible. With few escape routes, tons of bone-dry brush, and nothing but rough wilderness trails for passage, there is no way to establish any kind of containment line.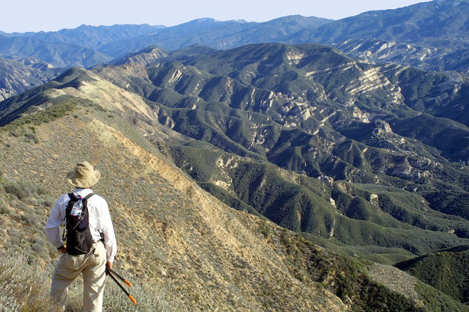 Should the fire breach the Manzana and reach the Deck, all bets are off. The 15-mile-long wedge of upthrust sandstone is aptly named – rough, rugged, and wild – the kind of country where hand crews and mechanical equipment have little value .
As I head off to dinner, I wish the firefighters my best. They are in a race to keep more than 100,000 acres of some of the finest wilderness from going up in smoke.
6:12 p.m. UPDATE: At about 4 p.m. today, a helicopter fighting the Zaca Fire went down at the Figueroa Helibase on Figueroa Mountain Road. The crash occurred during lift-off, according to the Forest Service, and the two people on board suffered minor injuries. The helibase is now shut while an investigation ensues. For an additional report and more on-scene photographs of that incident, go here.