Grilled bone-in pork chop with red onion marmalade and blackened rainbow trout with uni sauce drizzle. University Club sous-chef Clay Bowen, a recent contestant on TV's Top Chef, offers up this unique surf-and-turf combo:
Grilled Bone-in Pork Chop
1 double-cut bone-in pork chop
2T extra virgin olive oil
Use any dry rub of your choice; an easy one is equal parts salt, black pepper, brown sugar, ground cumin, dry mustard, garlic powder, and a pinch of cayenne pepper. Massage dry rub into pork chop until fully coated. Leave pork chop covered in the refrigerator for two hours. To cook, coat with olive oil on each side. Grill covered for 20-30 minutes, turning it over halfway through.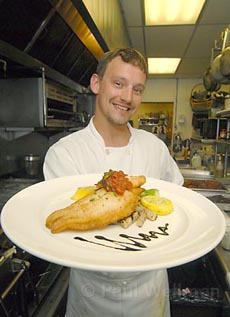 Red Onion Marmalade
3 red onions,
thinly sliced
1 bay leaf
1c grenadine
1c sherry wine
1c sherry vinegar
1c red table wine
2T brown sugar
3T butter
In a saute pan, melt butter over medium heat. Saute onions for three minutes. Combine remaining ingredients and pour into the pan. Stir onions until fully coated. Reduce until the sauce has formed a tight syrup around the onions.
Blackened Rainbow Trout
1 skin-on filet of rainbow trout
3T grape seed oil
Blackening seasonÂ-ing of your choice
(Clay recommends Tony Chachere's)
Season filet thoroughly on each side. In a cast iron or nonstick pan, heat oil until it begins to smoke; gently place fish, the oil skin side down, and sear for 2-2½ minutes. Flip it to its other side and finish cooking for three minutes.
Uni Sauce
Remove roe of 1 sea urchin.
In a sauce pan over medium heat, combine 2T miso paste,
3c water, sea urchin roe,
1c fish stock, 1 shallot.
Bring to a boil; simmer over medium heat until reduced by half. Puree sauce in blender and then strain for proper consistency