Columns
Dr. Gayle Beebe Named Westmont's Eighth President
A Chat With the New Head of Montecito's Only College
On July 1, Dr. Gayle Beebe, 48 assumed the leadership of Westmont College, becoming it's eighth president. He succeeds Stan Gaede, who departed in July 2006 to teach at Gordon College in Massachusetts. David Winter has served as interim president since that time. Bebee earned a bachelor degree from George Fox University in Oregon. He holds master's degrees in divinity from Princeton Theological Seminary, in philosophy of religion and theology from Claremont Graduate University, and in business administration in strategic management from the Drucker School at Claremont Graduate University. He completed his doctorate in philosophy of religion and theology from Claremont Graduate University in 1997. Prior to coming to Westmont, Beebe served as the president of Spring Arbor University in Arbor, Michigan. On Tuesday, Montage sat down for a get-to-know-you visit, with the president of Montecito's only college:
Montage: When did you arrive in Montecito and are you living on campus?
Dr. Beebe: I arrived in late June and yes, there is a beautiful home on the campus for the president.
M: Do you have family with you? If so, who?
B: Yes, my wife Pam, and our three children: Anna, 14; Elizabeth, 12; and Rick, 8.
M: In order to get to know you, will you tell us a few personal things? What is your favorite sport?
B: I like several: football, basketball, baseball, and golf.
M: What is your favorite cultural activity?
B: Symphony orchestra
M: What is your favorite hobby?
B: Golfing
M: When you were in school what was your favorite subject?
B: Philosophy
M: What is you favorite book? Movie?
B: Pascal's Pensees is my favorite book. My favorite movie is The Shawshank Redemption.
M: Who is your strongest role model?
B: My father, who was a public school superintendent in Eugene Oregon.
M: At this early stage, what do you predict will be your biggest challenge?
B: Raising the necessary resources to finish the build-out of the campus.
M: What will be the easiest part of the job for you?
B: Working with enjoyable people.
M: What part will be the hardest?
B: Working with difficult people.
M: What will be the most fun?
B: Seeing students thrive.
M: What would you like to leave as your legacy?
B: That I loved our students and advanced the mission of the college.
M: Will you be teaching?
B: Yes, as my schedule permits. I would like to teach strategic business planning and philosophy.
M: Do you like to and plan to be accessible to students, faculty and the community? If so, how?
B: Yes, in a variety of ways – by participation in all aspects of the college community; through community service organizations; by participating in the symphony.
M: If someone wanted to casually meet you, is there a time or place you will be frequently available?
B: I would be delighted to meet community members, as my schedule permits.
M: Do you plan to participate in the community or local causes in any way (i.e. on other boards, volunteering, etc.)?
B: Yes, I plan to participate in whatever way seems appropriate.
M: Have you had a chance to get to know Montecito at all? What do you think?
B: It is an absolutely beautiful place. Quiet, peaceful.
M: Where is your favorite place to stroll?
B: The beach and all over campus, and you might find me at Starbucks on Coast Village Road.
M: Have you found a favorite spot on the campus of Westmont?
B: Yes, The fountain outside of my office. (pictured)
M: Westmont is currently in litigation over its expansion plan. Do you have any comment on this situation or how you will handle it?
B: Since it is a legal matter, I really cannot comment on it. We have spent seven years working on the plan, so we are hopeful.
M: Did Dr. Winter give you any advice to get you started that you might like to share?
B: Dr. Winter and I talk often. He has been a tremendous encouragement to me as I have begun the work.
M: Is there any message you would like to send to Montage readers?
B: I feel blessed to be at Westmont and hope we can settle in for many years to come.
GOP RE-INVENT EVENT: In Montecito this weekend for a Republican leadership fundraiser, former Bush Administration EPA head and former New Jersey Governor Christine Todd Whitman said she sees a need for the Republican party to be less boxed in. "There is no way for us to all be aligned on every issue. I cut taxes but am pro choice, so what does that make me. A moderate? A liberal?" she asked.
Along with former Maryland Lt. Governor Michael Steele, Whitman came to town to find support for the Republican Leadership Council – and nearly 75 people ponied up to hear the pitch. Hosted by Tom and Mary Belle Snow at their handsome Montecito casa, former Montecito resident and House Representative Michael Huffington made the introductions and David Lack, president of Lack Construction acted as emcee. Hostess Snow, who has brought a number of Republican "names" to Montecito this year, including Tom Delay, David Horowitz and Rudy Guillani, said she feels party dialogue is important. "After the defeat of 2006, it is important for Republicans to have a dialogue with a cross section of the leaders of our party. Is my hope to bring as many of those leaders to Santa Barbara as possible. Friday night was a good beginning."
Whitman said she appreciated the opportunity and told Montage she was off to Buellton the next day, where RLC was to take over what used to be known as the Firestone Leadership Conference. "We need to I.D. and train and groom candidates and re-energize the Republican Party," Whitman said. But Michael Steele added things would not be easy. "The next 18 months are going to be ugly," he opined.
RED ROVER, RED ROVER, LET TOM CRUISE COME OVER!: Those rumors circulating the village that Tom Cruise purchased Rob Lowe's Picacho Lane pad appear to be unfounded. A well-known land use pro did a bit of sleuthing for Montage and reports a title search, as of today, shows no recorded change of ownership on Lowe's property.
Montecito seems enchanted with the idea that Tom Cruise should become our neighbor. Two years ago galvanizing gossip had Cruise purchasing Katherine Abercrombie's East Valley Road estate. Given the Abercrombie property is next door to Oprah's, the paparazzi, along with a host of local neighbors, were giddy over the prospect of a celebrity two-for-one locale on East Valley Road. That, story, too, turned out to be a pipe dream and, for today at least, Cruise seems to cruise right past Montecito without purchasing even a speck of our very respectable dirt.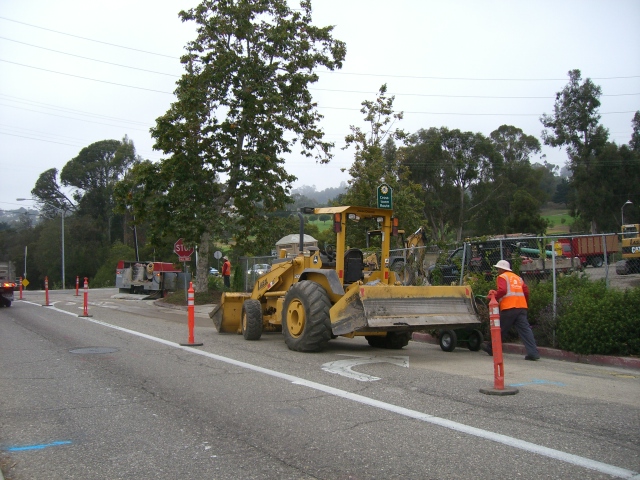 AND SO, IT BEGINS: Speaking of dirt, mark July 15, 2007 as the day the first spade broke into the ground at Hot Springs and Coast Village Road, and the beginning, or at least the precursor to the beginning, of the 101 freeway construction.
Prior to actually starting the freeway construction and adding a roundabout at CVR and Hot Springs, the utilities must be relocated. On Monday, the utility companies dug in and will continue working in that area through November. Actual freeway construction is not scheduled to begin until summer, 2008.
While traffic on Coast Village Road will be reduced to one lane during work periods, Kirsten Ayres, a spokesperson for the 101 Operational Improvement Project, says most work will be done at night, between 9 p.m. and 7 a.m. Montecito Water District, Southern California Edison, The Gas Company, and Verizon will be relocating facilities in the area. One silver lining: as a part of the process, Edison and Cox cables will be under-grounded. However, the high-voltage transmission lines, so prominent along Hot Springs, will remain above ground for safety and maintenance reasons.
The 101 widening between Milpas and Olive Mill Road, has been under discussion for years, hampered by community debate and lack of funding. But it now looks like it's really underway, so, for the next four years at least, count on "Slow-Construction-Ahead" signs to shine brightly in Montecito.