Arts & Entertainment
Snow Patrol, with Hot Hot Heat.
At the Santa Barbara Bowl, Tuesday, July 17.
"Are you trying to seduce me?" singer Gary Lightbody of Snow Patrol asked a rowdy group of Irish fans at the Santa Barbara Bowl on Tuesday night. "Because that would be weird, a gang of guys trying to seduce me. You reckon I'm easy?" he teased, before lifting his shirt to a cheering crowd. In fact, Lightbody and the rest of Snow Patrol are aiming to seduce someone-American audiences. The band may not rely primarily on sex appeal, preferring to attract listeners with sentimental lyrics and alternative rock melodies, but beyond that, anything goes in its bid to break into the American mainstream.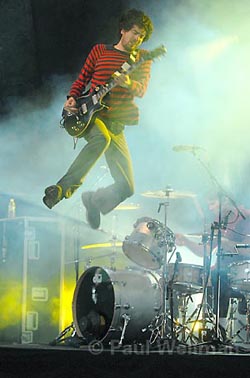 Based on the crowd, Snow Patrol is well on its way. The Irish fans were the most vocal-breaking into chants, shouting requests, and holding up flags-demonstrating the band's star power at home. But plenty of Californians were also ready to sing along, especially when Snow Patrol launched into the Grammy-nominated hit single "Chasing Cars."
Before Snow Patrol took the stage, Hot Hot Heat warmed up the audience with an energetic performance that had heads bobbing and hair bouncing. Armed with a slew of catchy, radio-friendly songs, the band exuded an infectious enthusiasm and a comfortable stage presence. The smaller early crowd began with a timid response, but they woke up when singer Steve Bays started dancing around, tossing his curly locks, and engaging the folks on the floor. By the time Heat played hits "Middle of Nowhere" and "Goodnight, Goodnight," the crowd had absorbed the band's endless energy. When Bays asked, "Can we play one more?" he was received with cheers and got the pit dancing to "Talk to Me, Dance with Me."
But it was the headliner, Snow Patrol, that drew the bigger after-dark crowd. Live, they exceeded expectations and improved on their comparatively lackluster recordings. Songs like "Chasing Cars" and "Run" could have easily been sleepy, but from the moment the band stepped onstage and launched into hit "Hands Open," the music was pumping and Lightbody's oft-raised right hand reached toward the crowd, pulling them in with every ounce of energy in his body. By the end of its 90-minute set, Snow Patrol's inspired performance and some intense lighting had a riled-up audience on its feet and demanding an encore, and the band gladly brought the house down for three more songs.