Travel
The Fog Rolls Over El Encanto
It's a late summer tradition at El Encanto: watching the afternoon fog rolling in, enveloping the waterfront, and draping the Mesa in wet lace on its misty, streetlight-blurring crawl through Santa Barbara toward the spires of St. Anthony's. For the past 90 or so years, that's been the highlight of many a day for both tourists, who'd stay at the charming Riviera resort, and locals, who'd frequent the popular bar and restaurant for drinks and dining.
But this year and next, the only people enjoying that view are hard-hat-wearing construction crews, for El Encanto-whose first cottages were erected in 1913, making it the City of Santa Barbara's oldest existing hotel-is in the midst of a massive multimillion-dollar makeover. And doors won't be open to the public again until at least 2009.
These days, the fog obscuring city views from El Encanto have morphed into large green fences blocking the city's view into the resort, leaving many Santa Barbarans curious as to the fate of their beloved inn. And when the renovation-spearheaded and funded by the luxurious Orient-Express Hotels, which bought the property in November 2004-included demolishing the hotel's main building, which housed the bar and restaurant, many were left surprised as to how restoring equates to tearing down an iconic structure.
In history-revering Santa Barbara, news like that tends to raise eyebrows and stoke suspicion, so it's about time to cut through the fences and fog. Here's a behind-the-scenes look at El Encanto's makeover, introducing the main players, explaining the meticulous restoration plans, and revealing that, when reopened, only the wealthy-or at least those willing to plop down at least $600 a night-will be able to afford a stay at the inn.
Last September, with Santa Barbara's oldest hotel on the verge of changing forever, I decided it was time to spend the night at the El Encanto Hotel and Garden Villas. (The hotel graciously had me as its guest.) So on a foggy Thursday evening almost exactly one year ago-the last night, incidentally, that it was open to the public-I checked into Room #302, the preferred suite of Barbra Streisand. On the way to the room, I experienced the inn's cloistered atmosphere, much like a small Mediterranean village where shade comes from exotic trees, where you nod at your neighbors, and where your eyes are entertained by spiny succulents and blooming flowers.
Inside, the red-tile roofed cottage was spacious and quaint, like a cozy old home. And like an old home, not everything was perfect-the doorknob rattled, furniture wobbled, windows stuck, walls were blemished, and many of the bathroom's tiny porcelain tiles were chipped. Of course, those elements are what made me like the place, instilling a funky and authentic old California charm that can't be imitated by even the best impostors. Not everything was shiny, but it felt like staying in grandma's house. Would it be possible, I wondered, to keep this genuine charm after undergoing a five-star makeover?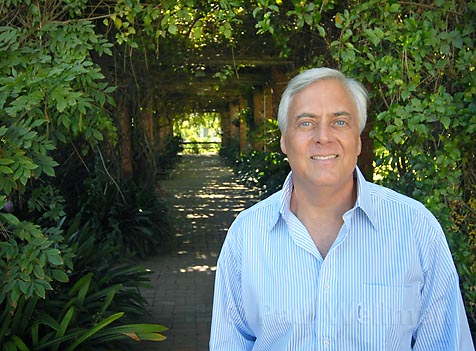 That's been the biggest challenge for Clive O'Donoghue, who was named general manager in 2005 a few months after Orient-Express bought the property from longtime owner Eric Friden. (Friden's family sold the property in 2003 after he died in a tragic polo accident.) A likable Londoner who has lived in the U.S. for nearly 30 years, O'Donoghue said last week, "That's what people have been telling us the most. 'Whatever you do, don't lose the charm! Don't lose the charm!' I think we've done everything possible to retain the charm."
What they're doing is meticulously restoring the exteriors of the various Craftsman and Spanish Colonial Revival cottages that dot the property while strengthening their structures, bringing everything up to code, and upgrading the interiors to match what a five-star customer requires. Think heated marble floors, "five-fixture" bathrooms (shower, bath, toilet, and his 'n' her sinks), and plasma TVs. "All the cottages will look the same," assured O'Donoghue, "but it will be a new luxury product on the inside." There will be more cottages-the operational room count is going from 77 to 91-as well as a new underground parking lot, tennis court, spa, fitness center, and zero-edge pool that will sit perpendicular to the cityscape (the old pool was parallel).
Though it's O'Donoghue's first time overseeing such a mammoth makeover, it's pretty standard fare for Orient-Express Hotels, which owns and operates luxury hotels all over the world. As the chain's first West Coast property, El Encanto may be giving Orient-Express a spicy taste of Santa Barbara's exhaustive and time-consuming planning process, but they've fried much bigger fish. The chain renovated the Hotel Caruso in Italy, for instance, which sits atop an archaeological site on the Amalfi Coast. As O'Donoghue likes to quip, "We worked with the Italian government. I think even Santa Barbara is easier than that."
Tearing Down the Walls
It's a miracle O'Donoghue can say that when his company's project included knocking down El Encanto's symbolic heart: the main building, which was built in 1918 and demolished in a mere six hours last winter. That demolition was not part of the original renovation plans, but after structural engineers found the building faulty-complete with pipes poking through weight-bearing beams, rotted joists, and termite damage-even the city's Historic Landmarks Commission agreed the only way to save the building was to tear it down. There are plenty of specific reasons why-not the least of which are seismic concerns and handicapped access issues-but O'Donoghue probably sums it up best when he said, "It was just bloody unsafe."
Architectural historian Alex Cole's relationship with the property began more than five years ago with the previous owner. Though she technically works for the owner and her services are required by the city, Cole-a Mountain Drive area resident since 1968 who's been running her own firm since 1984-explained, "I feel I am really an advocate for the building." As the consultant for both the Biltmore and San Ysidro Ranch makeovers-similar instances of "getting a modern program in a historic building"-Cole was perfect for El Encanto's renovation, and sees the balance between what the hotelier desires and what history requires as a "dance."
In 2002, Cole issued her first historic report on El Encanto, and determined that any restoration should emulate the year 1938, when the inn showed the most cohesive historic integrity. On the most authentic cottages, Cole bestowed landmark status, but for those buildings whose "integrity" had been compromised due to alterations throughout the years, Cole designated them structures of merit. Due to lots of tinkering throughout the years, the main building was deemed merely meritorious.
Still, it was a surprise for Cole when the news came that the building had to go. That sticker shock was echoed just last week by Mayor Marty Blum, Councilmembers Das Williams and Iya Falcone, architect and Historic Landmarks Commission member Alex Pujo, city planner Kathleen Kennedy, and Paul Cashman, president of the Riviera Association, who collectively said such words as "very unfortunate," "unpleasantly surprised," and even "I did not know that."
But all of them rest their faith in the city's public planning process. "We have to trust the opinion of the experts if they are in unanimity," said Williams. Furthermore, it's not the usual teardown/rebuild. The new main building will occupy the same exact footprint of the old one, the exteriors have been saved and will be reapplied, and the layout will essentially be the same. Though "it's been a real jigsaw puzzle" according to O'Donoghue, Pujo confirmed, "I believe it's going to be a nice building. Most people will not know that it's not the original building."
Much of the project's comparable ease-"we're really moving at light-speed for Santa Barbara," said O'Donoghue-is due to the Orient-Express's approachable attitude. The company, which owns all of its properties unlike luxury chains that often simply manage, has been open about everything with everyone and is jumping through the required hoops on a cottage-by-cottage basis. Said Cashman, whose Riviera Association represents 2,500 homes, "They've been really good at inviting us to presentations all the way through the project. They've been a great neighbor."
The Resurrection
During a lengthy tour through El Encanto's gutted cottages last week, O'Donoghue showed me a completed model room in one of the Craftsman cottages. It reminded me of the quaintness I'd admired, but was clearly cleaner and nicer. "Everything is true and square now," said O'Donoghue, adding that the interior walls are also thicker, so guests won't be able to hear activity in other rooms. (For a spot popular with both families and honeymooners, that's critical.) He then led me to one of the smaller rooms, this time in a Spanish Colonial Revival cottage. I looked at the sitting room, adjoining bedroom, and sprawling bathroom.
"So how much will this go for?" I asked. When O'Donoghue replied $1,250, it took me a moment to realize he meant for one night.
Then what's the cheapest? "Probably $650," said O'Donoghue, with suites going for as much as $4,000 per eve. He admitted that it was quite a jump for a place that once offered basic rooms for $189.
As we wandered through the property, past the wishing well suite that, legend has it, inspired the Rogers & Hart song "There's a Small Hotel," and through the presidential suite-"FDR stayed here," confirmed O'Donoghue-I wondered who Orient-Express expected to drop that much on a hotel room on a regular basis. He told me that due to the chain's European popularity, he expects "a bigger international clientele than we used to have." But most of the business will probably come from the booming Los Angeles market, and perhaps even onetime Santa Barbara homeowners who are seeing the luxury hotel light. "If you think about having a house in Santa Barbara, with all the taxes and maintenance versus the amount people might actually use it," said O'Donoghue, "you're probably better off in a luxury hotel without all the headaches."
Do the tourism experts agree? Yes, and emphatically so. According to Shannon Brooks of the S.B. Convention and Visitor's Bureau, "The luxury product is definitely on the up, and that demographic does well in Santa Barbara. There is a strong market for it. Plus, the luxury market always does well in travel, even when other things aren't going so well." With competition on the rise in places like Orange County and San Diego, it seems El Encanto's remodel and re-pricing couldn't come at a better time.
But that's little consolation to most everyone contacted for this article. No one faults Orient-Express for the predicted prices-this is America, after all-but the collective chorus of out-priced disappointment was unmistakable. Said Councilwoman Iya Falcone, "The El Encanto has a long history of folks in the area being able to put up families and friends, and it's always been a treasured location for folks who came in for graduation or weddings. I'm sorry to see that lost, but quite frankly : I expected nothing less than a five-star renovation."
Architect Alex Pujo joked that the Historic Landmarks Commission can't control what people charge, but laments that the rising prices are symptomatic of a citywide shift toward exclusivity. "What you see is one little piece," said Pujo, who still misses the recently closed Greek-Italian Deli, "but it's a difficult issue to wrestle with. It's the essence of Santa Barbara right now, how it's becoming so exclusive. It was always an expensive place, but now it's so much more."
Councilman Das Williams concurred, "I'm concerned that locals can't afford anything around town anymore, but hotels are the least of our worries. Because Santa Barbarans have chosen to tax visitors, the higher rates will also pay for clean water projects, youth program expansions, and police officers. I just hope we can still afford dinner or a drink with some friends there like we used to."
Lucky for Das and the rest of us, when I first met O'Donoghue over breakfast on the since-demolished terrace last September, he promised, "We want to keep the restaurant accessible. We don't want to overprice it."
Toward the end of that first and probably only night I'll ever spend at El Encanto, things got surreal. As I went to bed, I stumbled upon a Historic Landmarks Commission hearing on television. They were debating the El Encanto project, so I watched in a bizarre limbo, stuck between enjoying the charming past of this magical inn and peering into the property's five-star future. The discussion regarding what seemed to be a trivial design issue was vigorous, so I knew the resort was in caring hands.
When I turned off the television and went to bed, my mood was melancholy mixed with anticipation. I knew that in a few months, this quaint, cozy room with generations of memory soaked into its walls would be gutted beyond recognition. But I also knew that, in a couple years, it would be as nice as any suite on the planet.