Sports
A High School, College, and Pro Football Round-Up with Soccer and Volleyball Bits
It's Pigskin Time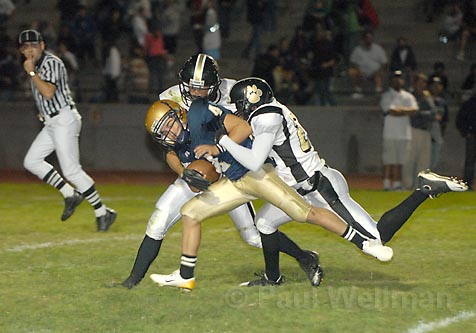 There were lots of shiny things on the opening night of high school football: the lights at Valley Stadium, the brass band instruments, the golden helmets of the Dos Pueblos Chargers, and the foil-wrapped tri-tip sandwiches, a meal that never fails to satisfy.
Dos Pueblos attained sublime satisfaction by downing San Luis Obispo 19-14 in a seesaw game. Senior quarterback Gary Braun put the Chargers ahead early with an 80-yard run and a touchdown pass, but San Luis Obispo scored in the final seconds of the half to take a 14-13 lead.
In the second half, Braun threw another TD pass, and then it was all heart and grit by the Chargers. San Luis Obispo had beaten DP twice last year, both in the opener and in the CIF playoffs-by one point. "Ever since that night, I've been getting ready for this," Braun said.
The only downer was a knee injury suffered by Braun's best friend, senior running back Nick Sarricchio, on the first play of the game. "That's football," Sarricchio said bravely after watching the second half on crutches.
Football is a comeback game for teams that are not perennially loaded (like Oaks Christian and St. Bonaventure). Dos Pueblos was 0-10 two years ago, then came back and finished second in the Channel League last year. Coach Jeff Uyesaka has built another contender.
Judging by the results last Friday-Santa Barbara and Bishop Diego winning openers, San Marcos and Carpinteria losing close ones-there will be a lot of bouncing back and forth in a very competitive prep season.
Four teams will be playing home games this week. On Friday night, it's Dos Pueblos vs. Cabrillo, Bishop Diego vs. Santa Maria, and Carpinteria vs. Nipomo. San Marcos will travel to Lompoc. Santa Barbara High will host Beverly Hills on Saturday night.
FUN TIME: One of the best things about college football is overtime. It is an equitable system, giving both teams a chance to score, starting at the opponent's 25-yard line. There were some doozies Saturday, topped by Texas A&M's 47-45 triple-OT victory over Fresno State and South Florida's 26-23 upset of Auburn. In the NFL's sudden-death format, the deciding factor all too often is the coin toss preceding overtime. The Redskins and Dolphins were tied at the end of regulation Sunday. Washington won the toss, received the kickoff, and never relinquished the football. Shaun Suisham's 39-yard field goal gave the 'Skins a 16-13 victory. Miami never had a chance on offense.
WORLD CUP TIME: Sixteen years ago, a record crowd of 3,000 showed up at UCSB to see a spectacular U.S. women's soccer team, spearheaded by Michelle Akers, former Gaucho star Carin Jennings, and rookie Mia Hamm. They blasted UCSB 10-0 in the exhibition contest, and shortly later they flew to China, where they won the first world championship for women. This week, the fifth Women's World Cup is under way in China, and the Americans are seeking their third title (they also won the famous 1999 tournament). Kristine Lilly is the only player remaining from the 1991 team. The U.S. women opened the World Cup with a gritty 2-2 tie against an inspired North Korea team. They have two remaining games in their group-vs. Sweden (live at 2 a.m., Friday, September 14, on ESPN2) and vs. Nigeria (5 a.m., Tuesday, September 18, on ESPN).
DIG IT: S.B.'s beach volleyball standouts Todd Rogers and Phil Dalhausser have already proved they are the year's premier U.S. team, and they will try to earn the title "Best of the Beach" in the AVP's season finale at San Francisco this weekend. The top eight men's and women's teams will face off at Piers 30 and 32. The finals are Sunday. :
San Marcos High grad Brook Billings is a powerful hitter for the U.S. men's indoor team, which will compete for the NORCECA Men's Continental Championship next week at the Anaheim Convention Center. The Americans will play nightly beginning Sunday. The finals are Friday, September 21.