Opinion
Wendy McCaw Takes the Stand
News-Press Owner Tells Her Side of the Story as NLRB Hearing Nears End
In the long, sad war over the fate of the Santa Barbara News-Press – a paper that, since July 2006, has gone from award-winning to the subject of federal labor law prosecution – Tuesday, September 25, will go down as a landmark battle. It was the day that the paper's owner and co-publisher Wendy P. McCaw, who's now reviled by many in Santa Barbara and beyond for allegedly disregarding journalistic ethics, came out from behind the veil of her newspaper and took the stand to tell her side of the story.
An hour before she took the stand, the day's energy around the U.S. Bankruptcy Court on State Street was palpable. There were multiple cameras outside and more observers in the courtroom than ever before in the course of the National Labor Relations Board's case against the paper. Even the testimony of the morning's first witness, the paper's HR director Yolanda Apodaca, seemed like it was secondary on everyone's mind. And then, when one attorney spent a few minutes organizing the green exhibit binders on the witness stand as News-Press attorney Barry Cappello gave a quick smile to the crowd, it became clear that someone special was coming through the door.
He then called McCaw, who walked in wearing a loose-fitting, grayish skirt-like top and matching pants, sparkling earrings, and a white bracelet. Her whitish-blonde hair was clipped into a bun that, from the right angle and with a little imagination, formed head-top swirls that resembled an ampersand, which is the name of her publishing company that owns the News-Press. She didn't seem entirely uncomfortable on the stand, yet McCaw clearly wasn't overjoyed to be there, only offering hints of smiles a couple of times throughout the day. And while she wasn't really a warm, engaging, or brilliant witness during her couple hours on the stand, she didn't turn out to be the wicked witch of Hope Ranch either. She appeared sincere in her beliefs – and quite passionate when it came to anything about animals – though McCaw seemed a bit out of touch with standard journalistic practices.
McCaw Before the Court of Law
McCaw's testimony began with the customary rundown of education and experience: born in Palo Alto and raised in Menlo Park; graduated from Stanford with degrees in art and history in 1973; married Craig McCaw, who founded successful cell phone company that was sold in 1994; divorced soon after; moved to Santa Barbara in 1994. After launching her eponymous nonprofit foundation dedicated to architectural preservation and environmental causes, McCaw purchased the News-Press in October 2000 (and later, in 2004, the Valley Voice, Blue Edge, and El Mexicano) because she saw an "opportunity to bring back the paper to local ownership."
Before becoming co-publisher in 2006, McCaw oversaw the editorial page, and took an "active" role by reading the paper daily and commenting to the publisher and editors on problems with bias, typos, and spelling errors. Upon becoming co-publisher with her fiancee Arthur von Wiesenberger in April 2006, McCaw became active in all aspects of the paper, even news-gathering.
When asked is she had a right to control the content of the news section, she replied, "I believe I have a right to that that, but I don't choose to exercise that." Bias was a lingering problem for McCaw throughout her ownership because, as she explained, "We didn't want the paper dictating what people should be believing."
The bulk of her testimony with her attorney Barry Cappello – which, overall, was littered with objections that blocked various angles of inquiry – involved deciphering various handwritten notes that McCaw had scrawled on old articles. She would then fax or discuss these comments with the publisher and editors, namely Joe Cole and Jerry Roberts.
An article about removing coyotes from Hope Ranch featured a number of these notes: one suggested that the article was biased, along with articles about the eagles on the Channel Islands and bridges being torn down in North County; another complained about the need for a restaurant grid and a redesigned Scene magazine; another asked why an article about a Hannah-Beth Jackson (she had written "HBJ", though couldn't recall on the stand why) press release did not cite the role of the Sperlings or the Wendy P. McCaw Foundation in saving the Ellwood Mesa; and a fourth said that "bad editing" was at fault for the front-page placement of a story about architect Brian Cearnal's lawsuit against McCaw.
Cappello asked McCaw what was biased about the coyote article, and she responded, "It was anti-coyote!…It was very negative about these poor animals who were being annihilated." As to the other articles about the Channel Islands restoration projects – which McCaw termed alternately "killing sprees" and "killing fields" – and the long-standing otter relocation program, McCaw called both wildlife management programs arbitrary. "The other side of the story," she explained with passion, "is the unintended consequences when you start messing with Mother Nature." She said those consequences worked as a "trickle-down effect."
As for senior reporter Melinda Burns and science reporter Anna Davison – both award-winning writers who were fired, according to the federal prosecutors, for their union campaigning – McCaw testified that she's had bias troubles with both for years. McCaw's notes and memos complained that Davison had "become like the reporter before her [on the Channel Islands stories], a mouthpiece, disgusting" and that Davison had become "a shill for the feds."
As for Burns, McCaw testified that she agreed with James Buckley of the Montecito Journal, a right-leaning publication, who wrote a letter complaining of Burns' "liberal advocacy journalism." Burns was also a problem, said McCaw, because of her Measure D coverage. One of Burns' articles had been excerpted into a pro-Measure D campaign mailer, even though the paper's editorial stance was adamantly against the transportation-funding proposition. Judge William Kocol interjected, unsure of why part of an article's use by a campaign would show bias. Replied McCaw, "The fact that they used any of it:makes me think that the article was biased."
When asked straight ahead whether Burns or Davison were fired because of their union actions, McCaw said they were not.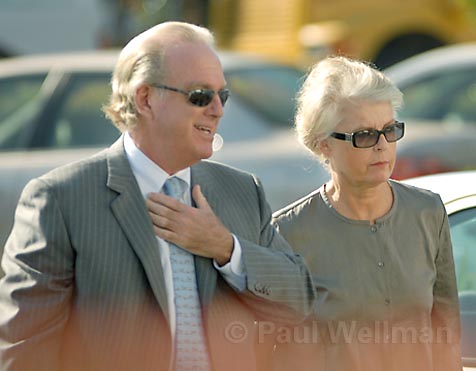 Cappello also led a round of questioning about the Rob Lowe incident, where McCaw reprimanded employees for publishing the actor's address in a planning story about a house he wants to build in Montecito. McCaw was concerned that it was "an invasion of privacy:It sets the paper up potentially for a lawsuit, for liability issues:if harm comes to the person as a result of their address being published."
In a letter to the article's author Camilla Cohee, McCaw wrote, "Common sense would dictate that publishing a residential address of a high-profile person is not only thoughtless, it was downright dangerous." To editor George Foulsham, who approved the story, McCaw wrote, "You don't have to 'legislate' common sense and good judgment. You either have it or you don't and clearly I have seen a lot of don't coming out of the newsroom lately."
Cappello ended his inquiry by talking more about the disloyalty that McCaw said she saw in her staff, as evidenced in buttons, posters, and the banner dropped over 101. He asked if anyone had ever been disciplined in anyway for any of their union activities. McCaw said they had not.
The Feds' and Teamsters' Turn
NLRB attorney Brian Gee led the cross-examination for the government in a congenial manner. He began by going over McCaw's duties as owner and publisher. She said that, since becoming co-publisher, she's been working more than 40 hours a week and spending five days a week in the office. "We're working on stories people want to read," explained McCaw, "not what reporters want to write."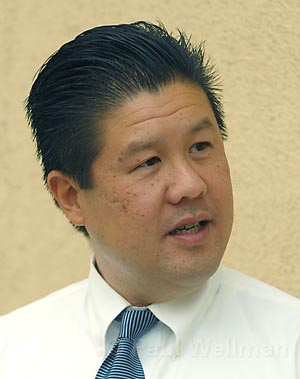 Gee asked if McCaw had an open-door policy where reporters could come to ask her for sources for their stories, which is what Cappello has suggested reporters could have done to give their stories a differing point of view. McCaw said no one had ever done so. Gee then asked whether McCaw had ever ordered any training or given any guidelines for how reporters could eliminate bias. "Not that I'm aware of," she replied.
When Scott Steepleton was promoted to associate editor in 2006 after the employee exodus – a move McCaw earlier in the day testified that she did because he seemed like the "most capable" – was he told to eliminate bias? Yes, explained McCaw, "I wanted no more bias. I wanted fair and balanced reporting. I wanted more local stories." Had Steepleton done a good job at eliminating such bias, Gee aked? "I believe he has," replied McCaw.
Gee ended his questioning by asking whether McCaw and Rob Lowe were personal friends. "Yes," she said.
Teamsters attorney Ira Gottlieb was next, and he directed his questioning toward the number of articles that McCaw said were biased. As to the article about the program to relocate otters north of Point Conception, Gottlieb pointed out that the author called the otters "threatened" and asked whether that should give the animals some sympathy. "Not especially," said McCaw, who called the program "arbitrary" and "man-mandated." "You can't manage wild animals," she opined intently, "and further managing them threatens them."
Gottlieb then drew her attention to the Channel Islands article about the pig-killing, in which one observer said, "It's horrific to see what's going on out there." Isn't that another point of view, Gottlieb asked? McCaw responded by pointing to another part of the article. Gottlieb continued, finding another reference to an opposing view of the pig eradication. Isn't that another point of view as well?
"It really isn't," said McCaw, "because when you look at the length of the article" with the graphics, photos, and "stomach-churning depictions" of the pig-killing, it's still biased. "They're pro-pig-killing," exclaimed McCaw of the National Park Service and The Nature Conservancy.
Gottlieb then tried to understand how reporters at the News-Press were expected to eliminate their bias. "It should read neutrally," said McCaw, adding, "Hopefully, reporters will write that way before it gets printed."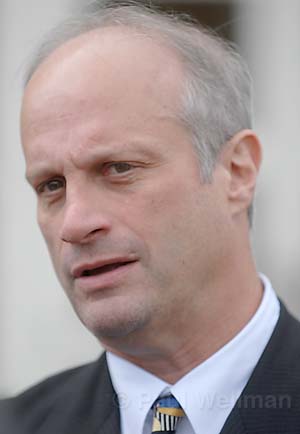 Gottlieb, surprised, asked, "Does that mean an editor doesn't get involved?"
McCaw said, "They shouldn't have to." At that moment, a court observer whispered to a neighbor, "She needs to take Journalism 101." It echoed a sentiment that was very much present in the room.
Soon after, McCaw left the stand and took a seat in the gallery to watch her fiancee Arthur Von Wiesenberger take his comparably short turn on the stand. At the end of the day, the attorneys explained that their respective cases were nearly over, and the trial was expected to finish on Wednesday.