Sports
L.A. Clippers Shoot It Up in Santa Barbara
Saturday's Intra-Squad Scrimmage Ends Basketball Team's Week of SBCC Training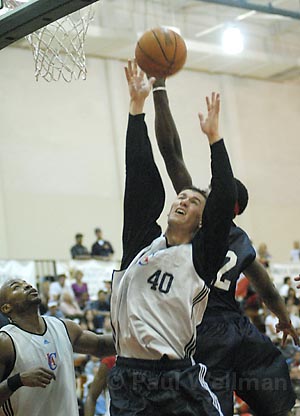 It's back to the traffic, heat, and all-around craziness that is Los Angeles for the NBA's Clippers after a week of training camp in Santa Barbara. The team had spent the week in the gymnasium at Santa Barbara City College, trying to get in shape for the upcoming 82-game schedule that begins in about three weeks. The weeklong camp ended Saturday with an intra-squad scrimmage Saturday.
"It's a process of getting five new guys accustomed to running," said head coach Mike Dunleavy, who is heading into his fifth season with the Clippers. "We're not introducing too much."
The team is about halfway to where it needs to be in terms of condition and endurance, Dunleavy said, but said that overall it was a pretty positive week. The coach was particularly impressed with rookie forward Al Thornton out of Florida State. The 6-foot-8 Thornton averaged 11.9 points during his four years at FSU. "He's been good," Dunleavy said about Thornton's training camp performance. "He has a lot to learn like every rookie. But he's working hard." The headband-sporting Thornton kept the crowd at the sold-out scrimmage Saturday on the edge of their seats, with a solid shooting performance and one particularly wowing throwback slam dunk. Dunleavy said that as Thornton continues to learn the differences between the college and pro levels, his athleticism and size will take over.
Elgin Baylor, the Clippers' vice president of basketball operations, Hall of Famer, and one of the top 50 players of all-time, sat in on the scrimmage Saturday. When asked about the team's outlook, Baylor said he needed a better look at the team before evaluating their chances. "It's early," Baylor said. "I still gotta see them play somebody other than each other. But we should be alright."
The Clippers are hoping to be more successful than last year, when they finished 40-42, missing the playoffs by two games. Their top scorer and rebounder from last season, forward Elton Brand, is out recovering from a ruptured Achilles tendon. Josh Powell and Paul Davis have both played well during the camp, according to Dunleavy, and are competing to back-up Tim Thomas, who's playing in place of Brand. "With Elton out, there's a big opportunity there," said Davis, who had a couple of thunderous dunks Saturday.
Davis's White team, led by Sam Cassell and Thomas, lost to the Blue team at Saturday's scrimmage. Cassell showed why he's been voted as an All-Star as he controlled the pace of the scrimmage, with plenty of swift moves and quick spins to elude defenders and get open for a shot.
Club owner Donald Sterling was in attendance watching the scrimmage courtside. Earlier in the week, Jerry West, the man whose likeness is featured in the NBA's logo, stopped by to take in practice.
Saturday, after the 40-minute scrimmage, players stuck around and signed autographs and posed for photos with kids and fans. And while they head back to L.A. to get ready for the preseason, which begins Tuesday in Denver against the Nuggets, it sounded like the team enjoyed its annual getaway to Santa Barbara.
"It's always great," Donovan said. "There's nothing not to like. The facilities are great and the people are great. It gives us a chance to be successful."