Best Of
Jocks to Rocks
Best of Readers' Poll 2007 - Jocks to Rocks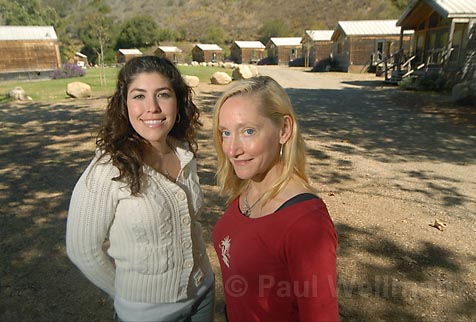 Campground
El Capitan Canyon 11560 Calle Real, Goleta, 685-3887
The readers' perennial favorite is more like a resort than a campground if you want to get semantic about it. Prices for overnight range from a little over $100 to a tad above $300 and the "camping" can take place in a wooden-deck mounted safari tent (with communal bath and toilet facilities) all the way up to cedar cabins equipped with a bathroom, coffeemaker, and Internet accessibility. Not far from a state campground that charges about the same rates for a week, the El Cap of luxury lovers is nestled around a creek and is quieter than a standard Winnebago haven. It's a nice retreat, though, for those of us surfeited with our homes in paradise.
Finalist- Refugio State Beach
Ryan Spilborghs, Santa Barbara High grad/centerfielder for Colorado Rockies
Favorite place to play baseball?
"Growing up, the Goleta Valley South Little League was my favorite place to play. As I got older, the UCSB diamond became my obvious choice. It was just the right size for me to hit a legitimate homerun out of the park."
Surf Shop
Beach House Surf Shop 10 State St., 963-1281
Roger Nance is very happy. "We did it!" he exclaimed with as much jubilation as a cool surf shop owner should muster. "We're very appreciative of the people who voted for us." Though it wasn't a big year for surf in this neck of the ocean, and the price of surfboards has risen with the exorbitant increase in fiberglass and resin costs, Nance is far from complaining. For starters, he believes this winter will bring waves. "The secret is we don't make very much when we sell a surfboard, but it brings people in and they buy lots of shorts. So we do just fine and we're very glad people keep coming in to see us."
Finalist- Channel Islands Surfboards
Place to Get Snowboard/Ski Gear
Mountain Air Sports 14 State St., 962-0049
The owner's daughter and store manager Linsey Duddridge thinks that winning is awesome. But it has become an annual event for the 30-year-old business that always tops the list for purchasers of downhill equipment, and they're gearing up for winter sales. "Can't you write what you wrote last year?" she asked plaintively. "We're very busy helping customers right now."
Finalist- Big 5 Sporting Goods
Bicycle Shop
Bicycle Bob's 15 Hitchcock Wy., 682-4699; 250 Storke Rd., Goleta, 685-6799
Bob Zaratzian is the eponymous Bob of the store title and he's very happy about winning the readers' poll for best bike shop. "Thank you. We've won this award 17 times in a row during our 24 years in business," he said. "We try and we try. We always think we are putting the customer first, so I hope this means we are succeeding."
Finalist- Hazard's Cyclesport
Skateboard Shop
The Church of Skatan 26 E. Gutierrez St., 899-1586
"There's no secret to our success; we're just the best shop," said Skatan's immodest but happy assistant manager Andy Lanes. The vaguely blasphemous title and the kinda disrespectful fact that the skate shop is quartered in a former real church certainly burnish an iconoclastic image, but Lanes said their customer loyalty also derives from the stock. "We sell everything," he said. "It's awesome."
Finalist- Santa Barbara Skate Shop
Place to Get Athletic Shoes
Santa Barbara Running 110 Anacapa St., 899-8802
"We like to think we just take extra care with our customers," said store manager Garrett Ince. "We're not really sales people, we're just running geeks, and we try to stay involved in the community, too. We think it's word of mouth that keeps people coming in, and that's great."
Finalist- Foot Locker
Fishing Shop
Hook, Line & Sinker 4010-5 Calle Real, 687-5689
Wetting a hook is often its own reward-you know those bumper stickers about a bad day fishing being superior to a good day at work. But it's nice to catch something, too. For slightly more than two decades, this store, situated centrally in town and on the way up to Storke's Folly, I mean Lake Cachuma, has been keeping anglers current with the latest technology needed to improve raw luck and add a tasty reward to the end of a wonderful bad day.
Finalist- Big 5 Sporting Goods
Dive Shop
Anacapa Dive Center 22 Anacapa St., 963-8917
Manager Steve Adams thinks it's the goods that put them ahead of their main competitor-and all others, for that matter. "We just have a lot larger inventory, we have more things that people want," he said. The world of diving is changing and Adams hopes they can keep up. "I've noticed a lot more people who dive are photographers. There's definitely a trend away from hunting," he said.
Finalist- Blue Water Hunter
Golf Course
Sandpiper Golf Course 7925 Hollister Ave., Goleta, 968-1541
There are many reasons golfers gravitate toward Sandpiper-the stunning natural beauty, comparative affordability, and how seriously the staff takes the sport. From meticulous groundskeepers to dedicated golf professional D.J. Limardi, the Sandpiper experience has come to exemplify the casual but rigorous joys awaiting those who don't mind a bit of duffing by the deep blue sea.
Finalist- Glen Annie Golf Club
nine-Hole Golf Course
Hidden Oaks Golf Course 4760 Calle Camarada, 967-3493
"We have an intimate nine-hole golf course with great views and very friendly service," stressed office manager Sharon Slade. "It's very casual, we don't take tee times-we don't need to," she said. "And the rates are very affordable. It's only $12, and we have student and senior rates, too. So what more could you need?"
Finalist- Twin Lakes Golf Course
Martial Arts Studio
Martial Arts Family Fitness 122 E. Gutierrez St., 963-6233
MAFF has been here for five years and teaches a one-two combo kick of hapkido and fitness kickboxing, according to instructor Melodee Meyer. You can thus master fight or flight, at least in the sense of being in good shape to run. "We love Santa Barbara," said Meyer on behalf of Master Dave Wheaton. "Our secret is here the student always comes first."
Finalist- South Coast Karate
Pilates Studio
Santa Barbara Athletic Club 520 Castillo St., 966-6147
Maybe it's not in the nicest part of town-though it certainly isn't a scary neighborhood-but SBAC does attract a kind of who's who of well-heeled who work out. The Pilates program isn't new, but it's new to our readers' list, which means that within this fast-breaking stretch-and-exercise technique it has caught on with a vengeance. That means it's pretty hip and ought to help make your hips pretty again.
Finalist- Spectrum Athletic Clubs
Yoga Studio
Yoga Soup 28 Parker Wy., 965-8811
It's a fairly new establishment, according to office yogi Joel Chapman, around only for a year and a half. Using his own blend of traditions, instructor Eddie Ellner adds a charismatic touch to the ancient teachings and has drawn big crowds right away. "Holy mackerel," said Chapman. "We won."
Finalist- Santa Barbara Yoga Center
Health Club
Spectrum Athletic Clubs 6144 Calle Real, Goleta, 964-0556; 3908 State St., 563-8700; 21 W. Carrillo St., 965-0999
"No nonsense" is probably the phrase most in the know apply to Spectrum, one of the best-established outfits in Southern California's super fitness culture. But that doesn't mean it's an old boxing gym where the latest innovation is skipping rope. Weights for strength, aerobics for endurance and heart-strengthening, plus some of the most dedicated trainers in town equal one of the most enduring winners in a category that might have been imagined to be subject to fad.
Finalist- Santa Barbara Athletic Club
Women's Gym
Curves Five locations
In Ulysses, Leopold Bloom declared that beauty is "curves." Nonetheless, we know that James Joyce did not invent this weight loss, strength building, and aerobic system, because rather than an epic investigation, this Curves is a 30-minute interlude in a busy woman's life that is supposedly engineered to make her (at least feel) beautiful. With five locations between Carpinteria and Goleta, the access is beautiful, too.
Finalist- Spectrum Athletic Clubs
Dance Studio
Santa Barbara Jazz Dance Academy 1 N. Calle Cesar Ch¡vez, 966-5299
Steven Lovelace has been introducing people, and especially kids, to the terpsichorean muse for close to two decades now, though this ensemble/educational organization has been holding down Calle Cesar Ch¡vez for a good three years running. Known for stylish vivacity and an extra-encouraging word, SBJDA, which will soon be changing its name to Santa Barbara Academy of Dance Arts, has racked up its second win in a row.
Finalist Studio E Dance & Fitness Center
Outdoor Fitness Program
Body Boot Camp of Santa Barbara 708-6693
"Oh, absolutely, we are thrilled to have won," said Body Boot Camp office manager Tom Triggs. In town for three and a half years, BBC runs outdoor workouts between the Mesa and Santa Ynez with trainer-coaches who are no-nonsense enough to get the troops moving, but encouraging enough not to be mistaken for Jack Webb. "All the coaches are certified and we're very picky. Maybe that's why a lot of people repeat the course after they've gotten into shape."
Finalist- Open Air Fitness
Place to Get Swimwear
Bikini Factory 2275 Ortega Hill Rd., Ste. B, Summerland, 969-2887
"I think people like the attention they get here," said Linda Meyer, who has managed the popular Summerland swimwear store for 32 years. "People have told me they would rather have a root canal than shop for a bathing suit; you know, everybody has different problems. We try our hardest to make it as painless as possible."
Finalist- Sundance Beach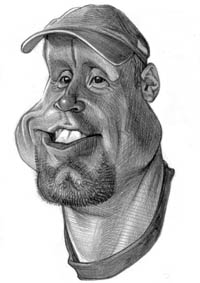 Dax Holdren, San Marcos High grad/pro beach volleyballer.
Favorite volleyball courts?
"East Beach is where it's at, hands down, no ifs, ands, or buts. There are 20 courts, already set up. During the week, there's a good chance you'll see professional players out there."