BURNED, CHURNED, AND UNLEARNED: I want to thank our friendly neighborhood oil giant, Venoco, for buying nine trombones and giving them to the Santa Barbara elementary school music program. If all businesses were so inclined, we wouldn't have to fret about the future of public school music education as we do on nearly a monthly basis.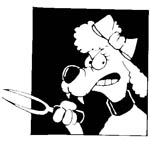 But some people are looking this gift horse in the mouth. They wonder if there isn't something vindictive about putting trombones in the hands of fifth- and sixth-graders. The imminent threat of sonic violence implied by such a gesture would be construed as an act of aggression in many cultures, if not a practical joke. But fear not. The Air Pollution Control District has issued a Stage One Trombone Alert in response to all the smoke and ash choking Santa Barbara's erstwhile beautiful skies. Given the tsunami of airborne ashy backwash from the Zaca Fire, which was extinguished more than a month ago, and all the subsequent smoke blown our way from Piru, Castaic, and other infernos south, we've all been notified to avoid any strenuous exertions and other activities that require heavy breathing. This will provide temporary respite from the joyful din inflicted by Venoco's t-bone assault.
In the meantime, cyclists, runners, and other exercise nuts have responded by hitting the road early in the morning, before all the damp coolness has been wrung out of the air. Sure, it's still the equivalent of smoking a pack of cigarettes, but at least they're menthols.
Back on the East Coast, this is the time of year when the colors change, the landscape transformed into a swirl of red and orange. It's the same out here, only the swirling colors come with the wind-fueled fires of the Santa Anas. And people say we have no fall. What idiots.
County air officials are still shaking their heads over Saturday's "Ashbowl" event. The concentration of airborne particulates was off the chart, 18 times greater than state action levels. And that's from a dead fire. Until we get rain, we could be in for more of the same. But when the rains come, we can start worrying about mudslides and the possibility of contaminated silt and sludge getting into the city's Gibraltar Reservoir.
Even so, such events should remind us how incredibly lucky we were earlier this summer. With only a slight change in wind conditions, the Zaca Fire-all 240,000 acres of it-could have done to us what's now being done unto San Diego and about a million people fleeing their homes throughout Southern California. That was a mighty huge bullet we dodged.
But at least we wanted to dodge it. I'm not sure the same can be said for voters down in San Diego. They're a breed apart. One year after 2003's Cedar Fire-which destroyed no less than 2,300 San Diego homes-voters there soundly rejected a bond measure designed to bring fire protection resources up to the bare minimum. At first I thought they were just stupid. Now I get it. San Diegans have embraced an economic strategy that's the modern equivalent of the slash-and-burn agriculture practiced by many primitive cultures: burn the fields, plant the crops. In San Diego, politicians approve development in high-danger fire zones. The developers aren't asked to cover the cost of fire protection, and great pains are taken not to trouble the taxpayers either. The only thing required is evacuation plans. When the fires come, the homes get smoked and the insurance companies pay. Soon everybody has new homes, new TVs, new dining room sets. Everybody's working. Real estate has achieved the same ephemeral quality as disposable lighters and throwaway razors. This is Buddhism, Southern California style. Everything is temporary, dude; no attachments, bro. The only problem is the rest of us pay higher insurance and higher taxes to subsidize this beautiful insanity.
The other good thing about these fires is they demonstrate just how stupid the Light Blue Line proposal actually was. For those tuning in late, the Light Blue Line was a plan to paint a strip of blue waves 1,000 feet long on city streets to show how far the shoreline would rise if and when Greenland's ice sheets melted because of global warming.
The plan was aborted after Santa Barbara's real estate industry patiently explained how this was bad art based on bad science. And besides, it was bad for business. At the time, they were understandably touchy given how shaky the mortgage market had become. All those ridiculous home loans made to people too poor to ever pay them back? Guess what? Those loans were coming due and they're not being paid off. But that's okay; the federal government will bail out the loan sharks. After all, we can't afford to let them fail. This reminds me a little of San Diego's slash 'n' burn economy-another case of Buddhist Republicans putting our tax dollars in their pockets.
The real problem with the Light Blue Line was it was way too chickenshit. But I'm hoping all these fires somehow make the point the Light Blue Line hoped to make. Sure, the flat-earthers will still object that the science of global warming is imprecise. All I know is last year was the hottest, driest year in California. And spring is coming earlier than it used to, meaning California's official Fire Season this year was 78 days longer than it was 15 years ago.
What bugs me most about those Venoco trombones is they remind me of New Orleans. And New Orleans reminds me of Katrina. And we're not Katrina. New Orleans was disaster by default; Southern California is disaster by design. Normally, I'd get in the spirit of things by playing "When the Saints Go Marching In," on my iPod. But my iPod's broken, so I had to toss it. That's okay; the feds will buy me a new one.