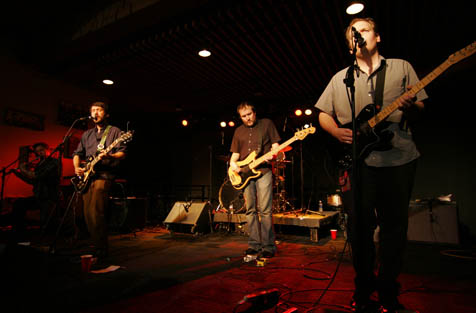 With a conference room serving as "backstage," bicycle-mounted, polo-shirted campus security officers as "bouncers," and Panda Express and Wendy's providing the backdrop, UCSB's Hub is the antithesis of a rock venue. Regardless of these limitations, the university's Associated Students Program Broad lured Cursive from the Midwest all the way to Goleta to headline its Friday night show, where the band brought their unique brand of emotion-driven punk to a lackluster audience of undergrads.
The four core members of Cursive have been playing together during the last decade, gaining critical acclaim with the release of Domestica in 2000. After the release and subsequent success of The Ugly Organ in 2003, Cursive found itself playing on the same bill as The Cure, gaining access to a wide fan base and adopting a heavy touring schedule. After a needed hiatus, the band dropped Happy Hollow in August 2006.
While most of those "of age" in attendance slouched over pitchers in the Hub's recently acquired beer garden, Oakland's Facing New York opened for a sparse crowd. Nodding heads did not match the energy from the self-described "psychedelic rhythm and blues band from the year 2020" as their two drummers worked up an interested few.
Cursive took the stage, opening with a moody organ intro and launched straight into "A Red Headed Slight of Hand" with an energy that quickly dissipated after their first song. The overtly stoic Hub crowd did not provide anything for the band to feed off of, which seemed to perpetuate the band's restrained, yet precise, performance. After a strong opening, Cursive played a mixed set of old and new songs, going as far back as Domestica's "Martyr" before Happy Hollow's "Dorothy at Forty," and, for the first time, the unreleased "From the Hips."
The songs from albums past garnered the best response from the crowd, with more reaction for The Ugly Organ's "The Recluse" and "Butcher the Song," as well as my personal favorites, "Art Is Hard" and Burst and Bloom's "The Great Decay." But in the end, the band chose coherence and balance over stage presence, contrasting their earlier, more unruly live shows.