Visual Arts
Maverick Photographer Santi Visalli Calls His Own Shots
Behind the Scenes
For more than 40 years, Santa Barbara-based photographer Santi Visalli has turned his lens upon the world with purpose and grace. From elegant architectural studies to intimate portraits of the rich and famous, Visalli's portfolio is as diverse as it is prolific, and includes many of the major cultural and social icons of our era. While in his early career he focused on the world of celebrity photography-his portraits of Robert De Niro and Jacqueline Kennedy gracing the covers of national magazines such as Time, Newsweek, Stern, and the New York Times Magazine-Visalli's more recent monographs depicting the cityscapes of major American metropolises have become coffee table standards around the globe.
Though his subjects vary, Visalli's body of work is united by an unusual sense of perspective. It was for this reason that when The Independent recently ran its annual Best Of issue, we turned to the famed Sicilian-born photographer for his pick of the best view in Santa Barbara. His favorite vista? The one from his own Riviera balcony.
"Not long after I moved here, I got a call from an Italian paper," recalled Visalli as we sat together on that same balcony a few weeks ago. "They wanted to interview me, and because the paper couldn't fly the reporter all the way to California to see the setting for herself, she asked me to describe my new surroundings so she could write about it like she was here. I stood right here, and told her, 'I can see a lot of palm trees, some olive trees, an old mission, and a sea of red roof tiles.' She said, 'No, no, no, I don't want you to describe Sicily!'"
The anecdote was no doubt meant to illustrate how at home Visalli feels in Southern California, but it's also an indication of how highly he values his own unique perspective on the world. Across the course of his remarkable career, the photographer has carved out a reputation for his distinctive way of seeing popular subjects. While other photographers clamored to get up close and personal with their celebrity subjects, Visalli typically took a step back. In doing so, he captured a different angle, an unexpected viewpoint, a more compelling story. The unique and arresting quality of Visalli's work and his ability to reveal the ordinary human beneath the icon will be on display this month when Sullivan Goss, An American Gallery exhibits Santi Visalli: Icons, a selection of the photographer's celebrity portraiture.
The show is gallery owner Frank Goss's second foray into the photographic genre in recent years, coming 10 months after an exhibition of vintage prints by WPA photographer Joe Schwartz. "I think it is only natural that an art gallery should show photography, as for me it comes from the same place [as painting]," said Visalli. "When I am photographing a ballerina, I cannot help but think of Degas. Or when I am doing reportage work, the French impressionists come to mind. I think they painted like we shoot pictures today. And, of course, photography is all about the source of light, and the renaissance painters have that beautiful light blessing their subjects. That is exactly the same in a good photograph. Photography, too, is all about composition and light. That was actually something I learned very early on in life."
Developing a Vision
While photography did not play a major role in Visalli's formative years, composition and light certainly did. Visalli's father owned a business that specialized in the manufacture of stained-glass windows for churches and cathedrals. Through assisting in fashioning the intricate designs that would ultimately grace some of the noblest places of worship in the world, the young Visalli learned the fundamentals of structure and design. But like many boys his age, it was the dawning of the Second World War that played the biggest role in defining his future.
In 1943, the allies set about capturing Sicily with the aim of forcing Italy out of the war. Visalli's hometown of Messina became integral to military operations, and the seaside city found itself one of the most bombarded targets on the Mediterranean coast. "We moved into the countryside to avoid the bombardments," remembered Visalli. "The planes flew overhead, and you could hear the noise of the bombs 15 miles away. The war was there and the smell was there-the smell of the powder and the smoldering buildings. On one particular day, the bombs got a little closer, and we all hid under the table. I was a little rebellious, and ran out and looked up into the sky. But the sky wasn't there. All I could see were wing-to-wing airplanes. At that point, instead of hating the Americans, I thought, 'A country that can produce this much power is a place I have to see.'"
'I turned down assignments so as not to be pigeonholed.'-Santi Visalli
The United States' invasion also exposed the young Visalli to American cinema. Moving pictures of Charlie Chaplin and the great Westerns stirred in Visalli a deep desire to explore the country for himself. Upon completing his studies, he investigated the possibility of immigrating, and was informed that a potential relocation would be decades away. But Visalli was already developing what would become a lifelong habit of doing things his own way. Along with two school friends who were both budding journalists, he hatched his own plan to get to America. The three acquired an old American Jeep, and set out to explore the world. Since his friends were reporters, it was decided that Visalli would be the photographer on the adventure.
"I had never taken a professional picture, but I had taken lots of pictures of family and friends, so I kind of developed a knack for it, but really knew nothing about photography," confessed Visalli. "I soon discovered that when I wrote something and sent a picture with it, the paper would sell the picture all over the world, but the text remained there in the paper. So I realized [photography] was the greatest way to communicate with a very large audience, because a picture speaks to everybody from Australia to Africa."
Having found his calling, Visalli eventually made his way to the United States, where he set about finding a way to stay. His solution was to enroll at New York University, and with the support of a regional Italian organization, he commenced a course in economics. "But my passion was photography," Visalli said. "I was going to school during the day, and working in an Italian restaurant at night. I had very little time to take pictures. And the point came where I had to make a decision. Something had to go because I really wanted to be a photographer. And then I was introduced to an agent in Italy who needed a photographer in New York. They gave me a contract without even knowing me. I worked for them for a couple years, and my name started getting around."
The same dedication that got the young Italian to America and sustained him during that initial period soon became evident in his approach to his new profession. The photographer was determined to make his mark. He would arrive at an event ahead of all the other photographers and stake out the best location. In assigning Visalli a job, editors could always rest assured that their needs would be met. In this formative period, many of his assignments came from Italian publications, a fact that afforded the young photographer an unusual amount of freedom.
"My boss wasn't there, so he didn't know what was happening," Visalli said. "So I started trying different things. I started stepping back and looking for a different picture from what everybody else was getting. There wasn't any pressure from a boss who would see all the other pictures from the event, so I had a freedom to look at things in original ways. I wanted to do something different, to show a different point of view, and that helped me develop a different way to see things."
An Exclusive Point of View
Searching for a different point of view is an approach Visalli has carried with him throughout his entire career, one that has come to define his work and set it apart from the work of his contemporaries. While many photographers concentrate solely on the given subject, Visalli has always imbued his images with a sense of place and occasion. Even in the early years, he wasn't simply supplying images to illustrate editorial content; he was capturing images that told their own stories.
' … he is so curious and so enthusiastic. He probably approaches every assignment with that same kind of boyish enthusiasm.' -Frank Goss
"What distinguishes Santi's work is that it does have that sense of a larger context and of a much greater purpose," explained Santa Barbara Museum of Art Photography Curator Karen Sinsheimer, who included some of Visalli's work in the recent SBMA photography exhibition, Made in Santa Barbara. "He may have been commissioned to dosomething particular, but what came out typically transcended the details of the assignment. He also has a tremendous sense of wonder, and I think that is part of what informs his work-he is so curious and so enthusiastic. He probably approaches every assignment with that same kind of boyish enthusiasm."
It was an approach that soon won Visalli attention in New York. After having worked for many years for agencies that would send his images out to their subscribing publications, Visalli's big break came in 1967 through Truman Capote. Visalli had managed to get himself into Capote's famed Black and White Ball, and as the only photographer with inside access, he knew he had something special in the resulting images.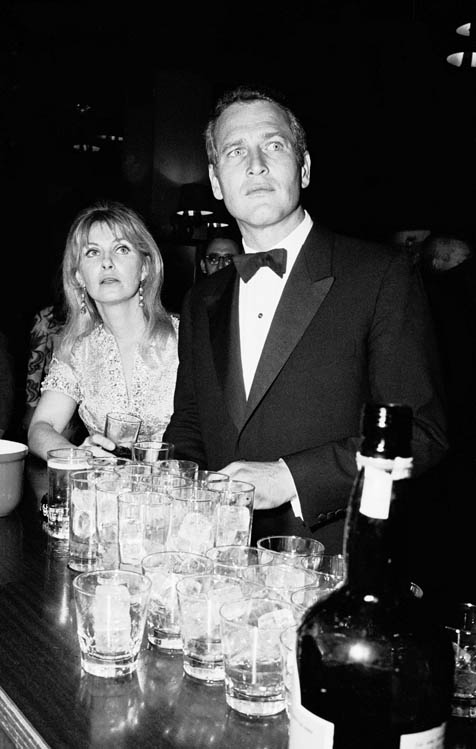 "I took the photographs to Newsweek and offered them exclusively," recalled Visalli. "I told them they could have the story for free as long as someone would look at my portfolio. The photo editor flipped through and got to the fourth picture, lifted his head, and asked, 'How come I don't know you?'"
With that, Visalli established himself as one of New York's leading freelance photographers. Soon, in addition to Newsweek, he was shooting for Time and the New York Times. Given his stature in the New York Italian community, access to cinema work was forthcoming, giving him an opportunity to photograph the city's leading Italian directors and actors for the New York Times's Arts & Leisure section.
"It came to the point where I said, 'Look, I can photograph American movie stars, too.'" Visalli said. "In the beginning, people tried to put me in a box, and I also rebelled against that. I didn't want to just photograph one thing. Sometimes I turned down assignments so as not to be pigeonholed. As a result, I have since done everything from food to personalities to architecture."
Of Casseroles and Lucky Breaks
Visalli might have been anxious to expand his portfolio, but not before his Italian heritage played one last significant hand and presented him with what was to become one of his defining photographic moments. When Visalli's next-door neighbor, big-screen actress Jo Van Fleet, landed the lead role in the Italian gangster spoof The Gang That Couldn't Shoot Straight, she turned to Visalli for Italian elocution lessons.
"My grandmother had 15 children, and Jo was playing a part where she had seven Mafia kids," Visalli said. "She wanted to know about my grandmother's mannerisms in the kitchen. If the pot wasn't boiling, my grandmother used to say, it was the evil eye from the neighbors, and she would grab a bunch of salt and make the sign of the cross over the casserole, mumbling something we could never work out. A few minutes later, the pot of casserole would boil." Visalli would visit the film set during production to help Van Fleet refine her Italian mannerisms. Unbeknownst to them, these lessons were being watched by an emerging actor who had a small role in the film. "I must have been getting good at it," laughed Visalli. "Robert De Niro was observing how Van Fleet and I worked together, so when the time came that he got The Godfather: Part II script, he realized he had to speak Sicilian, so he too came to me. In all, I think we studied together for about three months."
Having built up an intimate rapport with the actor, Visalli was perfectly placed when it was announced that De Niro was to star in a forthcoming Scorsese film. The New York Times decided to do a feature on De Niro, and they turned to Visalli for the photographs. Together, the two wandered the streets of New York in search of the most Italian-looking settings. Pizzerias and Italian restaurants became their studios, and Cinzano signs their props.
The portraits that resulted from those sessions are some of the most disarmingly intimate images ever to be captured of the Academy Award-winning actor. The rapport between the photographer and his subject is evident in De Niro's calm, unguarded gaze. Visalli has captured the actor's quiet confidence, but also presents a rare glimpse of genuine innocence. Nowhere is this more evident than in an image of De Niro mockingly pulling a punch. The pretense of fighting only amplifies the fact that the subject has let his guard down in the presence of a friend.
The Heart of the Subject
Beginning on December 1, this portrait will be on display at Sullivan Goss's Anapamu Street gallery, alongside 25 other enchanting and unexpected images of celebrities that exemplify the artist's ability to get to the heart of his subjects. It is no coincidence that it was Visalli's work that tempted Sullivan Goss to seriously revisit the medium of photography. "It is such a treat to have a photographer as solid, respected, and magnificent as Santi," Frank Goss explained, "that we made an exception to our general thoughts of not showing photographs. We do assemble photographs from time to time in our shows. But in a commercial gallery like this, photographers have to compete with a world of color. It's a little like having a rock band playing next to a violin-the violin just gets lost. So it will be out of the norm for us to do this, but Santi is kind of out of the norm, too-he's special."
The exhibition has been timed to coincide with the annual Santa Barbara International Film Festival, and the featured works are drawn exclusively from the photographer's impressive catalogue of celebrity portraiture. Among the cinematic luminaries whose images are included in the show are Sophia Loren, Jack Nicholson, Barbra Streisand, and Federico Fellini. Alongside this cast of glittering stars and memorable characters, Santi Visalli himself looms large.
"We noticed it is hard to ignore Santi in a room," said Goss. "He is a very disarming guy, even with a big lens on a big camera, which intimidates everybody. But if you spend a few minutes with Santi, you are pretty soon down to a person you know and feel comfortable with. I think that, with the exception of Sophia Loren, who appears very formal, these photographs show ordinary humans undertaking ordinary tasks, and doing so with a great sense of comfort."
4•1•1
Santi Visalli: Icons will be on show at Sullivan Goss, An American Gallery through February3, 2008. For more information, call 730-1460 or visit sullivangoss.com. To learn more about Santi Visalli's work, log on to thefinestphotos.com.