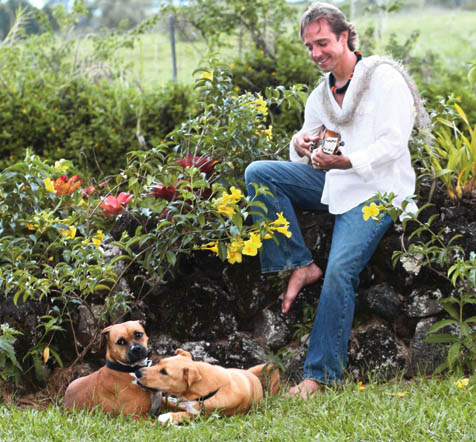 When Maui resident Leokane Pryor steps onto the stage at the Ventura High School Auditorium this Saturday night, he will be returning to the terrain where he first began developing his voice in Hawaiian music. Pryor lived in Santa Barbara for six years between 1997 and 2003, and even though he was a Hawai'i native, it was here, on mainland soil, that an impromptu performance at a backyard luau changed his life forever. That irony is just one of the many ways in which the discovery of his gift later in his life-a blessing that he refers to as "the gift of painful wisdom"-brought together a myriad of emotional, geographic, and familial aspects of his colorful life.
Pryor will perform at 6:15 p.m. at the Ventura High School Auditorium with his four-piece band, Pohai Kealoha, an up-and-coming Hana Maui singer named CJ Helekahi, and a cadre of Hawaiian hula dancers. It will be the first time he has performed in the Santa Barbara area in four years. The concert is a celebration of the release of his second album, Home Malanai, but for him, it is also a homecoming, and a way for him to recognize the key role that his time here played in his amazing success on the Hawaiian music scene.
Born in Oahu, Pryor lived an idyllic childhood in the mystical Manoa Valley. His parents had come from Texas, but his uncle, Sam Pryor, led the family to the islands after his retirement from Pan American Airlines. He settled in Kipahulu, a remote and jungly outpost on Maui's isolated eastern coast, about 10 miles from Hana. It was Sam, in fact, who first brought his friend, Charles Lindbergh, to the area. Lindbergh found the Hana region to be a welcome respite from the mostly unwelcome fame he suffered after piloting the first transatlantic plane flight. And his simple, unadorned grave in Kipahulu is now a notable tourist attraction.
In 1958, the ever-enthusiastic Sam convinced Leokane's parents to move to Hawai'i. They came intending to stay for a year, and then put down permanent roots. Originally named Jacques Frazier Pryor III, Leokane learned to play the ukulele as a child and sang Hawaiian music well into his teen years, but never considered performing professionally. He visited his uncle in the Hana area often, and came to develop a deep appreciation for the area's old Hawai'i vibe. "Kipahulu is so magnificent and powerful-it really got under my skin," he said.
As an adult, though, Leokane chose to leave the islands. He moved to chilly, foggy San Francisco, and for 12 long years toiled as a senior legal assistant in a law firm. He did some professional singing-for jazz bands, a cappella groups, and in radio advertisement jingles-but never felt as if he had found himself artistically. When Leokane's parents moved back to Texas to be close to family, the Pryors' island connection was subsequently severed, for the time being.
Not long after, in 1995, Leokane's mother Marianne was diagnosed with cancer. In the periods when he couldn't travel to see her in Texas, Leokane tried to figure out a way he could do something to help ease her pain. "I decided I would record some Hawaiian songs for her," he said. "I was determined to do something positive through what was such a tragic time for me, to bring something beautiful out of such a tremendous loss."
"I began to follow my heart, and suddenly, I started to go through a lot of quick changes,"
After his mom died, Leokane didn't stop recording. It was as if, in trying to heal his mom, he also found a way to heal himself. He picked up a ukulele in a thrift shop, began to practice obsessively, and soon he was dancing hula around San Francisco and performing music with a couple of Big Island natives living in Mill Valley. "I began to follow my heart, and suddenly, I started to go through a lot of quick changes," he recalled. Not long after, he quit his job, sold his home, fell in love, grew out his hair, and moved to Santa Barbara.
Leokane settled at Rancho Monte Alegre in Carpinteria. There, the planning of a small luau for friends turned into a party for 200. He realized he should get some live entertainment and was referred to a five-piece band and 30 hula dancers known as Ka Hale Hula O Pilialohaokalani O Hilo. The group's leader, Pilialoha Christiansen, called at the last minute, offering to put a band together for the event, and that night, under a full moon, prompted by friends, Leokane got up and sang. It was the traditional Hawaiian song, "Kipahulu," named after the place near Hana where he used to visit his uncle. His life would never be the same.
After hearing his soaring falsetto, Christiansen gave the man previously known as Jacques his new Hawaiian name-Leokane Okalani, meaning "voice of the heavens." Christiansen would go on to tenderly nurture and support Leokane as he formed his own band, Pohai Kealoha, and began to play regular gigs throughout Southern California. Together, they developed a loyal following, and in 2000, Leokane released his first self-produced album, Maunahele, which became a surprise hit in both California and Hawaii.
Soon after, Leokane's father also fell ill, passing away in Santa Barbara in 2003. Two months later, with both his parents gone and yearning for the land of his birth, Leokane returned to Hawai'i, moving to a piece of property he purchased about six miles north of Kipahulu. He named the property Malanai, the Hawaiian word for the gentle easterly trade winds that caress that part of Maui. After four years-a period Leokane says gave him time to process his father's death-he went to work on his second album, Home Malanai, which was released on Saturday, December 1, on Hawaiian music Web sites and leokane.com.
The album, he says, conjures the sights and sounds of Hawai'i, but in a deeper way; reflecting the role that Hawai'i played in his years away, and in his healing. "All of that wisdom-that painful wisdom-it's hard to earn," he said. "But with the loss of both of my parents, I tried to pour that back into the music, and I think that story is captured in the songs."
During the past four years in Hana, he has also come to accept his new Hawaiian name in a permanent way. "It's a strong name, and it took me a while to feel comfortable in the name," he recalled. "But now I've embraced it."
4•1•1
Leokane Pryor will play a special show in celebration of his most recent release, Home Malanai, at the Ventura High School Auditorium on Saturday, December 8, at 6:15 p.m. Tickets are $20 in advance and $25 at the door. Visit mele.com for details.