Sports
Surfing Rabbi Charges I.V. and Rincon
UCSB Alum Yom Tov Glaser Plays Music and Surfs at His Alma Matter
Graduates from the University of California, Santa Barbara are known for all sorts of accomplishments. The list of alumni includes everyone from scientists to musicians, and everything in between. Once a party-focused surfer studying geology and the effects of global warming upon surf spots, Yom Tov Glaser is one of those UCSB graduates who joined the ranks of interesting alumni. Now a Hassidic Rabbi living in the Old City of Jerusalem, Israel, Glaser has not lost a bit of his Southern California appetite for surfing, skating, mountain biking and good music. Now, it's his way of connecting with students and friends.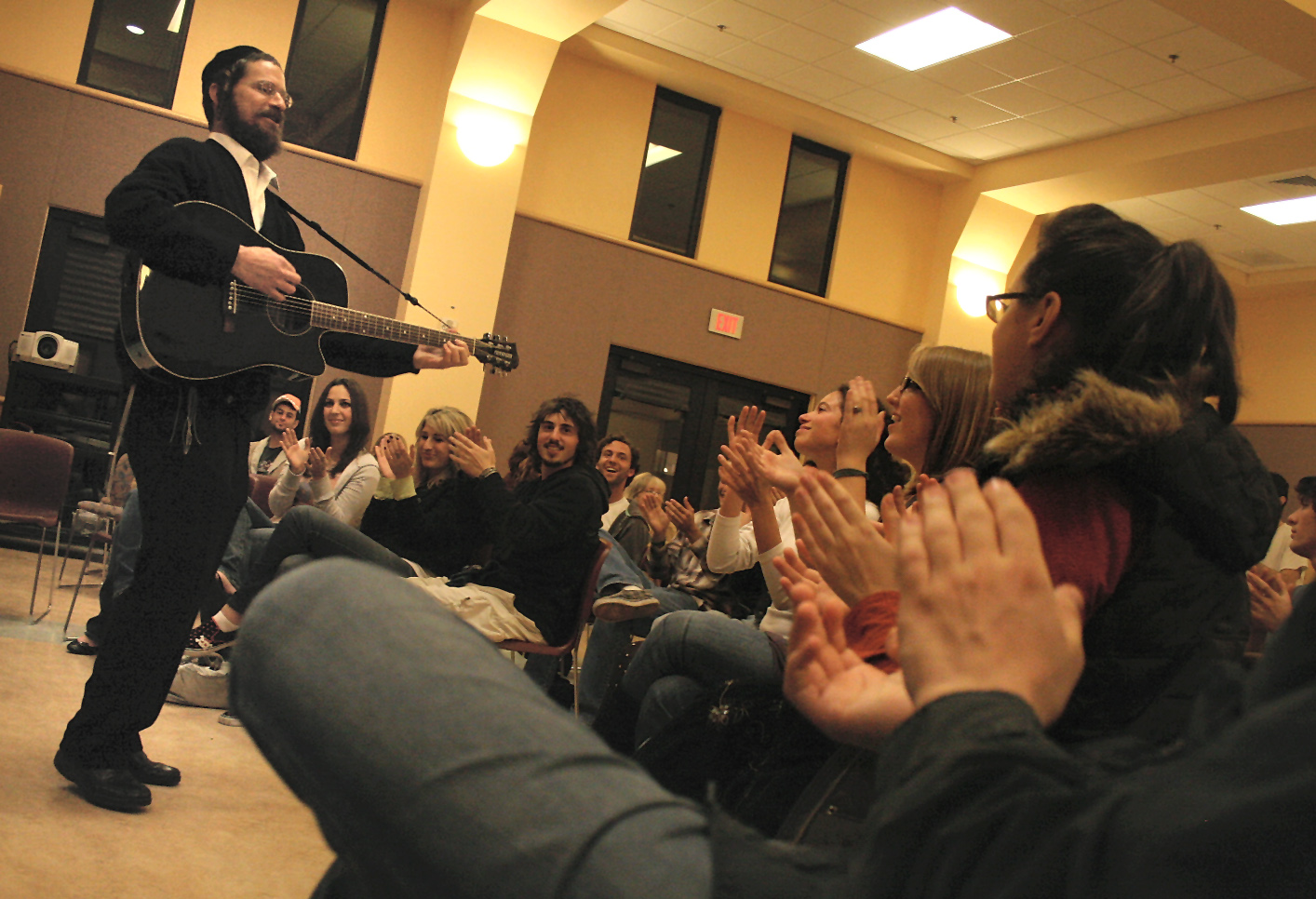 Yesterday evening, Rabbi Glazer breezed into town a bit jet lagged, having just arrived from Israel, and played a little concert for students and community members at Hillel in Isla Vista. Invited by the UCSB Chapter of the Jewish Awareness Movement (JAM), he entertained and taught his audience with a unique blend of rabbinic wisdom, song, and funny stories from his raucous days as a UCSB undergrad. "UCSB is a weird scene," he said, "there are rich kids from SoCal who don't care about anything, and granola kids from NorCal who care about everything. During the Gulf war, UCSB was the hottest protest place in the country, and all the SoCal kids had to learn how to protest from the NorCal kids." Rabbi Glaser participated in many war protests in 1991, and noted that UCSB has a rich tradition of protest. "In Jerusalem, I had dinner with a lady who went to UCSB in the late 60s, and told her about the 'die-ins' we used to have on the lawns on campus. She was like, 'Oh, we burned a bank!'"
The Kabbalah-which, literally translated means "receiving"-is the mystical aspect of Judaism which seeks to interpret the hidden meanings and inner secrets of the Torah. The Hasidic movement-began in Europe in the 18th Century under increasing repression of Judaism and as a response to charges that Judaism had become too academic and lost a degree of its spirituality-has been a major force in the popularity of Kabbalistic study. Hassidim believe that the largely esoteric Kabbalah can and should be understood by everyone. Rabbi Glaser's specialty is Kabbalah, and he uses his casual storytelling style and musical talents to teach bits of its wisdom. In addition to singing covers of Bob Marley songs, he has written a number of original tunes that are dedicated to Jewish life and teachings. He also sings reeling Israeli folk songs that get everyone up dancing. By the end the evening, almost all of the 40 or so people who showed up to see him at Hillel were dancing wildly in huge circles as Rabbi Glaser played guitar, sang, and weaved in and out of the crowd on a skateboard he borrowed from one of the students.
One might wonder how someone who was so into partying, surfing and mountain biking might have gotten involved in such a deeply religious life path. "In college, I gained a love for deep conversation," he said, "I remember one night, when I was supposed to be studying for a final, I got into a conversation with two other students in the study room in San Miguel, and ended up talking to them all night. After that, I was addicted to those deep conversations. Then, after graduation, on a trip to Israel, I realized that Jews are the nation of the conversation."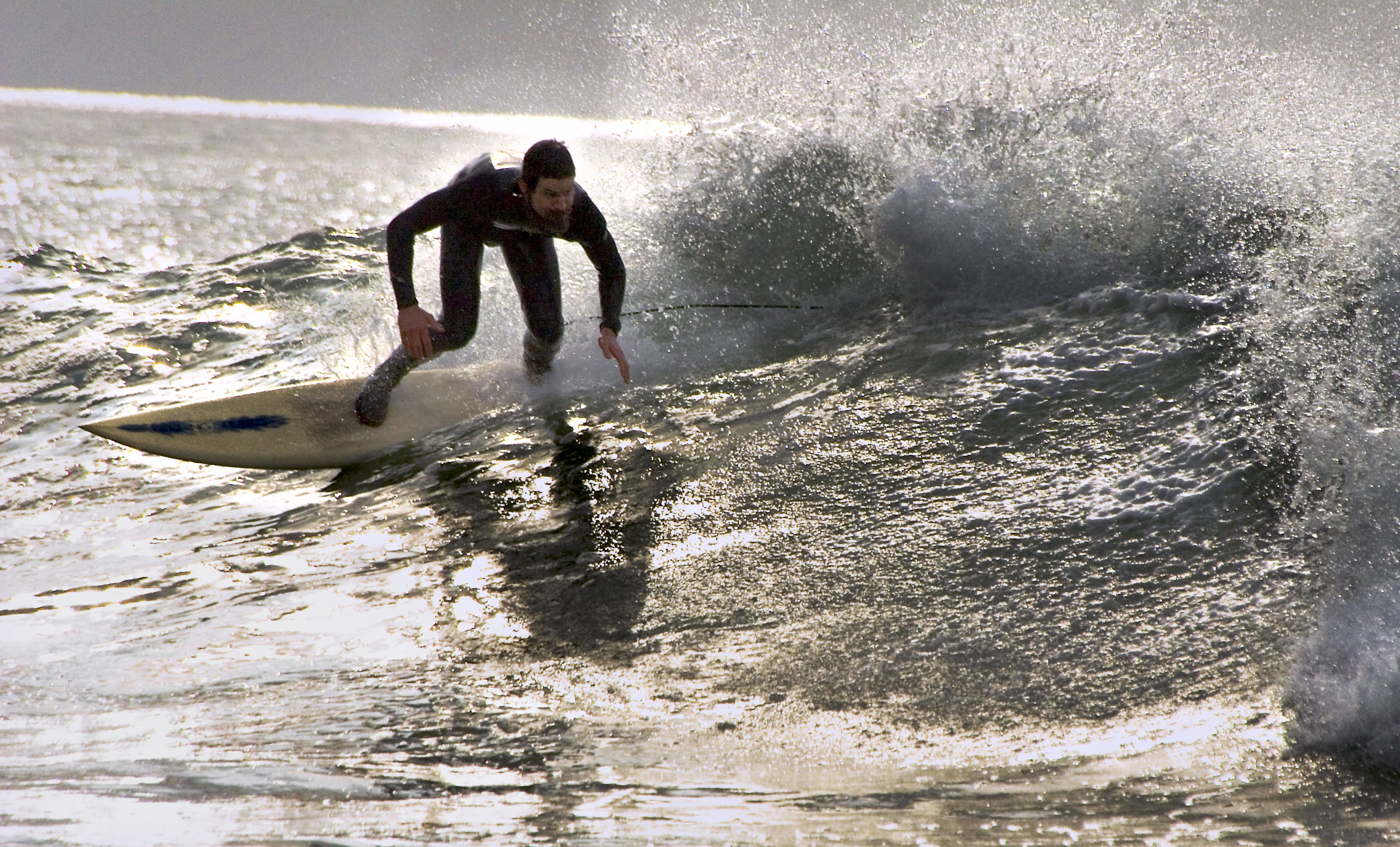 Rabbi Glaser finished his talk by relating people in life to five surfers. The first surfer is the one who paddles shoreward to escape danger; the second, a safe, practical surfer who doesn't take unnecessary risks; the third, one who grabs the bull by the horns and paddles for the big waves, riding the wave of life; the fourth is the surf photographer-the voyeur who observes everything; and the fifth surfer is a guy who lives on Sabado Tarde. "If you've ever been on Sabado, if you didn't know where you were, you could be in Kansas," he said. "It's flat, there are cheesy apartments there:anyway, the fifth surfer doesn't even realize where he is-he's all spaced out."
A few lucky students were able to continue hanging out with Rabbi Glaser this morning, as he was amped to go surfing while in Santa Barbara-something he hadn't been able to do for a few years. Early this morning, after his morning prayers, he cruised down to Rincon with JAM's Rabbi Mitch Goldstein and a handful of UCSB students and managed to score a decent chest high swell. Not only that, but pulling into the parking lot, the group noticed that Kelly Slater was suiting up, getting ready to go out for a surf. Rabbi Glaser and the group of students took advantage of the opportunity, and spent a few minutes chatting with the friendly eight time world champion. Later on, Slater and Rabbi Glaser could be seen talking out in the lineup, in between a few rather impressive sets. The fun didn't stop there, because when Rabbi Glaser and the students came back up to the parking lot to leave, Jack Johnson was pulling surfboards from his truck. Rabbi Glaser couldn't resist chatting up a fellow musician and UCSB alum, much to the delight of the already-stoked group of students.
Rabbi Glaser will spend the rest of his U.S. stay performing a few lectures and concerts around the Greater Los Angeles area, and visiting his family. His parents still live in L.A., and are currently hanging out with the seven grandchildren he brought with him from Israel. Having met Rabbi Glaser in Israel in 2001, Rabbi Mitch Goldstein has been bringing his students to visit on JAM's Israel trips. Although he is a Hasidic rabbi, Glaser still knows how to party. "When I wasn't an observant Jew, I threw these huge parties," he said. "Now, when I have parties for Jewish holidays, I figure God's watching, so I don't want to disappoint." According to his description of these celebrations, busloads of people show up. "Tons of people come, but it's fun with more substance to it," said Rabbi Mitch, who has been to a few of Glaser's holiday parties. As Rabbi Glaser drove away from Rincon this morning, listening to Led Zeppelin's "Heartbreaker," everyone commented on how much fun it had been spending time with him. Whether or not you believe in everything he has to say, his genuine happiness at his chosen life path rubbed off on everyone.