Living
Pro Ballplayers Train at Santa Barbara's Peak Performance Project
Baseball Stars Overcome the 'Roid Rage
Inside a building near the railroad tracks at the end of Santa Barbara Street, a dozen well-muscled men performed various exercises-thrusting weights overhead, leaping onto a 42-inch-high platform, flinging heavy balls off a wall, pulling on resistant cables, prostrating themselves over cylinders on the floor-while a doctor in a white warmup suit monitored their exertions. It could have been a scene out of a James Bond movie, depicting the high-tech training of field agents whose survival would depend on superior fitness.
In actuality, it was a workout session for men who would be armed with bats and balls. These were professional baseball players engaged in off-season conditioning. Word of mouth had brought them to this building that housed P3-the Peak Performance Project-with its slogan emblazoned on the wall: "Where Science Meets Athletic Performance."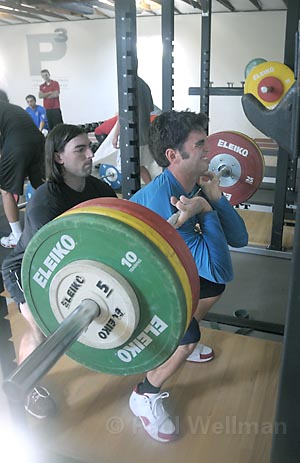 There was another saying on the T-shirts worn by several of the men: "No, I don't use steroids, but thanks for asking."
These players, all in their twenties, were trying to put baseball's steroid era behind them. It was hard to avoid the questions and ignore the conversations in the wake of the BALCO revelations, the release of the Mitchell Report, and last week's congressional disrobing of pitcher Roger Clemens and trainer Brian McNamee.
"It's almost turned into a taboo to have a trainer," said Chris Valaika, a former UCSB shortstop who is moving up in the Cincinnati Reds' organization.
But Valaika and the others-including Ryan Braun, the National League Rookie of the Year, and Delmon Young, runner-up for American League Rookie of the Year-have put their faith in Marcus Elliott, the director of P3, and his associate Phil Wagner.
"Marcus and Phil understand the body," Valaika said. "They went to medical school, and they know how far and how hard to push us. You almost feel bulletproof leaving here."
Elliott, a graduate of Harvard Medical School, said his love of sports prompted him to focus on athletic performance instead of traditional medicine. He has been dismayed by the rampant use of performance-enhancing substances.
"The only way to curb it is to diminish the gap between the cheaters and non-cheaters," Elliott said. "Our faith is that smart training beats drugs."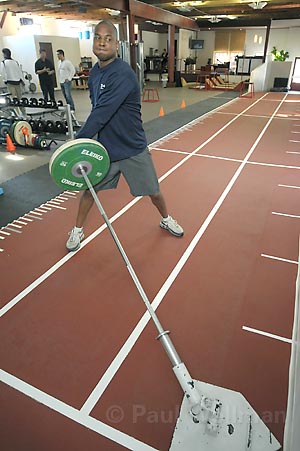 He observed that Clemens's power did not diminish with age despite the pitcher's following what he described as "an antiquated conditioning program." That indicated to Elliott that something else was behind his fastball. "We had a group of 12 ballplayers, and I asked them to raise their hands if they thought Roger Clemens was innocent (of doping)," Elliott said. "Not a single hand went up."
The Peak Performance Project prescribes exercises that are designed to enhance the specific skills that athletes use-in the case of baseball players, the rotation of throwing a ball and swinging a bat. The workouts emphasize fast, explosive movements as well as relaxation of opposing muscles. It's slicing and dicing as opposed to grinding. The music pumped into the training room-techno-rock and reggae-keeps the tempo up.
"For a pitcher to run five miles interferes with his power development," Elliott said. "If you're in a sport where speed is essential, a significant amount of over-distance training is going to make you slower. What you need is to train the nervous system to fire the muscles in rapid patterns. Some coaches think if it's hard, it must be good for you. I've heard a coach say, 'Four guys puked in our last workout.' Well, if he's training them to be pukers, he's on the mark."
Two of Elliott's star pupils are Virgil Vasquez and Ryan Spilborghs, a pair of hometown ballplayers (Santa Barbara High and UCSB) who have made it to the major leagues. Vasquez was drafted by the Detroit Tigers five years ago and became the first baseball player to enter Elliott's program (other athletes include volleyball and football players, a hurdler, and a pole vaulter).
"I love it," Vasquez said after a workout. "All the players here love it. Every year since 2003, I've reached a new plateau." Last season, he made his first appearances in a major league uniform.
"I told Virgil I wanted to take something like 24 young players and have 16 or 18 of them make it to the big leagues," Elliott said. His fees are based on confidence that they will succeed. The amount is exacted on a percentage basis from the portion of their income that exceeds the major league minimum salary ($390,000). Other pitchers training at P3 this winter were Casey Janssen (Toronto) and Garrett Olson (Baltimore).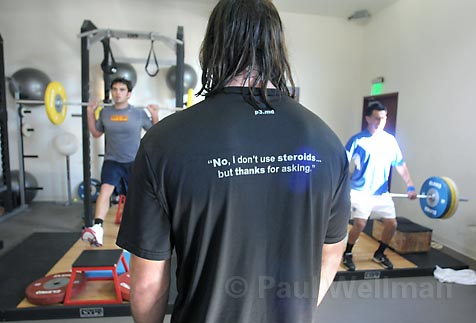 Spilborghs earned a place on the Colorado Rockies' roster after undergoing Elliott's regimen. He hit .299 last year as a reserve outfielder for the National League champions. Spilborghs spent this winter in Denver but continued to consult with the trainer. "I can't put into words how important Marcus Elliott has been in my career," he testified. "I became a superior athlete in 2005 because of him."
Young, another outfielder, was the No. 1 pick in the 2003 draft out of Camarillo High. He hit .288 in his rookie season at Tampa and said he is determined to improve this season after being traded to Minnesota. His agent directed him to Santa Barbara. "Head to toe, my body feels better," Young said. "I have more power. I want to take it into the game. I'll be on a team [the Twins] that can get to the World Series."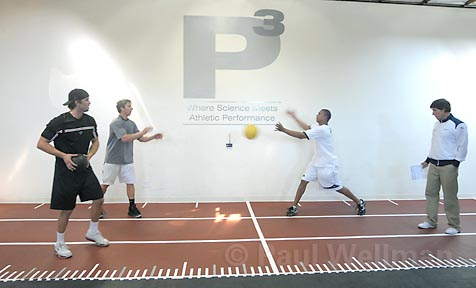 Chris Malec, who played in UCSB's infield with Valaika, is another convert to the conditioning program. "You feed off the energy of the other athletes here," said Malec, who was drafted by the New York Yankees in 2005. He finished that season with the Gauchos after undergoing treatment for testicular cancer. "After cancer, it really hit home-I don't want to jeopardize my health," said Malec, who wears a LiveStrong bracelet on his right wrist.
In all, about 30 professional ballplayers-many of them driving here several times a week from Orange County-spent a good chunk of their winter in Elliott's laboratory. Now, they are off to spring training, hoping to forge ahead into a new era of baseball.
TOUR OF CALIFORNIA: Professional cycling is another sport that is trying to overcome a plague of doping scandals. This week's third edition of the Amgen Tour of California has implemented strict drug testing protocols, and all 17 competing teams have consented to observe them.
Stage 5, the most spectator-friendly stage of the tour, will take place Friday, February 22, in Solvang. It is an individual time trial in which the riders will start at intervals and assail a 15-mile loop around Los Olivos and back to the finish line in Solvang. The first rider starts at noon.
After the time trial, the cycling hordes will come to Santa Barbara, where Stage 6, a 105-mile race to Santa Clarita, will start at 11 a.m. on Saturday on Cabrillo Boulevard.
Unlike the 2007 tour, which ended with a largely ceremonial circuit race, this year's will conclude Sunday with a grueling 93-mile stage that will reach an elevation of 4,906 feet in the Angeles National Forest. The overall winner will not be known until the finish at the Rose Bowl.
Top Sporting Events: February 21-24
Thursday, February 21
College women's basketball Pacific at UCSB, 7 p.m.
Friday, February 22
Cycling Amgen Tour of California Stage 5: Solvang time trial, 12 p.m.
College basketball UCSB men at Utah State, 6 p.m. (TV: ESPNU)
College baseball Marist at UCSB, 2 p.m.
College softball Softball by the Beach Tournament at UCSB: Portland State vs. UCSB, 11:30 a.m.
Saturday, February 23
Cycling Amgen Tour of California Stage 6: Santa Barbara waterfront to Santa Clarita, 11 a.m. start.
College women's basketball UC Davis at UCSB, 2 p.m.
College baseball Marist at UCSB, 1 p.m.; Point Loma Nazarene at Westmont (2), 11 a.m.; Mt. San Jacinto at SBCC (2), 10 a.m.
College softball Softball by the Beach Tournament at UCSB: St. John's vs. UCSB, 9 a.m.; Portland State vs. UCSB, 11:30 a.m.
High school girls water polo CIF Division 2 final at Wollert Aquatics Center in Irvine, 1 p.m.
Sunday, February 24
Running Independent Roses to La Playa 5K, State and Pedregosa to Leadbetter Beach, 8 a.m.
College baseball Marist at UCSB, 1 p.m.
College softball Softball by the Beach Tournament at UCSB: St. John's vs. UCSB, 11 a.m.
College men's tennis Oregon at UCSB, 1 p.m.
Every Monday
Santa Barbara Athletic Round Table press luncheon, Harry's Plaza Cafe, noon