Sports
UCSB Basketball Victories
Men's and Women's Basketball Teams Head to Big West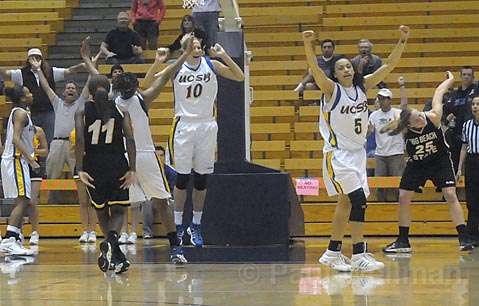 UCSB basketball fans are seeing double this season.
The Gauchos will send a pair of champions into the Big West Basketball Tournament after their men's and women's teams both scored heart-stopping victories over Long Beach State on Saturday, the last day of the regular season.
It took the men an overtime period to eke out a 70-68 win over the 49ers at the Pyramid in Long Beach and clinch the No. 1 seed in the tournament.
The Gaucho women, already the regular-season champs, had to overcome a 10-point deficit in the second half to beat Long Beach 72-69 at the Thunderdome.
Both UCSB teams secured berths in the semifinals of the Big West Tournament on Friday, March 14, at the Anaheim Convention Center. The tournament starts Wednesday with games between the 5th-through-8th-place teams.
The Gaucho women will take the floor at noon Friday, while the men are scheduled to play at 5:30 p.m. Both will face the lowest remaining seeds from the previous two rounds. The finals are on Saturday (women at 1 p.m. and men at 8 p.m.), and the winners will receive berths in the NCAA tournament.
Coach Bob Williams' team set a school record with its 23rd victory of the season at Long Beach. It was the Gauchos' consecutive road win in the conference. They are 23-7 overall and 12-4 in Big West action. They topped the 22-8 record of the 1987-88 men led by Brian Shaw.
Saturday's game appeared to be headed for a second overtime when UCSB's Chris Devine blocked a Long Beach shot, giving the Gauchos possession with less than two seconds remaining and the score tied 68-68. But Devine took an inbounds pass from Justin Joyner and was fouled as he attempted a shot with three-tenths of a second on the clock. The 49ers compounded the error by calling an illegal time-out. Devine and Alex Harris each made one of two free throws for the winning points.
Kat Suderman sank a pair of free throws with 13 seconds remaining to give the Gaucho women a three-point lead, and UCSB's defense kept the 49ers from getting off a shot until after the final buzzer. The Gauchos got double-doubles from both their seniors–Jessica Wilson (26 points, 10 rebounds) and Chisa Ononiwu (17 points, 10 rebounds) in their final home game.
"I've got to give a lot of love to those two," UCSB coach Mark French said. "What a magnificent way to go out."