Business
The Low-Budget Sound Doctor
Santa Barbara's Tony Riparetti Makes Music for Movies You've Never Heard Of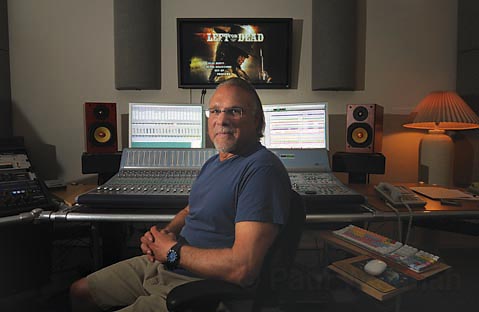 Beneath the media-flooding rivers of Hollywood's multimillion-dollar blockbusters, there exists an undercurrent of films that never touch the big screen. This is the land of direct-to-video filmmaking-also known these days as DVDP for "DVD Premiere"-a market whose low budgets and strong overseas sales have pushed revenues to beyond $3 billion a year.
One of the more prolific directors in this category is Albert Pyun, a Hawaiian who's made more than 40 action, horror, sci-fi, kickboxing, and suspense films in the past 25 years. In the mid '80s, Pyun enlisted a songwriting, guitar-playing Santa Barbara native named Tony Riparetti to do his sound work, and the two have been together ever since. So if you believe famed director George Lucas's claim that "sound is 50 percent of the movie-going experience," then half of Pyun's hefty, if strange, cinematic legacy is being created amid the industrial clutter of S.B.'s North Calle Cesar Ch¡vez.
That's the home of Riparetti's company, Sound Logic, where the blue-eyed, white-goateed, mellow-mannered surfer surrounds himself with stacks of high-tech sound engineering equipment as well as keyboards, guitars, microphone stands, speakers, and drum kits. Between the sawing hum of adjacent furniture makers and metallic banging of nearby auto shops, Riparetti emulates 100-person orchestras as a one-man band, writes snappy soundtracks, mimics the voices of ghosts and aliens, creates sound effects both mundane and mind-bending, and works all the sonic magic of Hollywood's fanciest sound studios. It's an overlooked job in a largely underground film market, but it pays the bills (car: BMW; house: the Mesa), allows music-making to be a constantly creative career, and, most importantly, keeps Riparetti smiling.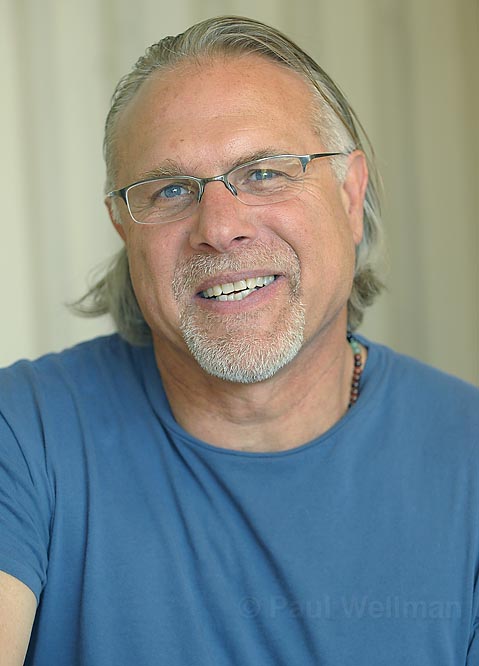 Raised on his family's foothill property, Riparetti-a graduate of Hope School, La Colina, and San Marcos High- started playing music at a young age, honing his skills as a guitarist at Isla Vista parties when just a teenager. Around the age of 20, he went north to Marin for four years, then traded "the trees for the smog" of Los Angeles, where the air was so thick "I didn't know there were mountains for the first month I was there."
In L.A.-where he'd eventually chalk up 23 years even though he only intended to stay five-Riparetti joined a new wave band called Sue Saad and the Next. They cut an album and toured the country and Europe, playing with the likes of UFO and the Boomtown Rats. He enjoyed being a rock star, but realized it wasn't a stable existence. "I knew it wasn't going to be a good life for me," Riparetti, now 56, explained.
In 1984, Pyun used one of their songs in a film. He then contacted Riparetti and his musical partner, Jim Saad, and asked if they'd ever scored a movie. "So of course we said, 'Yes,'" Riparetti remembered lying. "Now, I'm on my 31st film with him."
Saad eventually ended his involvement, but Riparetti had found his calling. (He'd later share his Atwater studio with the Beastie Boys-who taught him about sampling and threw big parties-but that's an entirely different story.) In 1996, he moved back to Santa Barbara so his stepchildren wouldn't have to walk through metal detectors to go to school, but kept working for Pyun, whom Riparetti calls an "incredibly smart guy" with a "huge following" across the globe.
Riparetti technically gets credited as the composer, which means he plays live instruments, sings, and mixes samples to give an aural backdrop to the films. But he also is responsible for sound effects, for ambient sound, for cleaning up the actors' dialogue, and for anything audible, so he has to fix what goes wrong during filming. "You're a doctor, in a sense," he said.
Riparetti's roll call of scored films include Brainsmasher : A Love Story (with Andrew Dice Clay and Teri Hatcher), Mean Guns (with Ice-T and Christopher Lambert), Postmortem (with Charlie Sheen), Alien from L.A. (with Kathy Ireland), and Omega Doom (with Rutger Hauer). They might not ring a bell, but they're worth seeing, said Riparetti, who recently put his money where his mouth is by officially partnering with Pyun. "These are deserved films. They can't compete with blockbusters-they just can't," he explained. "But they're good films. They're interesting films."
In two recent releases that I saw, "interesting" would be an understatement, though "good" may also be a stretch if you're used to the gloss and polish of Hollywood. But Riparetti's sound work is thoroughly impressive, if not the best part, so he's certainly pulling his 50 percent of the load.
Perhaps most interesting from a sound and directing perspective was 2005's Invasion (originally released as Infection). About a bizarre alien attack in a rural California town made for the bargain basement price of $25,000, it's standard low-budget, sci-fi Pyun fare, except that the bulk of the film's action is taken in one hour-long shot, from the perspective of a police car's surveillance camera. They nailed the shot on the fifth stressful take, but the rough and rushed filmmaking left a lot of sound work for Riparetti, who essentially had to create every sound on the 81-minute film other than the actors' lines.
"There was no sound at all. I completely manipulated it," said Riparetti, who premiered the film for Santa Barbarans in spring 2006 with a 25-foot screen at Velvet Jones after spending 14 months perfecting the sound. "I don't ever want to do a bump in the road again. There are lots of bumps in that road, and they're all by me." When he screened it for me at Mission Audio and Video on De la Vina Street in a private room equipped with the latest speaker technology, I was constantly looking over my shoulder and on edge throughout, so creepy were the sound effects and footage.
After the film won awards at European film festivals, Lionsgate Entertainment was impressed by the successful one-take experiment and picked it up for distribution. It opened at number four in the listings on non-theatrical DVD releases in December 2007. Another recent successful Pyun-Riparetti collaboration is Left for Dead, a Wild West shootout-meets-ghost movie. Shot in 11 days for $98,000 in Argentina, the January 2008 release is holding its own against films that cost more than $5 million and star such straight-to-video stars as Jean-Claude Van Damme and Steven Seagal. (Incidentally, both have been in Pyun films before.) Next up are shoots in Argentina and Tunisia for Bulletface and Tales of the Ancient Empire, a sequel to Pyun's most famous film of all, The Sword and the Sorcerer, which became a cult hit after its 1982 release. The sequel has a $1 million budget, which isn't the most Pyun's ever had to spend but is certainly bigger than his usual film.
Two Fridays ago, Riparetti was enjoying a rare lull in his constant work, itching to get out into the surf and putting final touches on his own album, a project he nearly completed two years ago before Invasion got in the way. It's pop, he explained, "but there's some film score stuff in there, too, because I just can't get the film score out of me." He expects the relaxation period to stop sometime this month, when the footage from the next Pyun flick comes in. "I probably won't stop working for two years," said Riparetti, who estimates that he'll have scored four more films by 2009.
With so many films in his quiver, it would seem that Riparetti could make the leap to scoring movies that actually see the big screen. But he's not interested whatsoever. "I like being able to build this thing from the bottom and actually create this monster," said Riparetti. "I like wearing those different hats."
4•1•1
For more information, see sofiafilmgroup.com or email t@soundlogicsb.com.