Sports
UCSB Coach Mark French Is Retiring
Women's Basketball Coach Calls It Quits After 21 Seasons, Stuns Everyone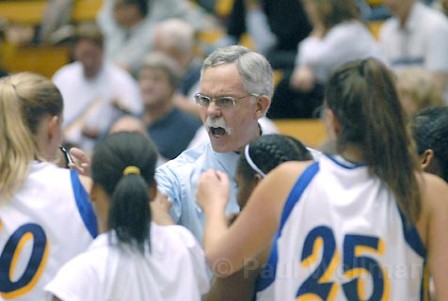 The Big Dance of 2008 turned out to be the last dance for Mark French.
French announced Thursday, April 3, that he is retiring after 21 seasons as head coach of the UCSB women's basketball team. He led the Gauchos into the NCAA tournament 12 times, including this past season after an absence of two years.
Coming on the heels of a 23-8 season, French's decision to call it quits stunned his coaching staff and players. He told the team Wednesday night.
"I was shocked and surprised," said junior Kat Suderman. "He was so passionate this year. It was a great experience for everybody. That's part of the reason it's so hard to take."
Assistant coach April Foster said there were "plenty of tears" at the team meeting. "Coach is a pretty likable guy," she said. "It's hard on all of us."
French said it was a tearful time for him too. "We're all working to keep ourselves hydrated," he said Thursday.
The 58-year-old coach said he felt some hints of coaching fatigue during the previous two seasons, when the Gaucho women came up short in the Big West tournament after a run of nine straight championships, highlighted by an NCAA Sweet 16 appearance in 2004.
"Not being as successful as usual was difficult," said French, who compiled a 438-200 record during his tenure at UCSB. "As philosophical as I am, I'm competitive too."
He put all his energy into getting the Gauchos on the upswing this year. "I made changes," he said. "I was more confrontational and ornery. That was hard for me." The team responded by winning 20 of its last 21 games heading into the NCAA tournament, where a superior Virginia team defeated the Gauchos.
"I was proud of what the team accomplished this year," French said. "I was hopeful winning would fire me up again, but it didn't ignite my passion to do all the things necessary to lead the program." He cited such things as "going home at night and being excited to talk to recruits" and "getting out to fund-raising events."
For years, French preached "habits of excellence" as the guiding principle of his program. "I don't want to be a coach who gets after the kids to do all they can, and not do it myself," he concluded. "These women deserve a head coach who lives up to habits of excellence."
He is leaving behind a team that will probably be favored to win another Big West title next year. The Gauchos will lose two seniors, Big West player of the year Jessica Wilson and Chisa Ononiwu. The 12 returning players are expected to include former all-conference center Jenna Green, who is requesting another year of eligibility after back spasms forced her to the sidelines last December.
"We should be strong next year, with five powerful senior leaders," French said. "My successor will inherit a cupboard that's very well stocked."
French and his staff will continue supervising the Gaucho women's program until a replacement is named. The new head coach will be hired by athletic director Gary Cunningham, who is retiring at the end of the school year after 13 years at UCSB.
"I'm glad Gary will make the decision," French said. "He knows the values of our program."
Cori Close is one of the first names that pop up in speculation about French's successor. Close was a point guard on UCSB's first championship team in 1992 and later became a Gaucho assistant coach. She had assumed the title of associate head coach when she left Santa Barbara after the 2004 season to take a similar position at Florida State.
French's current coaching staff includes Carter Shaw, who just concluded his sixth season; Foster, her fourth, and Camille Burkes, her third. French said they all will be going to the NCAA women's Final Four in Tampa, Florida, this weekend and take advantage of the networking opportunities.
"There's never an easy time to step down as head coach,' French said. "It impacts the lives of your assistants, players, and incoming recruits."
The women's game has undergone dramatic growth since French, a graduate of UCSB, began his career as head coach at the University of Pacific in 1979. He took the job to supplement his salary as an assistant baseball coach. He said that the first game he coached was the very first women's basketball game he had ever watched.
After four years each at Pacific and Idaho State, French took over a Gaucho program that was coming off a 4-22 season in 1986-87. His first team went 10-16, and in 1990-91 the Gaucho women began their ongoing streak of 18 consecutive winning seasons. They won 20 or more games in 12 of those seasons, including a 30-4 mark in 1999-2000, when they were ranked as high as No. 9 in the nation. French retires with an overall record of 536-314.
French's UCSB teams have produced eight All-Americans and a total of 58 All-Big West honorees. Several of his players, including Stacy Clinesmith, Erin Buescher, and Kristen Mann, have played in the WNBA.